78MPH Wind Gust Recorded at the Base of the Summit
2015-03-14 15:02:55.000 – Dr. Eric Kelsey, Director of Research
Early on Thursday morning at 12:35AM, our mesonet station at the base of the Auto Road recorded a 78 mph wind gust:

Curious, I decided to investigate what caused this burst of wind.
The large scale pattern had a cold front approaching from the NW that night. Pictured below is a map of surface observations just minutes before the front hit the Presidentials: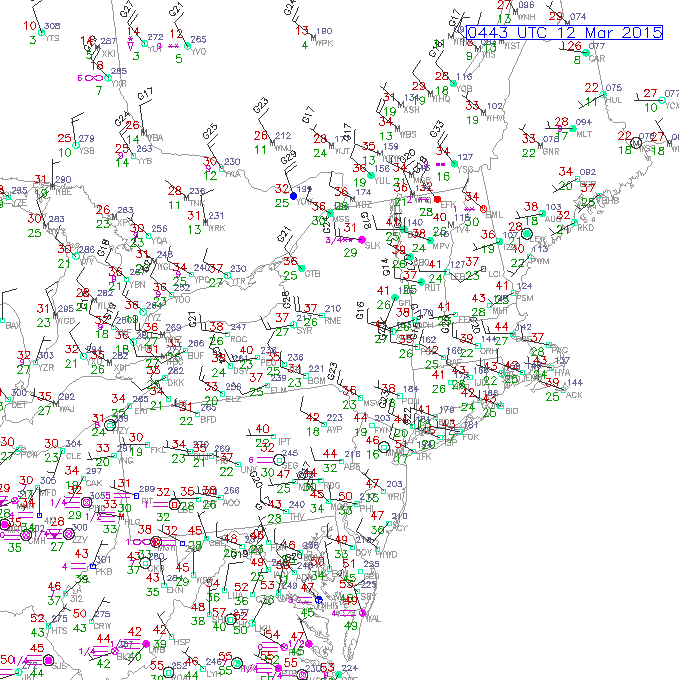 Winds south of Mount Washington were from the SW at ~10 mph ahead of the cold front, and winds to the north of Mount Washington were from the NW gusting over 30 mph behind the front.
The garage wind gust occurred along the leading edge of this front, but the front alone did not cause a gust to 78 mph; it couldn't have. What caused the gust?
Radar imagery indicates snow squalls moved through with the cold front: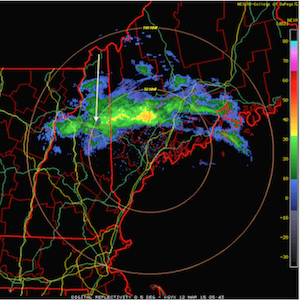 Radar image captured 8 minutes after the wind gust occurred with arrow denoting location of the summit. For a full radar loop, click here. Courtesy of Dept. of Atmospheric Science, College of DuPage
The bright greens and yellows indicate there is likely unstable air creating shallow convection (just like a thunderstorm, only not as deep). South of the arrow head is a narrow curved band of green (25-30 dBZ). The radar beam is sensing this band near the elevation of Mount Washington (not near the elevation of the garage). This band suggests there's a downdraft associated with the snow squalls moving through the Presidentials. Just prior to the 78 mph gust, the summit reported sustained winds in the 60-70 with gusts up to 83 mph. The snow shower likely had a convective downdraft that took this fast moving air downward, and gained additional momentum by snowflakes sublimating (cooling the air, making it denser, and causing it to sink faster).
Readings from the Auto Road Vertical Profile indicate the temperatures cooled at each site by ~2F behind this gust front: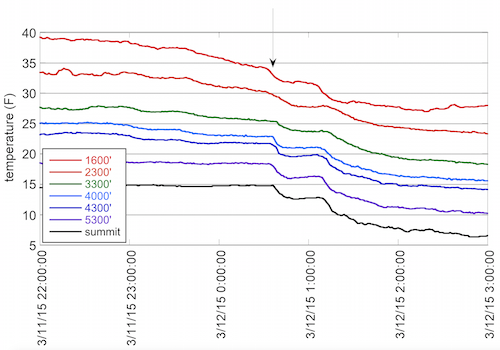 Mount Washington Auto Road Vertical Temperature Profile
You'll notice the temperature drop is more rapid at the sites above treeline. Below treeline, it takes a while for the cold air to fully mix below the canopy. The temperature drop begins at the Auto Road garage about 5 minutes before the summit, suggesting the downdraft came from a snow squall from the north and spread across the valley just prior to the cold front arriving at higher elevations.
Incredible weather hits the Whites again – this time the low elevations got a great show!
Dr. Eric Kelsey, Director of Research
Ellen Estabrook
Adjusting to Life on the Summit By Charlie Peachey Working on the summit of Mount Washington is not your average job. There aren't too many other places where the employees work and live together for
Ellen Estabrook
A Surprise Aurora By Francis Tarasiewicz After 17 months of working at New England's highest peak, it finally happened. On the night of November 12th, 2023, I was lucky enough to view the famous and
Ellen Estabrook
A Glimpse at METAR Reports By Alexis George, Weather Observer & Meteorologist METAR observations are submitted every hour of every day at Mount Washington Observatory. METAR is a format for reporting weather information that gets