Weather Station Tours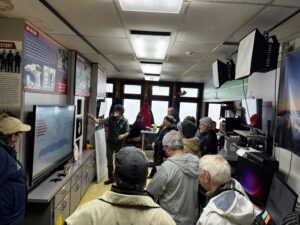 These guided tours allow you to meet and interact with our scientists, learn how they create forecasts, see the instruments they use to capture Mount Washington's legendary extremes, and more.
Our weather station is located inside the Mt. Washington State Park Sherman Adams Visitor Center, so tours are available whenever the Visitor Center is open (generally mid-May through mid-October). Hours vary by month. Please make a reservation to ensure availability.
Go behind the scenes of our famous mountaintop weather station and get a taste for what it's like to work at 6,288 feet!
Tours for Summer 2023 are now available.
Reservations
Our mountaintop facility is a working weather station, so advanced reservations of at least 24 hours are required. Though we try our best to accommodate all requests, we appreciate your understanding that we may not always be able to conduct a tour during your desired time.
Although our weather station is staffed 24 hours a day, 365 days a year, tours are only available when the Mt. Washington State Park Sherman Adams Visitor Center is open to the public. To view Center hours, visit the Mt. Washington State Park website.
To schedule a tour, click the Register Here button at the top of the page. Please call (603) 356-2137, ext. 225, or email us for any questions.
Cost
Tours are a member benefit offered to Mount Washington Observatory members who make a donation of at least $60.00 a year or $5.00 a month per household. You will be asked to enter your member ID when you register for a tour. If you do not know your member ID please email membership@mountwashington.org. If you are not a member and would like to join our unique community of donors, you can make a donation online here and enter your Transaction ID number when you register.
Directions
Our weather station is located inside the Mt. Washington State Park Sherman Adams Visitor Center. For directions to Mt. Washington State Park on the summit of Mount Washington, please visit our Getting & Staying Here page.
Once at the summit, proceed inside the Visitor Center and check in with the attendant at our Extreme Mount Washington museum (located in the lower level of the building). The attendant will advise you where to meet your tour.
Cancellations
Weather station tours may be subject to last-minute cancellations due to unseasonable weather conditions that may limit your ability to reach the summit via hiking, the Mt. Washington Auto Road or Mount Washington Cog Railway. Please check weather conditions in advance of your visit and contact the Mt. Washington Auto Road at (603) 466-3988 or Cog Railway at (800) 922-8825 to check operation status.
In addition to cancellations caused by transportation disruptions, weather station tours may be cancelled due to other unplanned situations that may arise from weather station staffing disruptions. MWO staff will make every reasonable effort to notify you of a cancellation.