Gladys Brooks Memorial Library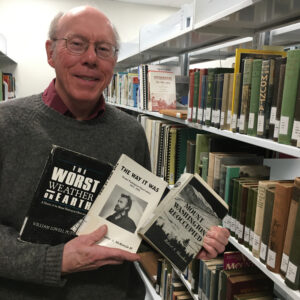 Co-located with the Mount Washington Observatory Valley Offices at 2779 White Mountain Highway (Main Street), North Conway, the Gladys Brooks Memorial Library features a large collection of materials related to the White Mountains, the Arctic, and the Antarctic. The collection includes books, maps, prints, stereoviews, photographs, and artifactual material. The  strongest holdings are in historical material, but the sciences are also represented. The Library also holds several components of the Observatory's archives, with some material dating to the 1930's.
Hours
The library is open by appointment, and on most Thursdays from 10 am to 5 pm. Please email or call ahead to confirm hours or to make an appointment.
Directions
The Gladys Brooks Memorial Library is located in the upper level of the Mount Washington Observatory Office building at 2779 White Mountain Highway, North Conway, NH 03860. For directions, visit our Visit Us page.
Contact: Dr. Peter Crane, Curator, at (603)356-2137, ext. 203