A Busy Week on the Summit
2016-10-10 21:35:40.000 – Ben Brownell, Summit Intern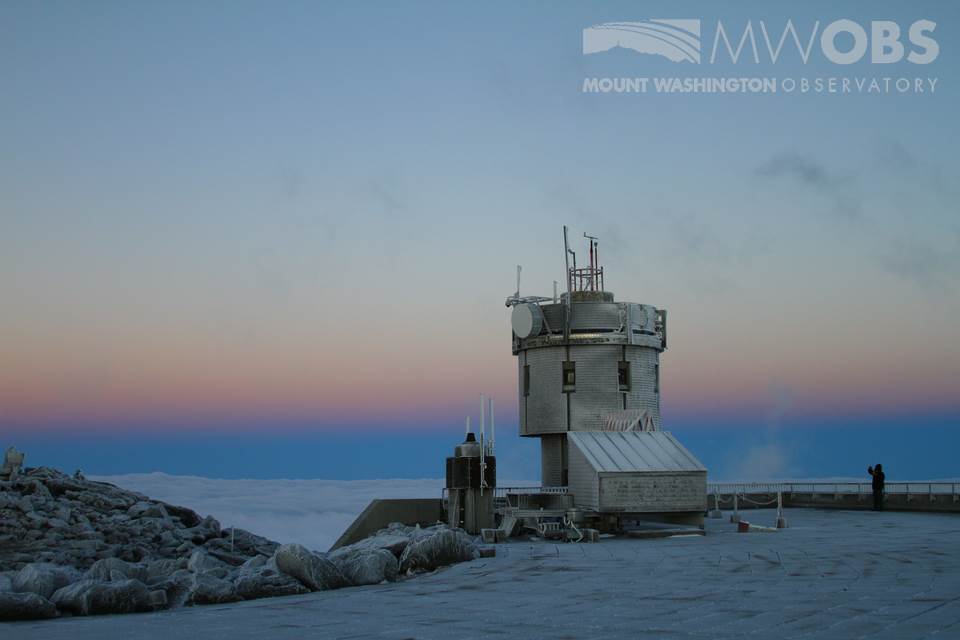 What a busy week it has been on the summit for us here at the observatory! With the fall colors peaking this week and seasonably warm temperatures many people took advantage and came up to come check out the observatory. I have honestly lost track of the number of tours I have given this week, if I had to guess around 20 tours or so. I met a lot of great people who made the trip up the mountain just to come see what we do up here in the observatory.
In addition to the tours we were greeted with several clear days and calm weather. This weekend we started to get back to normal temperatures and finally got down below freezing. The conditions were just right for rime ice coating the summit cone and some surrounding peaks as well. All of you who made it up to the summit on Monday got to experience some interesting weather conditions with the all the rime ice, wind and even some undercast.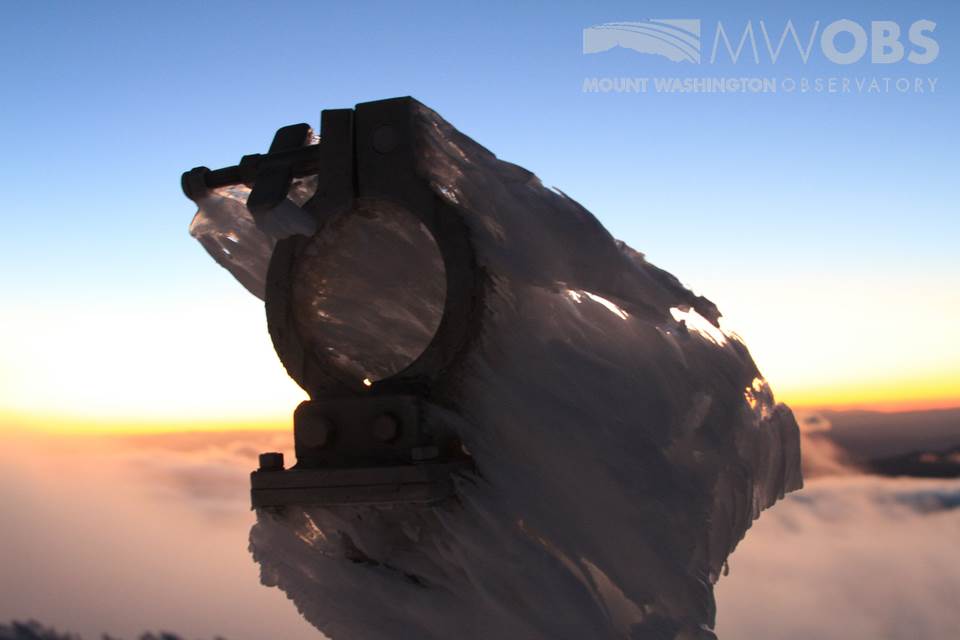 As I get more time under my belt here at the Obs, as we call it, I am given more responsibility and learn more aspects of being a weather observer. A portion of this job involves submitting hourly observations to the national weather service. This gets at the core of why the observatory is here on the mountain. Our observations are included into the weather forecast models along with data from other observers across the world. In order to get an accurate prediction we need to know what the weather conditions were initially. I have spent a lot of time this shift learning how to become competent in all of the weather forms and data submissions we need to keep up with. Come October 15th we will have been here on the summit making hourly observations for the past 84 years in all types of weather. That's quite the legacy to uphold!
Up here at the summit we hope everyone who came for a tour had a great time and learned more about us! If you've never been to the summit you should make the trip and come experience Mt. Washington. If you're interested in learning more about the observatory look into booking a tour or even check out one of our winter trips. Unique experiences like these are not something you will soon forget!
Ben Brownell, Summit Intern
Ellen Estabrook
Adjusting to Life on the Summit By Charlie Peachey Working on the summit of Mount Washington is not your average job. There aren't too many other places where the employees work and live together for
Ellen Estabrook
A Surprise Aurora By Francis Tarasiewicz After 17 months of working at New England's highest peak, it finally happened. On the night of November 12th, 2023, I was lucky enough to view the famous and
Ellen Estabrook
A Glimpse at METAR Reports By Alexis George, Weather Observer & Meteorologist METAR observations are submitted every hour of every day at Mount Washington Observatory. METAR is a format for reporting weather information that gets