A Chilly August Weekend Ahead
2019-08-09 09:50:28.000 – Tom Padham, Weather Observer/Education Specialist
The weekend ahead looks to feature some of the first "fall-like" weather on the summit, even though the calendar only reads mid-August! There's even a chance we could see our first freezing temperatures of the new snow season (which runs from July to June). We'll take a look at the larger scale weather features responsible and also put this into context compared to our historical records on the summit.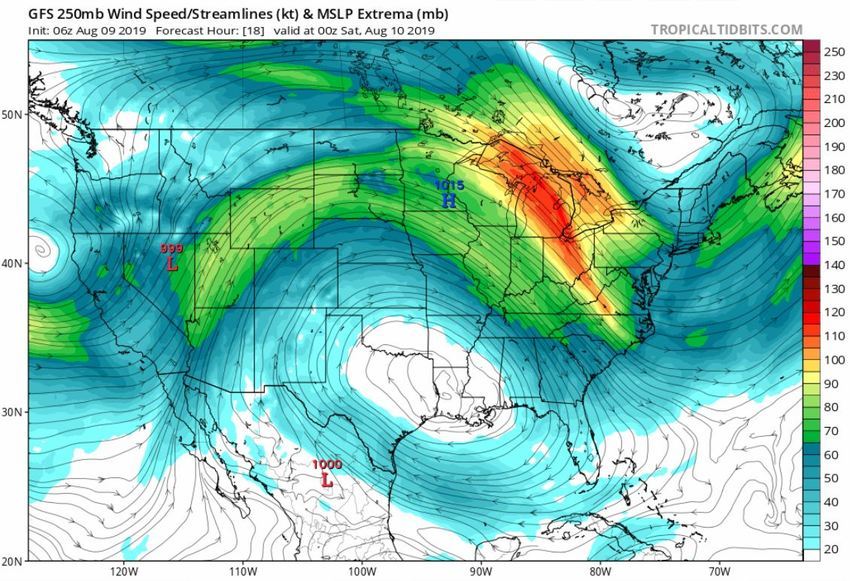 GFS model 250 mb (jet stream level) winds showing a large trough, or dip in the jet stream over the Northeast U.S. Image courtesy of Tropical Tidbits.
A large upper level low will be moving across southern Canada through the weekend, with a deep flow of northwesterly winds pulling in colder air into New England. At the surface this air will be moderated by the strong still-summer sun, but near Mount Washington's level this will be an expansive, cool to even cold air mass.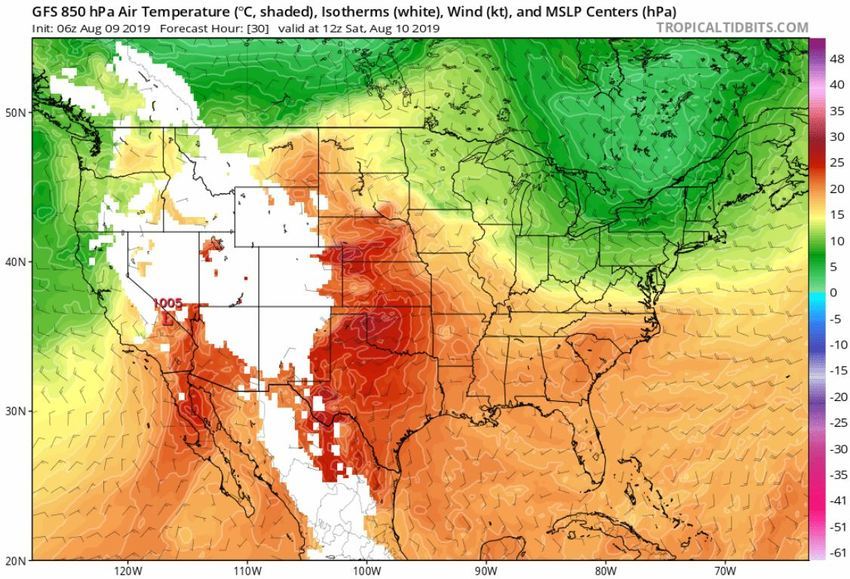 GFS model 850 mb (5,000 ft level) temperatures showing a large mass of cooler air over southern Canada and the Northeast U.S Saturday morning. Image courtesy of Tropical Tidbits.
The coldest air temperatures will likely be during the predawn hours Sunday morning, when the summit will likely get very close to the freezing mark. Winds will also be gusting to near hurricane force (74+mph) during this time frame, adding to the chill in the air. Both days of the weekend will be very chilly and raw overall, with below freezing wind chills on any exposed skin. The summit will spend the majority of the weekend in the clouds, with rain showers and even a few thunderstorms possible Saturday. This will be in stark contrast to the valleys below, where temperatures will climb into very comfortable readings in the 70s Fahrenheit. Please be prepared for very chilly, wet conditions on the summit if planning to visit us this weekend!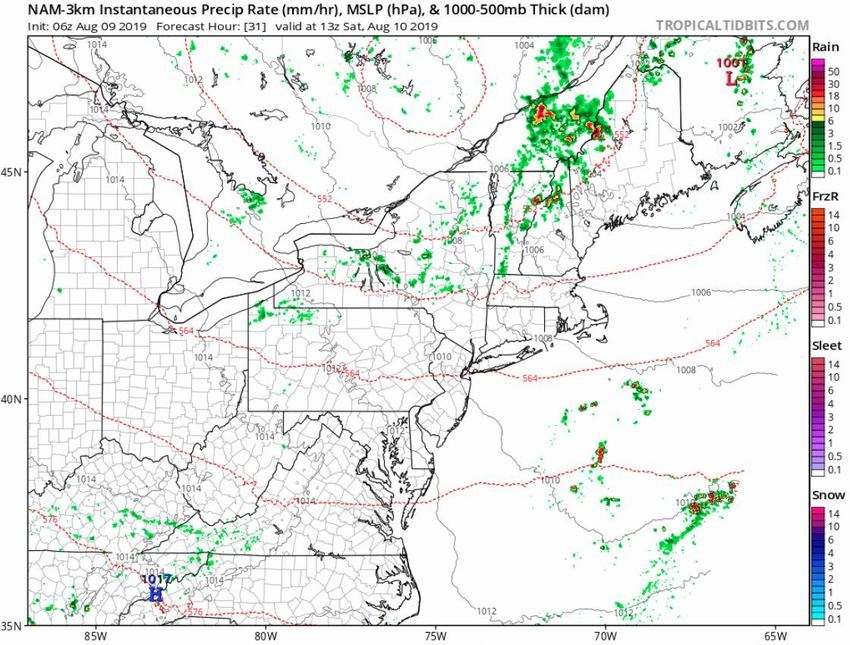 3 km NAM model showing potential rain showers and embedded thunderstorms accompanying the cold front Saturday morning. Any storms that develop could contain small hail due to the low freezing levels. Image courtesy of Tropical Tidbits.
In historical context this will not be a record setting cold event for this time of year. The summit typically starts a downward trend in our temperatures right around early August, and daily record lows for this weekend are in the upper 20s Fahrenheit, so a few degrees colder than what is expected. In only one short month below freezing temperatures actually become the norm for us up here, and typically our first measurable snowfall will have occurred before the end of September. Winter and all the exciting weather that comes with it is just around the corner, but for now we'll enjoy the warmth while it lasts!
Tom Padham, Weather Observer/Education Specialist
Ellen Estabrook
Adjusting to Life on the Summit By Charlie Peachey Working on the summit of Mount Washington is not your average job. There aren't too many other places where the employees work and live together for
Ellen Estabrook
A Surprise Aurora By Francis Tarasiewicz After 17 months of working at New England's highest peak, it finally happened. On the night of November 12th, 2023, I was lucky enough to view the famous and
Ellen Estabrook
A Glimpse at METAR Reports By Alexis George, Weather Observer & Meteorologist METAR observations are submitted every hour of every day at Mount Washington Observatory. METAR is a format for reporting weather information that gets