A Different Kind of Extreme
2020-09-29 06:27:18.000 – David DeCou, Weather Observer
Hello from Mount Washington Summit!
It has been quite some time since I've last written here, so I'll briefly re-introduce myself. My name is David DeCou, and I've been a night weather observer here at the Obs for the past seven months. I first arrived at the tail-end of February as someone new to the area and to the summit. Riding up in a snowcat for the first time, I felt as though I had landed on another planet. A planet coated in feathery brittle rime ice, shrouded in fog, and buffeted by roaring winds. I had the uniquely intense experience of heading outdoors in 120 mph wind gusts on just my second day. It wasn't until my fifth day that the fog cleared enough for me to experience my first gorgeous views off the summit. After that first week, these seven months have flown by at a blistering pace. It's hard for me to believe it's nearly October already! This year has been quite a ride so far, even before I arrived at Mount Washington Observatory – even within the first minute of 2020. At the stroke of midnight, I rang in the New Year by walking around the world. At 90 degrees South, 9,300 feet above sea level, and a balmy 15 degrees below zero, I took a little stroll through every longitude, circling the geographical marker denoting the southernmost point on Earth.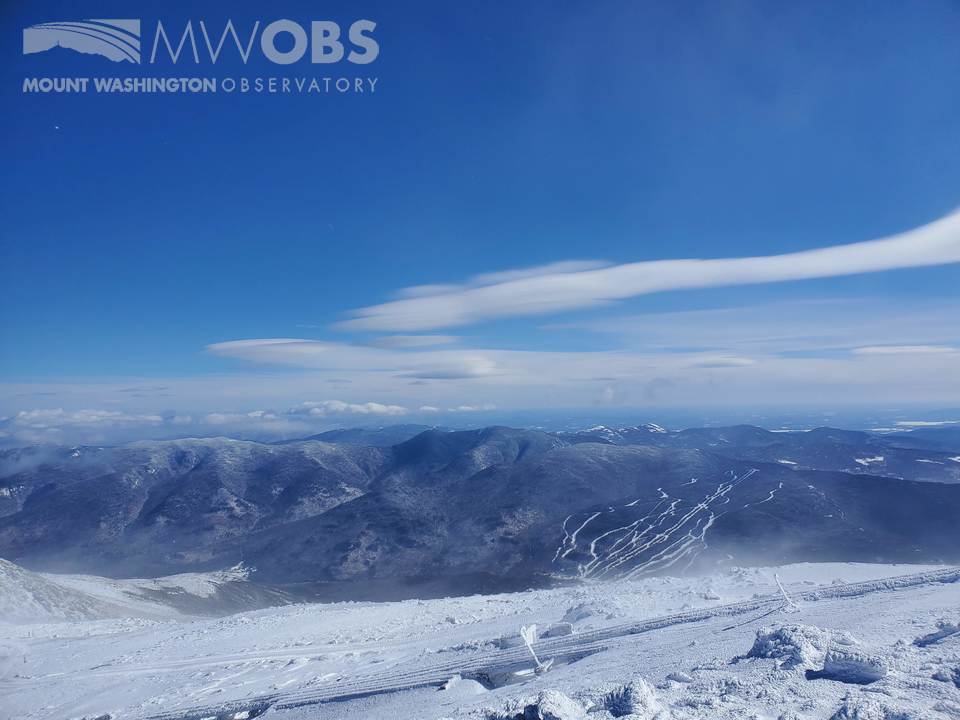 My First Non-Foggy View Off Mount Washington Summit, March 2020
Before I arrived at the Home of the World's Worst Weather, I worked as a meteorologist at Amundsen-Scott South Pole Station, alongside a rotating population of scientists, engineers, technicians, carpenters, chefs, and anyone else needed in order to make it all happen. We were all "Polies," just as the workers living at the more populous McMurdo Station (or MacTown) are called "Townies." During the summer season, we had anywhere from 100 to 150 residents at a given time. My job was a four-month contract with the United States Antarctic Program that lasted through the austral summer season. From November to February I lived and worked at the very end of the world, taking weather observations, providing station forecasts, launching weather balloons, and doing quality control of daily, monthly, and annual data. Although my work at Pole mainly concerned aviation support, it was similar to what I do now, in a similarly extreme environment. In this post I wanted to talk a little bit about my experiences at Pole and how they've compared to my experiences at Mount Washington so far.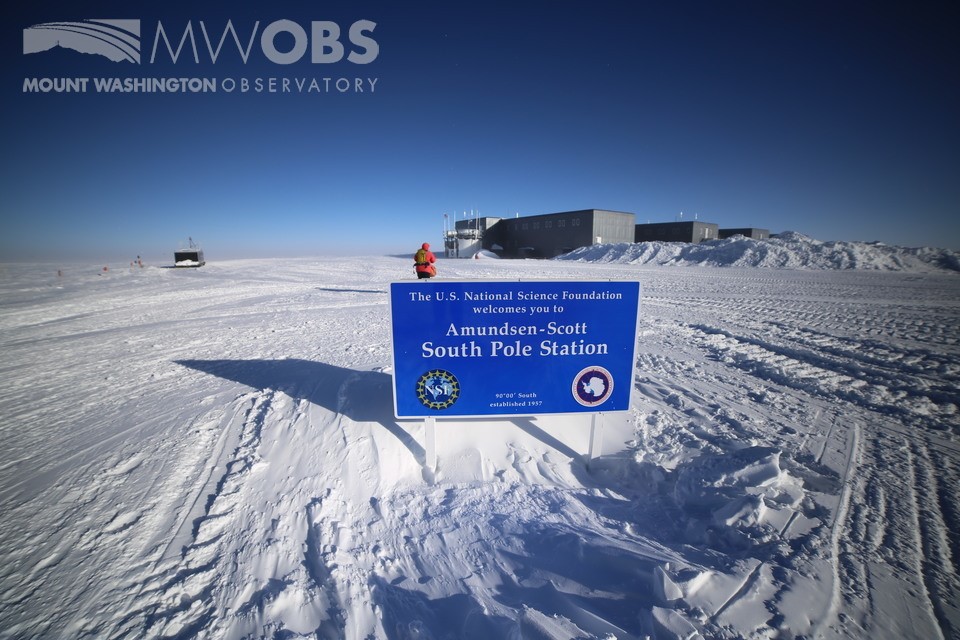 Arrival on the Skiway at Amundsen-Scott
The conditions at South Pole are extreme, even during the more mild summer season. In early November when I first arrived, I remember stepping out onto the Skiway from a Kenn Borek Air Basler BT-67 and my senses were immediately assaulted. The brightness of the sun contrasted with the sharp, dry cold that entered my lungs. The ambient temperature was about 35 degrees below, but with mild 13, 14-mph wind speeds, the wind chill reached below -60°F. It was the sort of cold where ice would begin to form on your eyebrows and eyelashes the moment you stepped outside, not even to mention the inside of your nose. A face covering was usually necessary. In addition, breathing became more of a chore, after having travelled from sea level to a physiological altitude of 10,000 feet in the span of just a few hours. It's very common for new arrivals to experience some form of altitude sickness within the first week. For me, it was a lingering exhaustion that took several days to subside. It's strange to think of South Pole as having a higher elevation than Mount Washington, especially with a flat expanse of ice stretching out in all directions. However, the difference in air pressure is very tangible. I began work at Pole almost immediately, staying up my first night to train in my new position. That's another thing about the summer: the sun never set that first night, nor did it ever set during my time in Antarctica. It wheeled around the horizon endlessly, slowly rising higher in the sky in December and January, and then settling back down into February and March ahead of the long dark winter. The constant sunshine was an aspect of life at Pole that I absolutely expected, but it was still very surreal for me to experience for the first time. It was that "I'm on a different planet" sort of feeling, which I also felt when I experienced Mount Washington winter for the first time.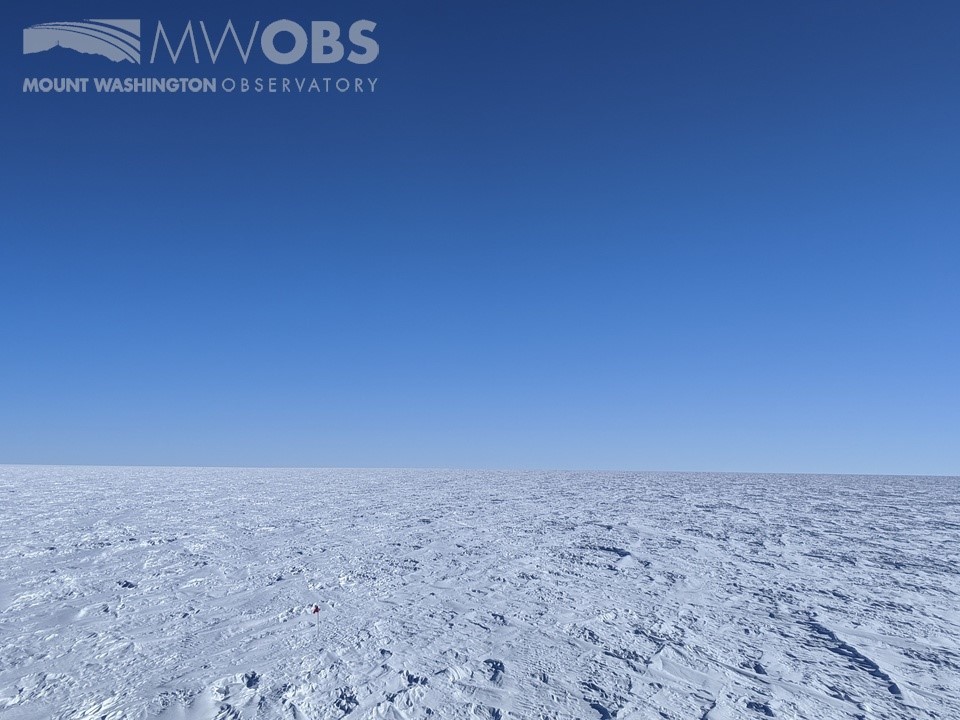 South Pole's Clean Air Sector as Seen from the Roof of NOAA's Atmospheric Research Observatory
The sheer cold and dryness of South Pole are extreme in their magnitude and constancy, but the weather is generally calm. I don't remember wind speeds getting much higher than 30 mph during my stay. However, during a Mount Washington winter, the weather is often cold and violent, and the hazards are much more immediate. I have only been through a month or two of winter on the summit so far, but nothing I experienced at Pole compares to de-icing the tower instruments at night in high winds. With one smack of a mallet, hurricane-force winds send chunks of rime ice larger than my head flying effortlessly into the dark. I quickly learned to be careful of exactly where and how I was standing while de-icing. De-icing is a common, sometimes hourly winter task at the summit, but it was never something I needed to think about at South Pole. There's so little moisture in the air at Pole that even if fog does come through, rime ice doesn't really have a way to accumulate. The frequent winter fog at Mount Washington Summit can easily reduce the visibility to zero, which is often compounded by blowing snow and ice. Winters on Mount Washington can feel like a sprint, one week at a time. I have often heard that South Pole winters, with months of darkness, isolation, and unfathomable cold, are more of a marathon.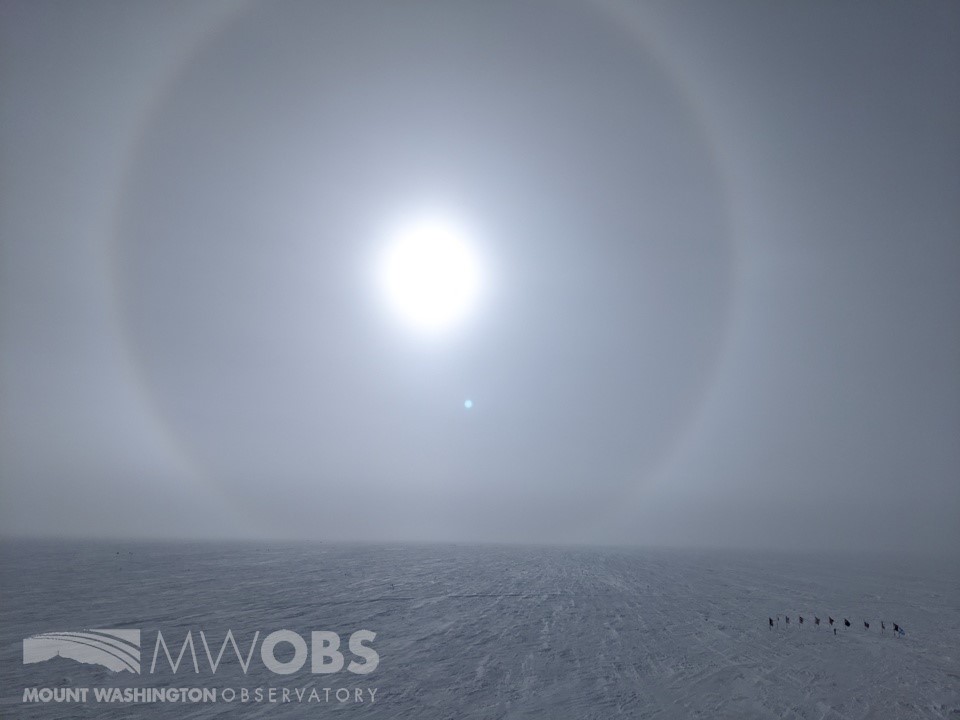 Ice crystals suspended in the air often create optical rings like this around the sun. The ceremonial South Pole is seen here to the bottom right, from the roof of the Elevated Station.
So far, most of my time working at Mount Washington has been during the far more mild summer season, so right now, winter feels almost like a distant memory to me. As we get into fall, we are beginning to experience freezing temperatures again on the summit, which lets me know that winter is not at all far off. I look forward to experiencing an exciting full winter at Mount Washington summit, and re-living what I felt during my very first week up here. Winter on the summit is a completely different animal from my summer at South Pole, but the excitement and the weather is well worth it.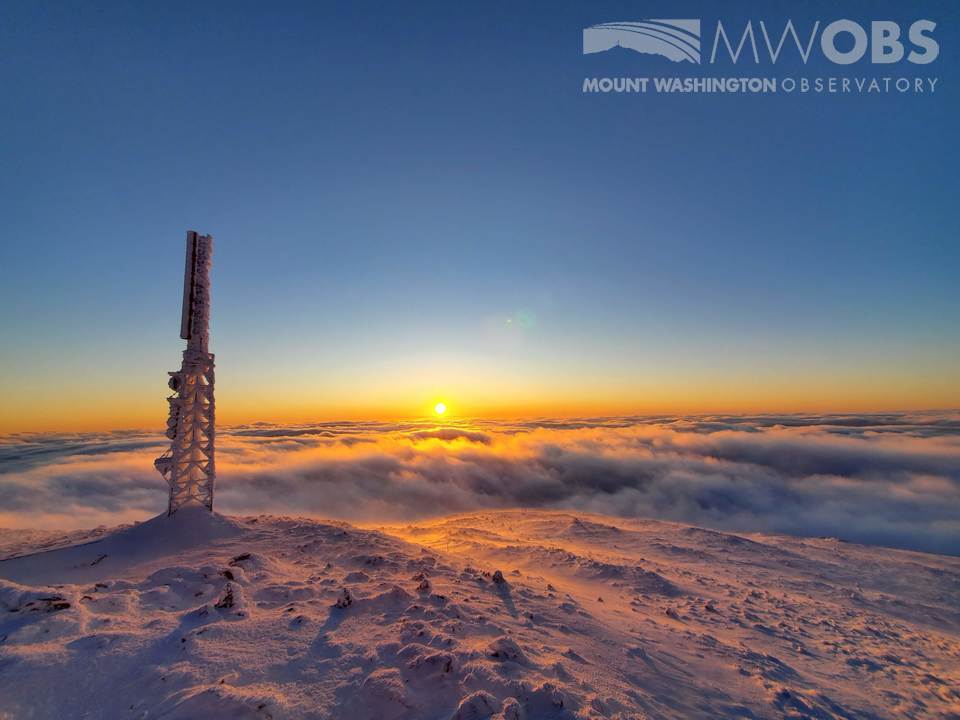 My first sunset seen from Mount Washington Summit, March 2020
David DeCou, Weather Observer
Ellen Estabrook
Adjusting to Life on the Summit By Charlie Peachey Working on the summit of Mount Washington is not your average job. There aren't too many other places where the employees work and live together for
Ellen Estabrook
A Surprise Aurora By Francis Tarasiewicz After 17 months of working at New England's highest peak, it finally happened. On the night of November 12th, 2023, I was lucky enough to view the famous and
Ellen Estabrook
A Glimpse at METAR Reports By Alexis George, Weather Observer & Meteorologist METAR observations are submitted every hour of every day at Mount Washington Observatory. METAR is a format for reporting weather information that gets