A Heaping Helping of Heat
2018-08-26 12:31:10.000 – Thomas Padham, Weather Observer/Meteorologist
With September just around the corner, I thought I would take a look at the longer range weather models. Personally I'm very much looking forward to the fall season and our first snowflakes, whenever that may be. Unfortunately there's not much hope for any wintry weather over the start of September. Over the next few days temperatures will climb well into the 80s and 90s°F across the surrounding valleys in advance of a cold front, with temperatures climbing to possibly just shy of daily records in the lower to mid 60s here on the summit of Mount Washington.
Taking a look at upper level winds, the jet stream is staying well to our north over the majority of the extended period all the way towards September 7th or so. A huge upper level ridge parks itself across the Southeast, keeping a warm and humid air mass streaming into New England. There will be some relief this coming Thursday and Friday just behind a cold front, with temperatures on the summit dropping possibly as low as the upper 30s.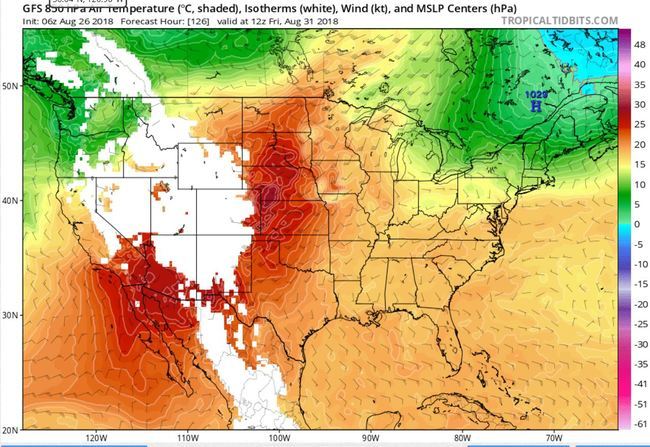 GFS 850mb temperatures showing relatively cool (and very welcome!) readings behind a passing cold front for the weekend.
By the end of the weekend and start of the first full week of September, another helping of heat is in store for most of the eastern U.S. The large ridge mentioned earlier builds and anchors itself across the southeast and Midwest, with a plume of very warm air riding over the top from the northern plains into the Northeast. Temperatures in the 80s and 90s will likely return for much of New England, with readings likely around 60 degrees on the summit, some 10-15°F above average. This heat will likely last 3-4 days, potentially resulting in one last heat wave (temperatures of 90°F over 3 consecutive days) for parts of southern New Hampshire and the Boston metro area.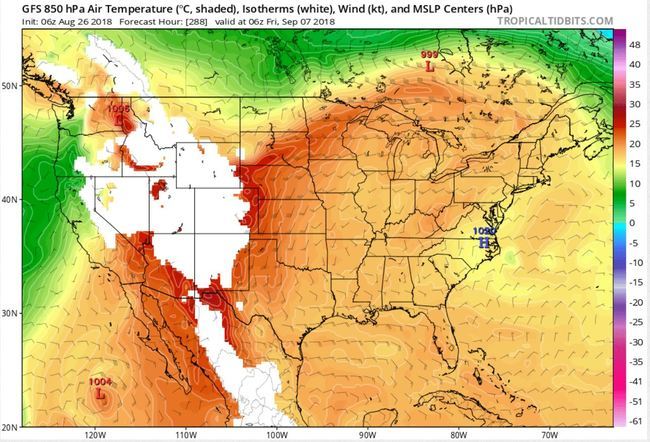 GFS 850mb temperatures warm significantly across the Northeast by late next week.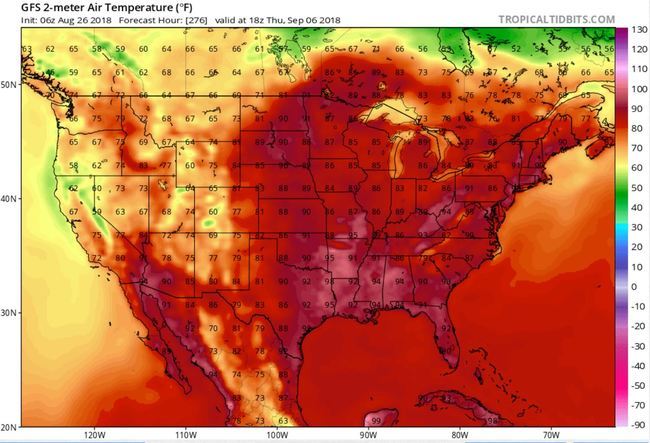 GFS forecasted surface temperatures for Thursday, September 6th showing widespread upper 80s and lower 90s across the Northeast. All images above courtesy of Tropical Tidbits.
There is some indication of colder air bringing an end to this late-season warmth by September 9th or 10th, but at this point we're getting way ahead of ourselves and really at the limits of our long range weather models (the GFS model in this case). In the meantime, I plan to make the most of our comfortable temperatures this upcoming weekend, and still have my fingers crossed for snow on the summit in the next few weeks!
Thomas Padham, Weather Observer/Meteorologist
Ellen Estabrook
Adjusting to Life on the Summit By Charlie Peachey Working on the summit of Mount Washington is not your average job. There aren't too many other places where the employees work and live together for
Ellen Estabrook
A Surprise Aurora By Francis Tarasiewicz After 17 months of working at New England's highest peak, it finally happened. On the night of November 12th, 2023, I was lucky enough to view the famous and
Ellen Estabrook
A Glimpse at METAR Reports By Alexis George, Weather Observer & Meteorologist METAR observations are submitted every hour of every day at Mount Washington Observatory. METAR is a format for reporting weather information that gets