A Look at Halloweens Past on Mount Washington
2018-10-21 09:07:32.000 – Tom Padham, Weather Observer/Education Specialist
Halloween on the summit of Mount Washington is one of my favorite times of the year. After a busy summer season with many visitors, the staff gets a short while to take a breather before things get more hectic from Mother Nature and all the challenges that come with winter.
I've now worked four Halloweens on the summit, with almost identical weather every year: snow showers, fog, and temperatures in the lower 20s. Taking a look at the longer range models this year could be different, but there's still plenty of time for things to change and there's chances for snow within a few days of the 31st.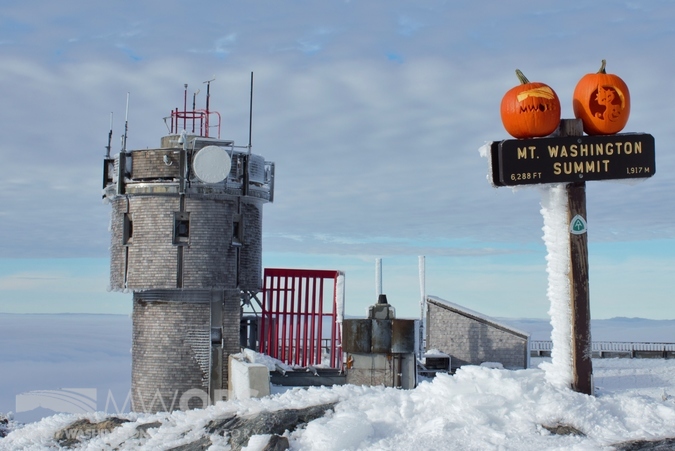 Two constants through each Halloween has been pumpkin carving and Marty the cat! It's always a fun pastime to carve pumpkins with my shift up here, and Marty often helps to cheer us on (or just see what the heck we're doing!).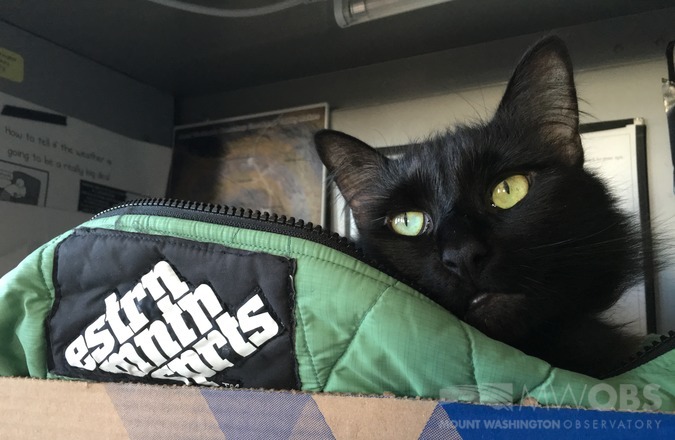 Out of curiosity I thought I'd take a look through the historical notes for Halloween during the early years of the observatory and see if I could find anything interesting. October 31st, 1941 didn't disappoint!
"Spectacular Aurora about 830 PM – Writhing streamers passing zenith to 45 degrees down in to W & SW colored in form of a question mark for benefit of superstitions populance. Road still passable – wonderful day"
A great day indeed! Out of further curiosity I thought I'd see how the following day fared:
"Glaze and hard rime – rain freezing on gauges – miserable weather – road still passable but worse for football games downstate"
Whether it's wild weather or football in the fall somethings never change; even on Mount Washington!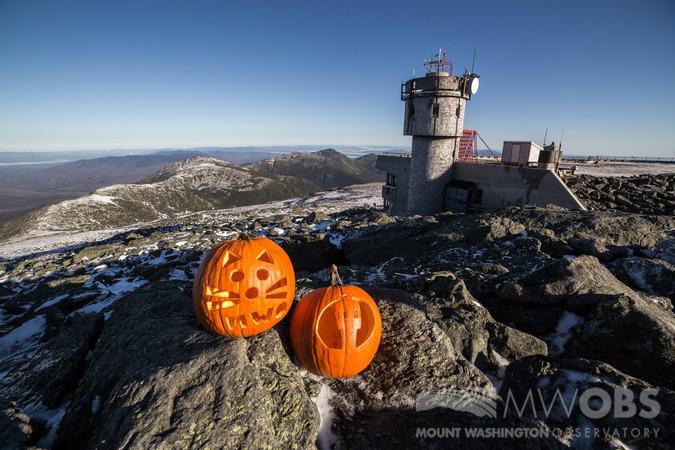 Tom Padham, Weather Observer/Education Specialist
Ellen Estabrook
Adjusting to Life on the Summit By Charlie Peachey Working on the summit of Mount Washington is not your average job. There aren't too many other places where the employees work and live together for
Ellen Estabrook
A Surprise Aurora By Francis Tarasiewicz After 17 months of working at New England's highest peak, it finally happened. On the night of November 12th, 2023, I was lucky enough to view the famous and
Ellen Estabrook
A Glimpse at METAR Reports By Alexis George, Weather Observer & Meteorologist METAR observations are submitted every hour of every day at Mount Washington Observatory. METAR is a format for reporting weather information that gets