A November to Remembrrr!
2018-11-29 11:17:17.000 – Tom Padham, Weather Observer/Education Specialist
With the month of November coming to a close, I thought I'd take a look back at how this month compares to our averages and our extremes. For our current observers it has been the coldest and snowiest "fall" season in memory, and taking a look at records this backs that up. 58" of snow has fallen as of this writing, with very little, if any additional snow expected over the next day before the month ends. This total ends up being the 8th snowiest November on record. The snowiest November occurred back in the legendary winter of 1968-1969, with 87" falling in November and beginning an incredible snow season for the summit, with 566", or 47 feet of snow falling through the following June.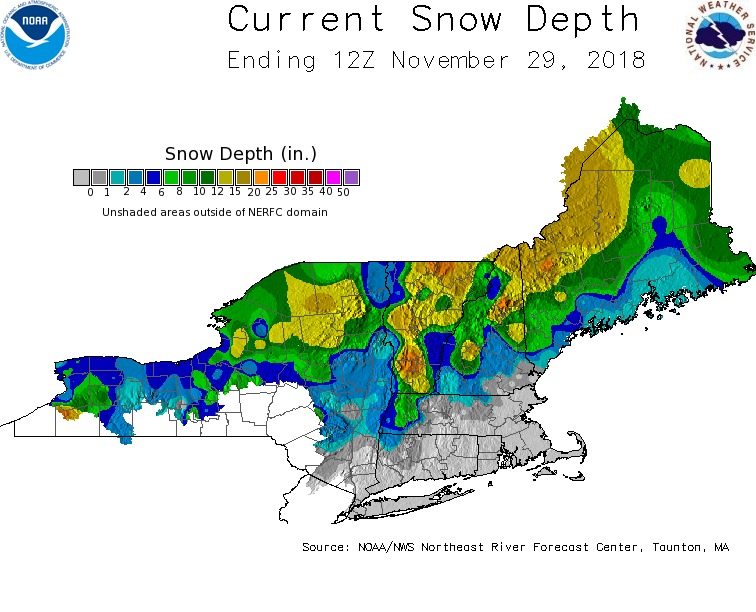 NWS current snow depth map showing deep snow across much of the Northeast, with 20-25″ across the highest elevations of the White Mountains
We're off to a pretty good start to the snow season, as I mentioned earlier this month, but not quite up to the pace of our all-time record season. For the snow season (which starts on July 1st) the summit has now seen 110" of snow, a little more than 4 feet above average to date. Over the past month most of this snow has also stuck around on the ground, with the summit averaging only 15°F in November little melting has happened, and we actually haven't risen above freezing since back on Nov 13th (barely) with a high temp of 33°F. This quickly building snowpack also meant a very early start for our Snowcat becoming the main mode of transportation, which often doesn't happen until December but this year began in October!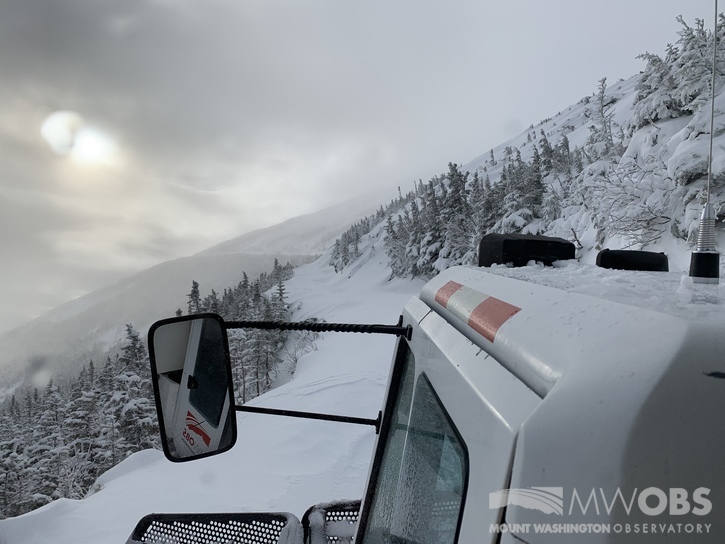 The view near 4,300 feet along the Auto Road at shift change 11-28-2018
A brief, but record-breaking cold snap occurred on Thanksgiving Day, November 22nd. Temperatures plummeted all the way down to -26°F, absolutely crushing the previous record for the date of -11°F. This was also the coldest Mount Washington has ever been in the month of November, with the previous record occurring on November 30th, 1958 at -20°F. What an impressively cold Thanksgiving!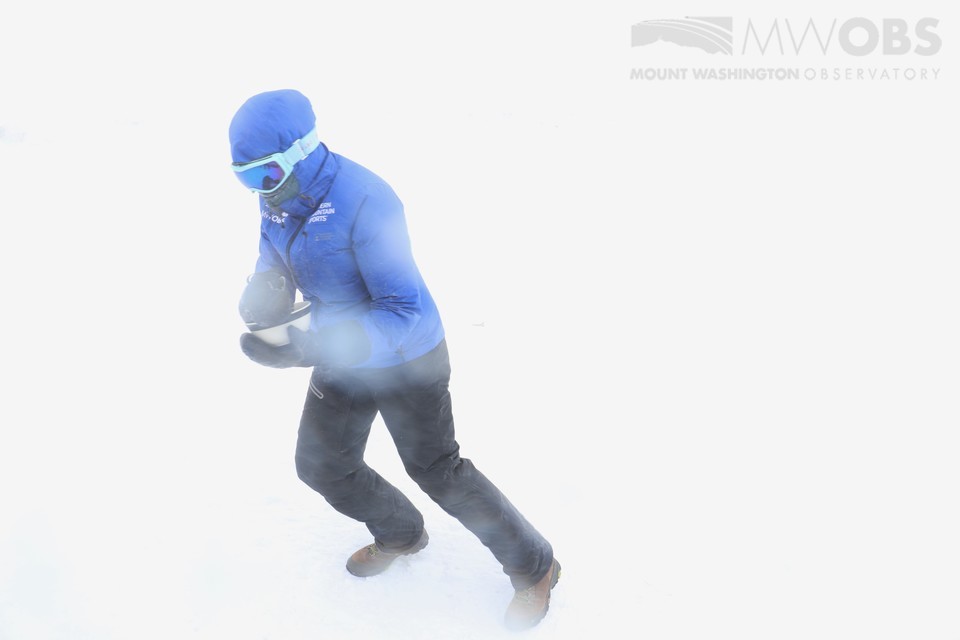 Weather Observer Taylor Regan braves -26°F temperatures and hurricane force winds with a hearty bowl of ramen soup!
Taking a look at longer range forecasts from the Climate Prediction Center it's unfortunately not very definitive whether we'll see an above or below average snow season through this winter. It seems that with a developing El Nino in the West we'll trend towards above average temperatures, with equal chances for above or below average precipitation. Above average temperatures could still mean mostly snow for the summit of Mount Washington, but for lower elevations may mean more in the way of mixed precipitation events. For now we'll have to wait and observe, but I'm hoping this winter keeps the trend going on what has been an impressively cold and snowy fall!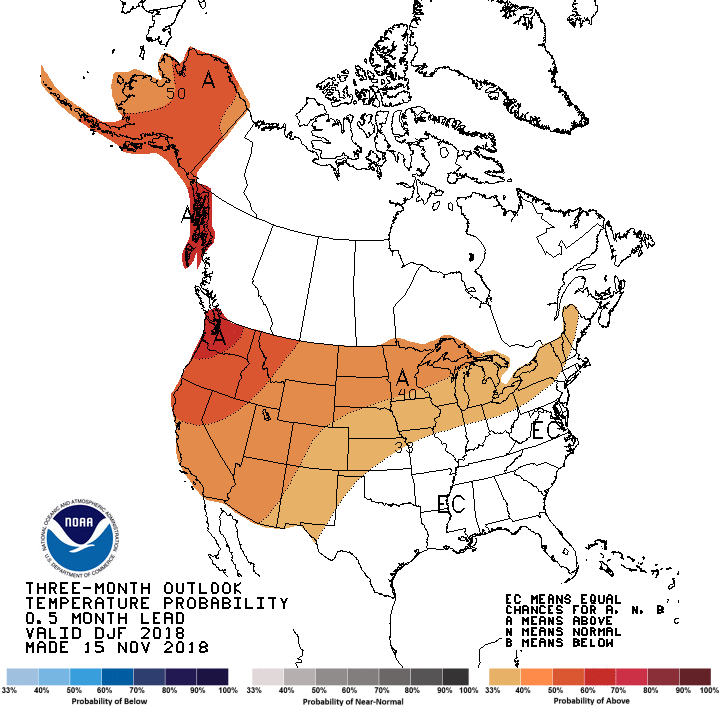 NOAA three month outlook for temperatures for December-February across the U.S
Tom Padham, Weather Observer/Education Specialist
Ellen Estabrook
Adjusting to Life on the Summit By Charlie Peachey Working on the summit of Mount Washington is not your average job. There aren't too many other places where the employees work and live together for
Ellen Estabrook
A Surprise Aurora By Francis Tarasiewicz After 17 months of working at New England's highest peak, it finally happened. On the night of November 12th, 2023, I was lucky enough to view the famous and
Ellen Estabrook
A Glimpse at METAR Reports By Alexis George, Weather Observer & Meteorologist METAR observations are submitted every hour of every day at Mount Washington Observatory. METAR is a format for reporting weather information that gets