A stormy Sunday ahead.
2013-06-01 18:01:58.000 – Brian Fitzgerald,  Weather Observer/Education Specialist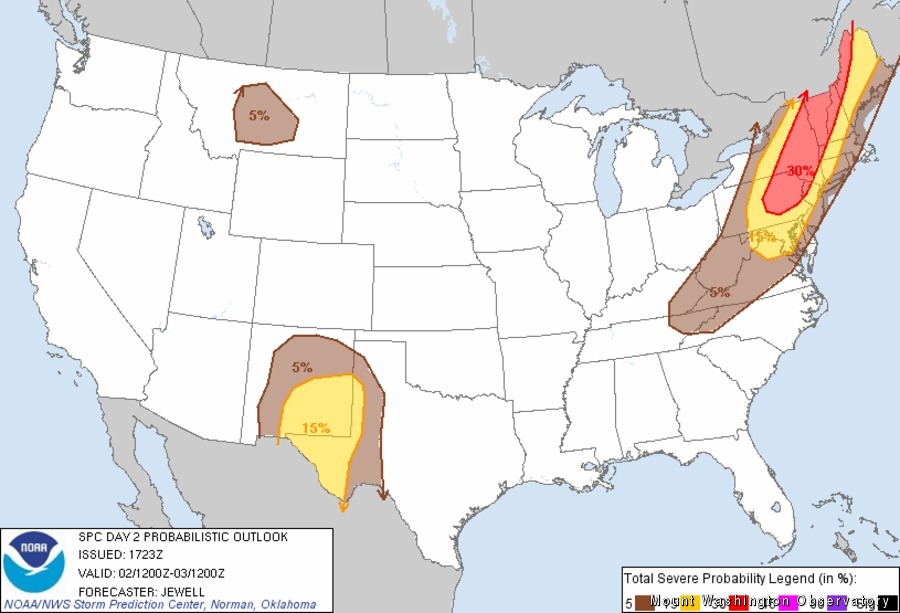 Seeing Red (=30% of severe t-storms)
After a brief day off the summit in order to fight a cold and fever it was back to work for me last night, taking the oh-so-familiar 30 minute drive up the Auto Road to work. It's a funny feeling being off the summit when you know your shift is up there working when you can see work pretty plainly from your own house. Thankfully I'm back up at work and excited about the possibilities of some severe weather looking to make its way into the Northeast tomorrow late in the day.
Our shift was treated to an excellent lightning display just over the New Hampshire-Canadian border last night that featured frequent in-cloud, cloud-to-cloud and cloud-to-air lightning. Observers, Interns, State Park Employees, Volunteers and Museum Staff all watched the storm with the lights turned off in the weather room as the storm passed to the north and east with clear skies over the summit.
Looking ahead to tomorrow, the National Weather Service's Storm Prediction Center in Norman, Oklahoma has placed most of interior New England in the 30% risk area of severe weather, which may not be so uncommon to areas of the Midwest last month, but is certainly a surefire sign that inclement weather is on the way for the Whites. A combination of a strong cold front and high humidity levels will factor in to make tomorrow afternoon a good time to find some indoor activities. Plan your hikes accordingly please and stay tuned to the higher summits forecast higher summits forecast tomorrow!
Happy Storm Watching!
Brian Fitzgerald,  Weather Observer/Education Specialist
Ellen Estabrook
Adjusting to Life on the Summit By Charlie Peachey Working on the summit of Mount Washington is not your average job. There aren't too many other places where the employees work and live together for
Ellen Estabrook
A Surprise Aurora By Francis Tarasiewicz After 17 months of working at New England's highest peak, it finally happened. On the night of November 12th, 2023, I was lucky enough to view the famous and
Ellen Estabrook
A Glimpse at METAR Reports By Alexis George, Weather Observer & Meteorologist METAR observations are submitted every hour of every day at Mount Washington Observatory. METAR is a format for reporting weather information that gets