A Turn for the Snowy In Our Future?
2020-01-13 09:12:47.000 – Thomas Padham, Weather Observer/Education Specialist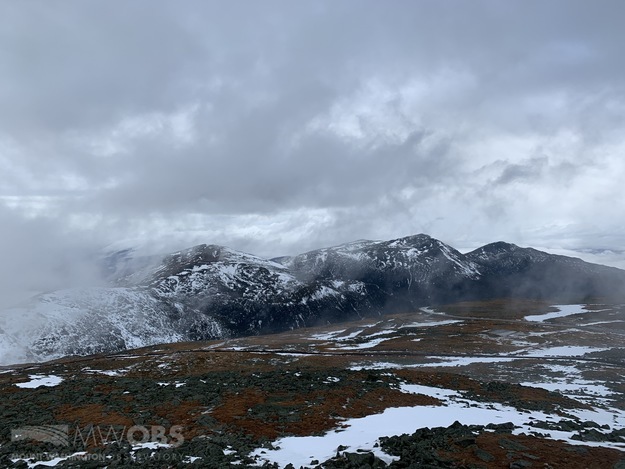 Brief clearing following the storm on January 12th revealed what was left of our snow.
After seeing record-breaking warmth on the summit over the past weekend and a huge reduction in our snowpack, it looks as though the longer-term models are showing a turn for the snowy. We certainly could use the snow, with only 3" of mostly solid ice as an average for our current snow depth. This snow cover is deeper in more sheltered areas and in between the rocks, but in many other open areas we mostly have bare ground.
A pretty large pattern change is already underway in the upper levels, which will result in a return to at least near-normal temperatures while also seeing frequent storm tracks. This is preferable for the summit to see an expedient replenishment to our snow, as very cold arctic air would likely mean we are under the influence of strong high pressure and not seeing frequent precipitation.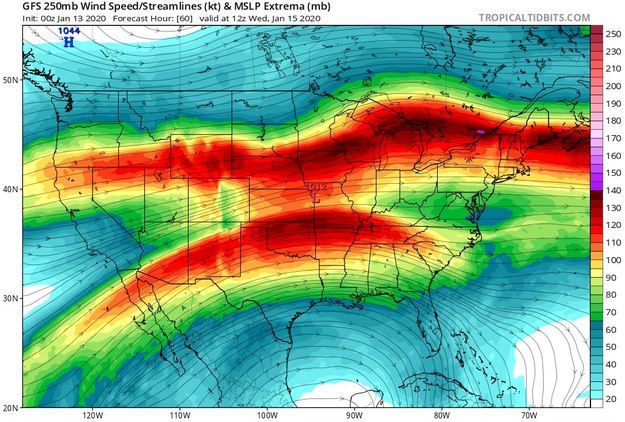 GFS 250 mb winds on Wednesday showing zonal flow across most of the country, and a split flow on the west coast with the polar jet to the north and subtropical jet across Baja California.
"Zonal flow" is the term meteorologists often use with this upper level, or jet stream pattern where the jet stream is mostly oriented due west-east with little in the way of dips. With this pattern for us in New England we're often directly under the jet stream, with weak, but quick moving and frequent storm systems. We'll see two weak clipper-like systems centered around Tuesday night and again Thursday with this pattern, resulting in around 3-6" or 4-8" of snow total for the summit.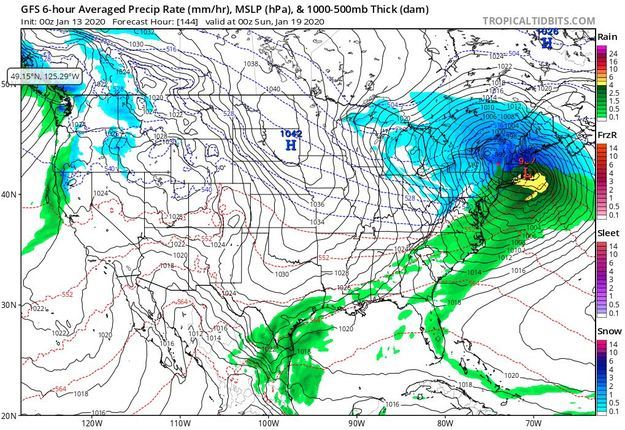 GFS model showing a significant storm with heavy snowfall for NH and the White Mountains Saturday night.
After this there has consistently been a large storm system affecting the Northeast during the Saturday-Sunday timeframe. This storm is able to take advantage of the jet stream digging, or dipping much further south while also strengthening, resulting in more moisture and energy for the storm. For us here on the summit and also the northern half of New England temperatures should remain cold enough for all snow, and much of the area may potentially see a solid 6-12" of snow from this storm. This storm also looks to be a pretty significant wind event for the summit, possibly reaching our highest readings so far in 2020, surpassing the 119 mph gust we observed Saturday the 11th. After surviving the dreaded "January thaw" that is fairly common this time of year it's a relief to see plenty of snow in our future!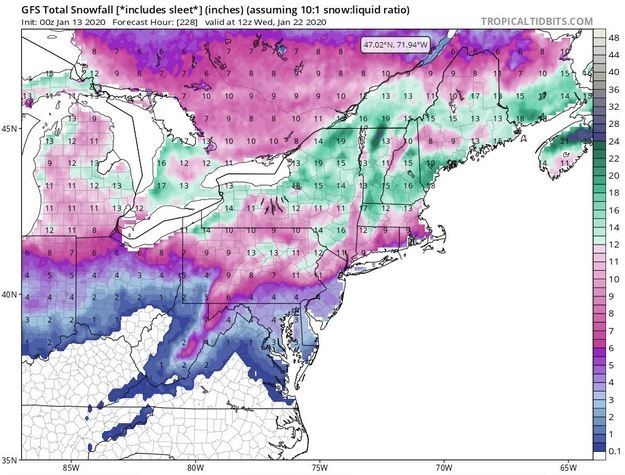 Total snowfall from 1/13 to next Wednesday, Jan 22nd showing the potential for more than a foot of snow across most of New Hampshire. Weather model images courtesy of Tropical Tidbits.
Thomas Padham, Weather Observer/Education Specialist
Ellen Estabrook
Adjusting to Life on the Summit By Charlie Peachey Working on the summit of Mount Washington is not your average job. There aren't too many other places where the employees work and live together for
Ellen Estabrook
A Surprise Aurora By Francis Tarasiewicz After 17 months of working at New England's highest peak, it finally happened. On the night of November 12th, 2023, I was lucky enough to view the famous and
Ellen Estabrook
A Glimpse at METAR Reports By Alexis George, Weather Observer & Meteorologist METAR observations are submitted every hour of every day at Mount Washington Observatory. METAR is a format for reporting weather information that gets