A Very Snowy Start to February
2015-02-09 17:57:57.000 – Tom Padham, Weather Observer/Meteorologist
Holy snow! A very active weather pattern will finally give New England a break Tuesday, but only after dropping nearly a foot of snow across much of central and southern New Hampshire. With a very snowy February already underway, if this overall weather pattern continues and we see a big storm or two we could be looking at well above average snowfall for the month.
Relentless may be the best way to describe the snow this week on the highest peak in New England. Although in general the snow has been light, we've seen an inch or more of snowfall for what will be 6 days by Tuesday morning. As of this writing, the summit has picked up 16 inches of snow since we arrived on the summit last Wednesday, with a bit more expected into early Tuesday morning.
Looking ahead, dry and chilly weather will move in under arctic high pressure Tuesday and Wednesday, with a clipper system spreading light snow into New England late Wednesday night before redeveloping offshore Thursday. At this time it appears the storm will only brush the area with a light snowfall as it strengthens offshore Thursday into Friday morning, but if the storm were to strengthen more quickly and track slightly further west we could be looking at a more substantial snowfall. For now, there's plenty of snow here already, with still more likely on the way!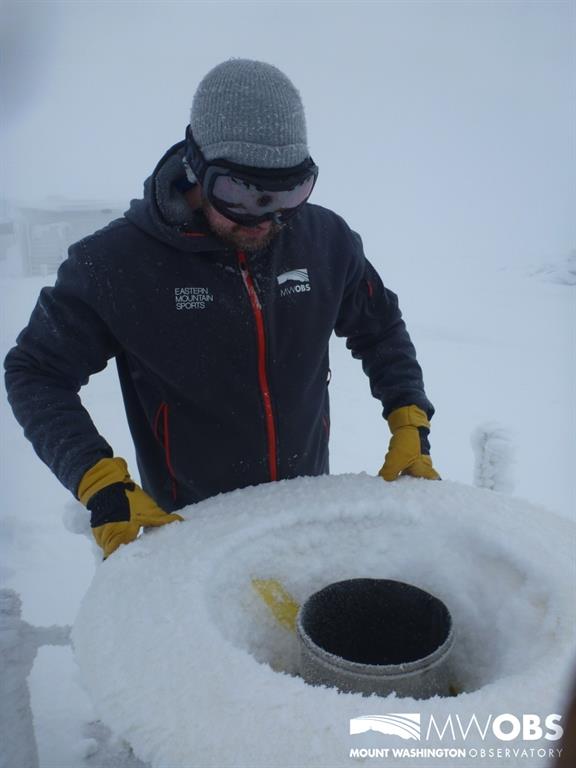 Weather Observer Caleb Meute collecting the precipitation can on February 9, 2015
Tom Padham, Weather Observer/Meteorologist
Ellen Estabrook
Adjusting to Life on the Summit By Charlie Peachey Working on the summit of Mount Washington is not your average job. There aren't too many other places where the employees work and live together for
Ellen Estabrook
A Surprise Aurora By Francis Tarasiewicz After 17 months of working at New England's highest peak, it finally happened. On the night of November 12th, 2023, I was lucky enough to view the famous and
Ellen Estabrook
A Glimpse at METAR Reports By Alexis George, Weather Observer & Meteorologist METAR observations are submitted every hour of every day at Mount Washington Observatory. METAR is a format for reporting weather information that gets