A Warm up on the Way, but First More 100 mph Winds?
2016-11-12 15:31:04.000 – Tom Padham, Weather Observer/Meteorologist
After seeing our first 100 mph winds of the month of November along with our coldest temperature of the fall at 4°F a big warm up is on tap over the next 48 hours. An expansive area of high pressure draped across much of the U.S with briefly give way to a passing system to our north tonight, with no expected precipitation but winds will once again top out near 100 mph on the summit, with warmer air surging in as temperatures rise through the night towards the freezing mark. Westerly winds will shift southwesterly ahead of low pressure moving up the coast Monday, pulling in even milder air, with temperatures climbing into the 40s, roughly 20 degrees above average for mid-November.
As the coastal storm track through the Gulf of Maine Tuesday into Wednesday mostly rain will fall on the summit, likely resulting in plenty of melting of what is left of our snow pack. Beyond this, the jet stream looks to remain well north of New England through the remainder of the work week and into the weekend, keeping mild air across the entire Eastern Seaboard. A very strong storm system is depicted over the Northern Plains and Great Lakes (potentially a blizzard out there), and definitely bears watching as we get closer to next weekend when the system would affect our area. For now I'll be eagerly awaiting the return of more wintry weather on the summit!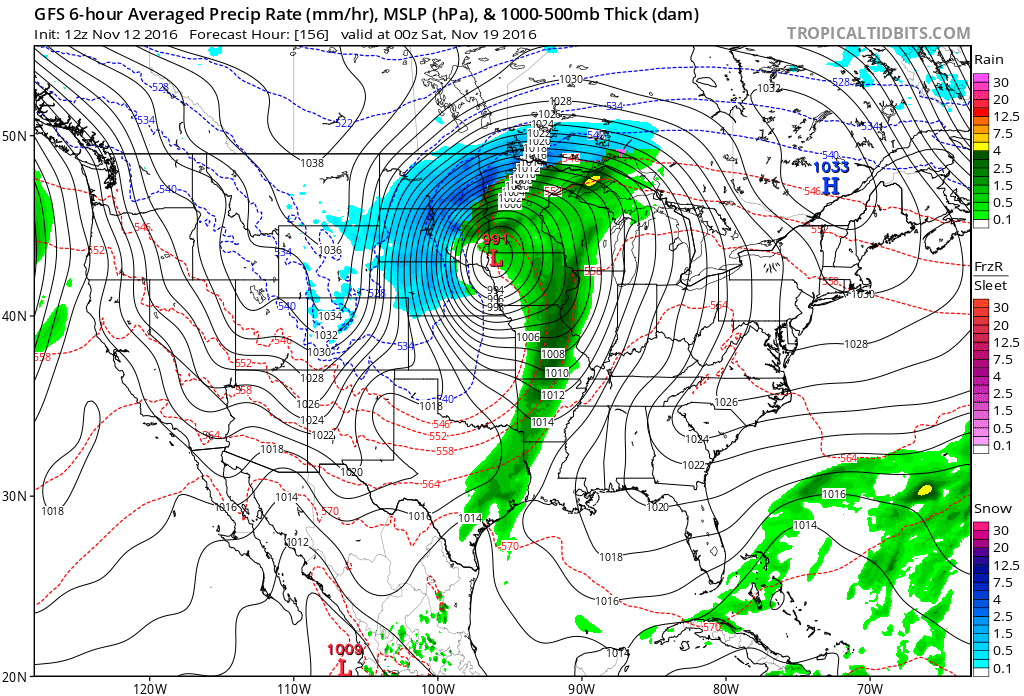 GFS model showing a major storm system, (and potential snowstorm) for the Northern Plains Friday night, 11/18.
Tom Padham, Weather Observer/Meteorologist
Ellen Estabrook
Adjusting to Life on the Summit By Charlie Peachey Working on the summit of Mount Washington is not your average job. There aren't too many other places where the employees work and live together for
Ellen Estabrook
A Surprise Aurora By Francis Tarasiewicz After 17 months of working at New England's highest peak, it finally happened. On the night of November 12th, 2023, I was lucky enough to view the famous and
Ellen Estabrook
A Glimpse at METAR Reports By Alexis George, Weather Observer & Meteorologist METAR observations are submitted every hour of every day at Mount Washington Observatory. METAR is a format for reporting weather information that gets