A Week Volunteering
2009-05-12 18:30:06.000 – Althea Goundrey,  Summit Volunteer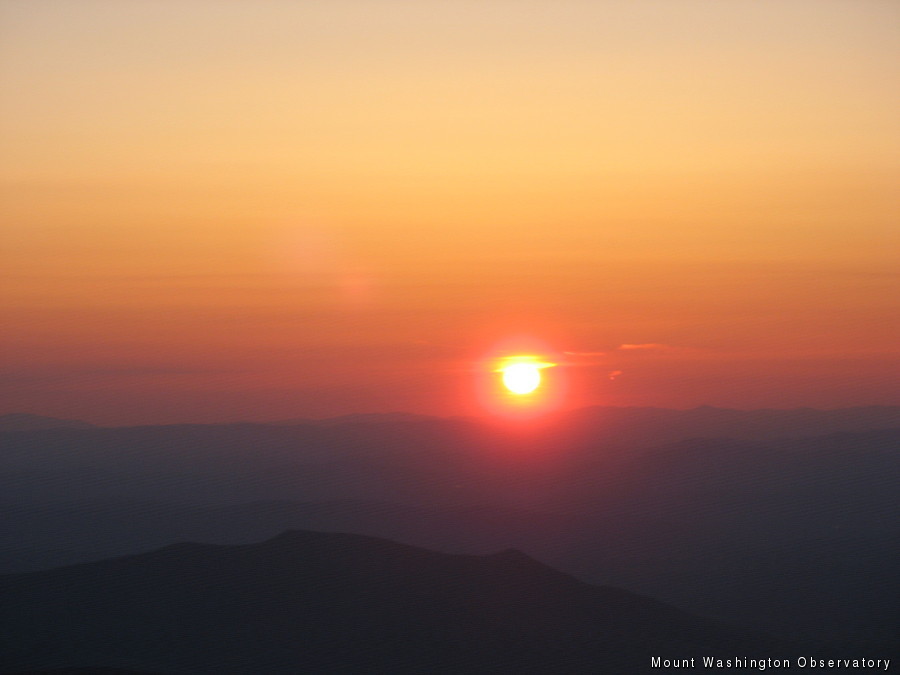 A Beautiful Sunset
Today, while at the summit of Mt. Clay, was the first day that I was in a sun snow shower. It was just one more type of weather condition to add to the past seven days worth of a variety of conditions. With these, a fine shift crew, and my seasoned partner, Paul, I have enjoyed my first volunteer shift at the MWO.
We have had at least 3 days with good views. Saturday started as a relatively calm, sunny day that was just right for Paul to take a couple of ski runs down the snow fields. He noted that the return climb was 525 steps. I found that time the best for starting 2 painting of pastel wash.
Brian and Marty joined us after an hour or so. Marty stayed behind, posing for a few photographs and dodging additional shots, while Brian tried out Paul's ski equipment.
The same afternoon, Ryan warned us to return within an hour when we were leaving for a mid-afternoon walk due to an ensuing thunderstorm. As predicted, within a short time after our early return, the clouds rolled in. Within another hour, the rain, lightning, and wind advanced bringing mixed precipitation, winds reaching 98mph, and cold temperatures with wind chills of -4° F.
The cloudy and winter-like days provided plenty of time for routine and special chores, and baking special desserts. Aside from shampooing carpets and painting the museum attendant's room, Paul found time to capture, on film, his favorite subjects; rime ice.
The shift crew was very accepting of the meals and sweets that Paul and I prepared. Mike created the most interesting lunches with leftovers, and always included "Scott Sauce" in all his meals. The crew answered all of the questions that Paul and I asked about the weather, the surrounding and distant mountains, and general housekeeping.
Marty has been good company when everyone else has been busy at work and chores.
I wish Ali, the Intern, the best in summarizing her data, and in her Master's program, and thank the entire crew for their hospitality and eating whatever Paul and I put on their plates. And a big thank you goes to Danny and Chris for Saturday night dinner. Good food makes good neighbors.
Althea Goundrey,  Summit Volunteer
Ellen Estabrook
Adjusting to Life on the Summit By Charlie Peachey Working on the summit of Mount Washington is not your average job. There aren't too many other places where the employees work and live together for
Ellen Estabrook
A Surprise Aurora By Francis Tarasiewicz After 17 months of working at New England's highest peak, it finally happened. On the night of November 12th, 2023, I was lucky enough to view the famous and
Ellen Estabrook
A Glimpse at METAR Reports By Alexis George, Weather Observer & Meteorologist METAR observations are submitted every hour of every day at Mount Washington Observatory. METAR is a format for reporting weather information that gets