A Wild Week of Weather
2015-01-28 12:29:05.000 – Caleb Meute, Weather Observer / Education Specialist
Upon arriving here on the summit last Wednesday, I had no idea how busy and truly awesome this week was going to be. To begin the week, we had high pressure which allowed for clear skies and visibilities that were maxed out at 130 miles. I am very thankful for my contact lenses which allow me to see that far, because it is an incredible scene when you can observe 130 miles into one of the most visually stunning regions of this country. I am still learning all of the peaks up here, but I can now easily point out, in clear weather, our furthest marker which is Mount Marcy in the Adirondacks. The weather was so nice at the beginning of the week that we were able to take our beloved and famous cat Marty outside to stroll around. He walked around the deck like he owned the place before a sudden hankering for cat treats turned him around, and with an impressive display of speed and agility he sprinted back towards the tower door.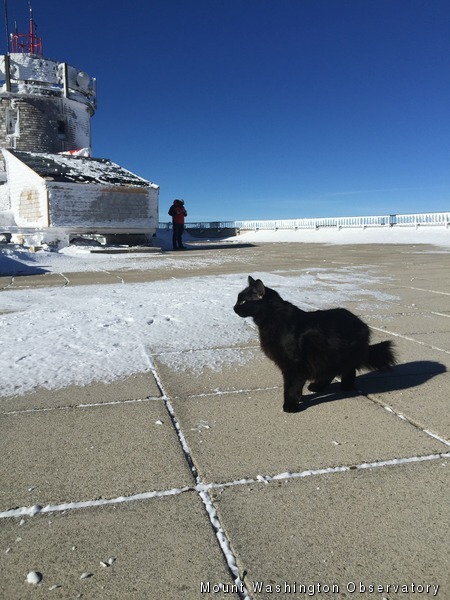 Saturday began with the summits in the clear, and with a Nor'easter approaching from the Mid-Atlantic region, we did not expect a sunset. This day left us temporarily disappointed, as the storm tracked further to the east and really only brushed the higher summits. This disappointment was incredibly short lived however, as right around the time the sun would be setting, the skies opened up to our west displaying one of the most utterly magnificent sunsets that I have ever seen in my life. To the east, snow showers were falling so our visibility was limited quite a bit. These snow showers almost provided a wall for all of the colors to reflect right back onto us, making it feel like we were living on a different planet. Everything around me was an immensely bright red and orange. The tops of the clouds below us to the west exposed an iridescent appearance with green, red and orange glows radiating in all directions. The deck was red and even my body and clothing displayed these red and orange colors. It would be impossible to explain to anyone how it actually appeared outside so we are very grateful to our new winter intern, Adam Freierman, who was able to snap a picture which captured the moment perfectly.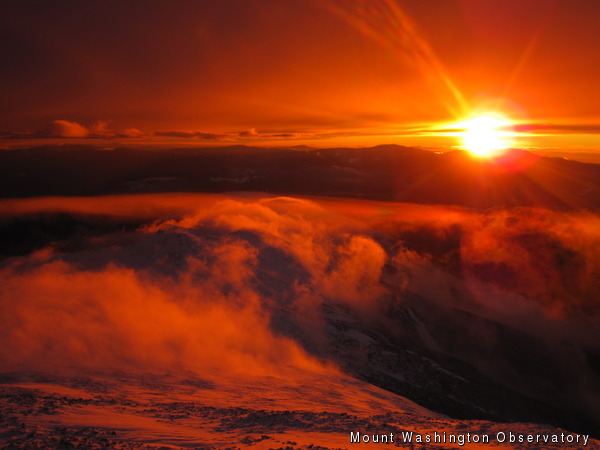 The weekend remained a bit dreary with the exiting Nor'easter, but Monday once again revealed maxed out visibilities of 130 miles. Our attention then quickly turned to "The Blizzard of 2015" which was setting up and looking to make a direct impact on all of New England. After perusing the details the storm for much of the weekend and reviewing the latest model runs throughout the day on Monday, we decided to delay our shift change from Wednesday until Thursday. This was the right decision, as we have to keep in mind that our opposing shift has to travel to the base of the mountain on Wednesday morning, and the roads were in no way going to be ready for their safe arrival. Once the Nor'easter began to swing heavy bands of snow into New England along with strong winds, we realized that we were in for a long and grueling day of deicing and battling winds. With the path the storm took as it moved into the Gulf of Maine, our winds were from the northeast which proved to make things much more difficult. Many of the doors to the Sherman Adams building face east, including our tower door, so we had no way to gain our bearings when we went outside to take our observations. As soon as we opened that door, the winds were in our faces at 70-90 mph. Our prevailing wind directions are from the west and northwest, so these northeast winds presented another challenge to us. Many rocks around the summit that are generally protected by the building when the winds come from the west were picked up and tossed at us at very high speeds. Collecting our precipitation can was certainly not an easy task as there was no protection from the winds and rocks being blasted at us for the duration of the walk. The storm ended up dropping 18 inches of snow on the summit and the peak wind registered from the east at 111 mph! Although it was an exhausting day, weather events such as this one are the reason we are all up here and we enjoy it "almost" too much. Before the Nor'easter actually arrived at the doorstep of the White Mountain Range, weather observer Michael Kyle took a picture of this beautiful display of a partial halo around the sun. While it was a very unique and stunning image, it was a bit ominous, as we knew this was the calm before the storm and dangerous weather was approaching.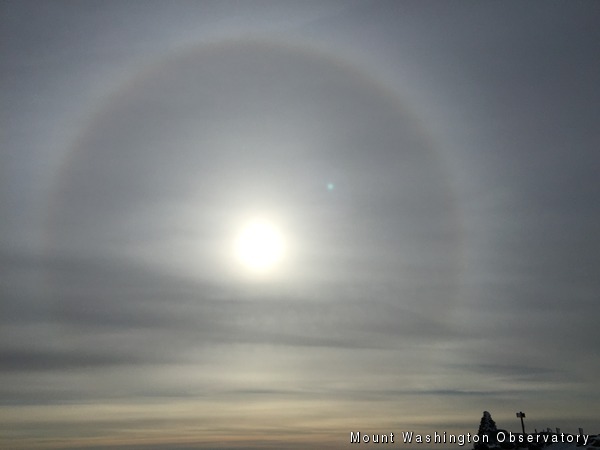 This Nor'easter presented the Observatory with a very unique and exciting opportunity that I was able to take advantage of. Several radio stations and TV channels reached out to us requesting interviews. With the role of education specialist, one of my duties is to talk with these different media outlets. Monday and Tuesday proved to be incredibly busy days for me and my fellow shift mates who had to take on some of my other responsibilities. Although it was busy, I am tremendously grateful for these opportunities as it allows me to gain broadcasting experience. I was able to connect with WHOM out of Portland Maine, Boston's NPR radio station (Here and Now), The Weather Channel and even with CBS radio as far out as Los Angeles (KNX). I grew up watching the Weather Channel on a daily basis, so it was surreal for me to be able to go live on the air with them reporting from the Rockpile!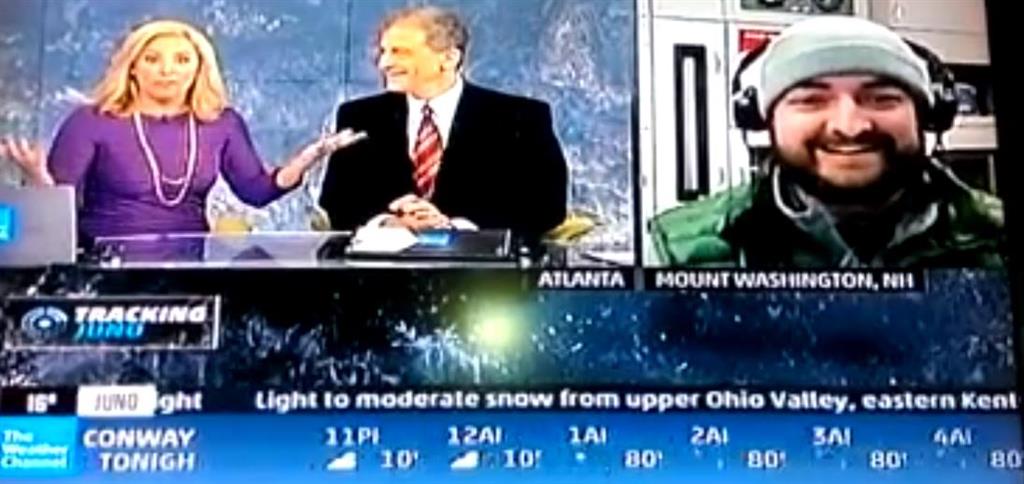 Weeks such as these make me feel truly blessed to be able to work with this tremendous organization in this extreme alpine climate!
Caleb Meute, Weather Observer / Education Specialist
Ellen Estabrook
Adjusting to Life on the Summit By Charlie Peachey Working on the summit of Mount Washington is not your average job. There aren't too many other places where the employees work and live together for
Ellen Estabrook
A Surprise Aurora By Francis Tarasiewicz After 17 months of working at New England's highest peak, it finally happened. On the night of November 12th, 2023, I was lucky enough to view the famous and
Ellen Estabrook
A Glimpse at METAR Reports By Alexis George, Weather Observer & Meteorologist METAR observations are submitted every hour of every day at Mount Washington Observatory. METAR is a format for reporting weather information that gets