All Things Come to an End
2012-12-09 17:50:33.000 – Stephen Lanciani,  Summit Intern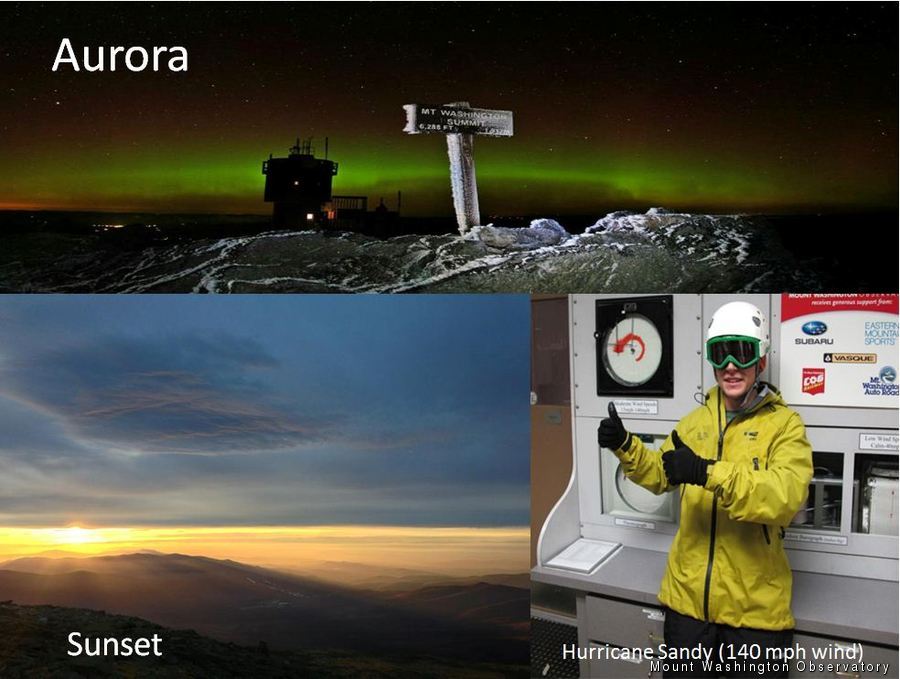 A sample of my experiences
Time flies when you're living on a mountain, that's how it goes…right? The time has come for me to say my goodbyes to the summit, as I have reached the final days of my internship. It's hard to believe that on Wednesday, I will head down after shift change and not return the following week. Having lived this week on-week off life since August, it will certainly feel weird when I don't meet with the crew at the base next Wednesday morning. It will be nice to get back to my fresh-out-of-college life and continue applying for meteorology jobs, and I also look forward to working at Waterville Valley to make a couple bucks. Those college loans don't pay themselves back you know, but boy would that be nice. This being said, I will definitely miss all aspects of the Rockpile, from the rugged alpine landscape, to the crew, and the Sherman Adams building that I called home for 4 months. This has been a once-in-a-lifetime opportunity and an experience that I will never forget.
So what did I do in my time here? To avoid writing a novel, I'll point out the major duties. A great deal of time was spent working on my project, dealing with our 80+ year historical data set. I wrote a program to go through over 680,000 lines of hourly observations in excel and note any erroneous data. I then went back and fixed these errors so that our database is clean and consistent and can be easily consulted for research. Perhaps one of the most rewarding tasks however, was shadowing the hourly weather observations and learning how to properly report conditions to the National Weather Service. I learned many tricks of the trade and gained valuable experience for my career in meteorology. Of course, I also have to mention my time spent shoveling and de-icing in hurricane force winds, you know, your average daily activities.
Yes, there was a lot of work involved in my time at the Observatory, but there was also time to just take in all the sights and sounds of the mountain. Having been here during the transition from summer to winter, I experienced an extreme spread of weather phenomena. Here is a small sample of what occurred: rain, snow, fog, rime, thunderstorms, beautiful sunrises/sunsets, 3 daily record highs and a daily record low, a magnitude 4.0 earthquake, Hurricane Sandy (resulting in 140 mph winds that literally threw me to the floor of the observation deck, hence a century club *attempt*), a fascinating aurora borealis display, and much, much more.
In some ways, four months on top of the Northeast is enough. In other ways, one could spend their whole life here trying to experience all that this mountain has to offer, most likely still missing out on some things. Unique is an understatement when describing this opportunity that I was given, and I don't think words will ever properly sum up my time here, so I resort to countless pictures, videos, and stories of a lifetime. The Mount Washington Observatory has an amazing partnership with this extreme and unforgiving landscape, that I hope lives on forever. And for those of you who want more than just my summary, I invite you to come experience it in person through the many ways that the Observatory offers. To the summit crew (Marty included), the valley staff, and everyone in between, I extend my greatest thanks. Keep exploring, keep observing, and you can bet I'll be back many times.
Stephen Lanciani,  Summit Intern
Ellen Estabrook
Adjusting to Life on the Summit By Charlie Peachey Working on the summit of Mount Washington is not your average job. There aren't too many other places where the employees work and live together for
Ellen Estabrook
A Surprise Aurora By Francis Tarasiewicz After 17 months of working at New England's highest peak, it finally happened. On the night of November 12th, 2023, I was lucky enough to view the famous and
Ellen Estabrook
A Glimpse at METAR Reports By Alexis George, Weather Observer & Meteorologist METAR observations are submitted every hour of every day at Mount Washington Observatory. METAR is a format for reporting weather information that gets