Another Snowy Day on the Summit!
2015-01-30 20:33:46.000 – Michael Dorfman, Weather Observer/IT Specialist
With a low passing directly overhead today, we got the treat of vertically-falling snow due to extremely calm winds. Adding up to 5.7 inches so far (and with a 5% liquid content), the snow that is falling is extremely light and fluffy. That rivals the 5% density champagne powder that many western ski resorts advertise! Even before collecting the snow to measure its liquid content, I knew the snow was light and fluffy; I could drag my feet through the 3 inches that lay on the deck without any resistance whatsoever.
Looking at the forecast for the coming hours, I'm not expecting this extremely light snow to stick around for too long. The snow even started to drift around with 10-15 mph winds earlier today! Winds will only increase in the foreseeable future, with gusts possibly surpassing the century mark by tomorrow afternoon. This will likely scour the summit clean of the freshly-fallen snow, depositing it in the neighboring ravines. With these increasing winds, temperatures will plummet below zero. These temperatures and winds will drop the wind chill value to dangerous levels, and blowing snow and morning fog will limit visibility. These factors will make for extremely challenging travel above tree line tomorrow.
It's amazing how conditions the summit can transform from relatively comfortable to very dangerous in less than 24 hours. For more information on weather on the summit, visit our
Higher Summits Forecast
, and if planning to venture into avalanche terrain, be sure to read the Mount Washington Avalanche Center's
avalanche forecast
as well!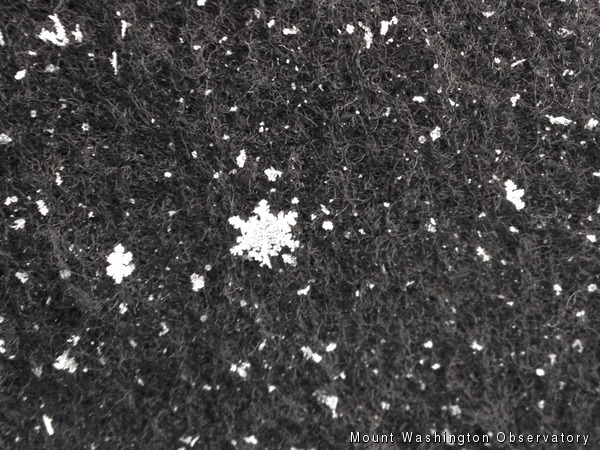 Observers use a black felt covered board to determine different types of precipitation
Michael Dorfman, Weather Observer/IT Specialist
Ellen Estabrook
Adjusting to Life on the Summit By Charlie Peachey Working on the summit of Mount Washington is not your average job. There aren't too many other places where the employees work and live together for
Ellen Estabrook
A Surprise Aurora By Francis Tarasiewicz After 17 months of working at New England's highest peak, it finally happened. On the night of November 12th, 2023, I was lucky enough to view the famous and
Ellen Estabrook
A Glimpse at METAR Reports By Alexis George, Weather Observer & Meteorologist METAR observations are submitted every hour of every day at Mount Washington Observatory. METAR is a format for reporting weather information that gets