Another Week on the Summit
2015-02-11 20:36:17.000 – Mike Zlogar, Summit Volunteer
This is my tenth volunteer shift at the summit. Each shift brings new experiences. Weather patterns, storms, clouds, and the way the sunlight bathes the summit make each day unique. Most days this week were in the clouds with snow and wind. Tuesday started with low wind and mild temperatures. The temperature dropped, the winds pick up and we experienced ground blizzard conditions. The daylight faded with a beautiful sunset.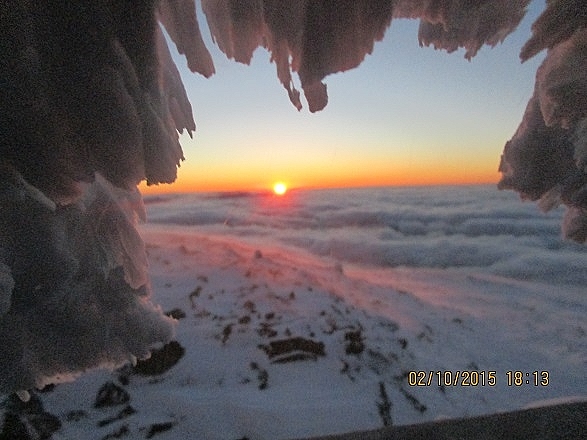 This week was filled with firsts. This is the first week without my wife Sue as my co-volunteer. My co-volunteer this week was Ruth who brought experience from her past volunteer shifts. Preparing for two groups kept us busy early in the shift, then things slowed down to and we were able to enjoy time and family style meals with the crew.
This was my first week with the shift of Kyle, Caleb, Tom and Adam. We met several times on shift change days but having the opportunity to get to know them made this week special.
This was the first time I cooked outdoors on the summit. Grilling dinner at -23 degrees brings a whole new meaning to "grill'n and chill'n".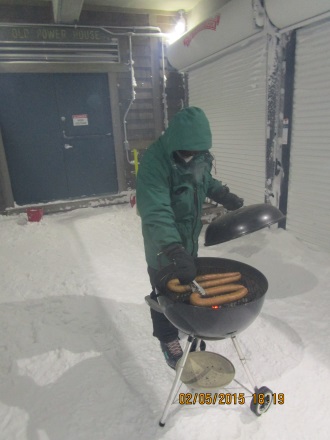 This was the first time I boarded the sled for a couple of rides down the Yankee Building drift. On Monday the temperature went above zero and the wind slowed to about 20 mph; a great day to venture out for some recreation. With practice on the drift done, maybe a run down one of the longer slopes is in the future?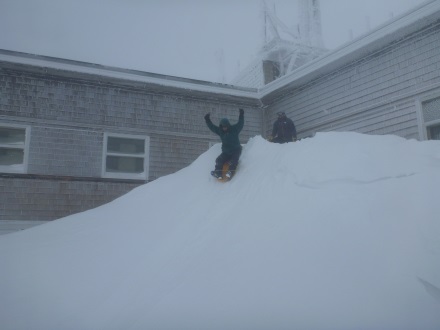 We had the pleasure of meeting some wonderful folks this week. After seeing her on television and hearing stories from observers and staff, we met Sarah Long on shift change day. She came to the summit to film and interview staff for future programs and to tell stories of her time on the Rockpile.
A day trip brought some wonderful supporters of the MWOBS to the summit. Meeting and talking with some of the folks that help the Observatory succeed gave me some understanding of the organization and all that goes into the operation.
On Saturday an EMS climbing trip of 8 adventurous climbers and two guides hiked to the summit. They enjoyed some hot drinks after the hike, and a dinner of meatloaf. After relaxing, a good night sleep at the observatory, and a hearty breakfast, they hiked down with temperature rising slightly and the wind slowing.
The Observatory and summit facilities are a special place, but it is the meeting and getting to know the people; the staff and members, guests and volunteers, that make this such a rewarding experience.
Mike Zlogar, Summit Volunteer
Ellen Estabrook
Adjusting to Life on the Summit By Charlie Peachey Working on the summit of Mount Washington is not your average job. There aren't too many other places where the employees work and live together for
Ellen Estabrook
A Surprise Aurora By Francis Tarasiewicz After 17 months of working at New England's highest peak, it finally happened. On the night of November 12th, 2023, I was lucky enough to view the famous and
Ellen Estabrook
A Glimpse at METAR Reports By Alexis George, Weather Observer & Meteorologist METAR observations are submitted every hour of every day at Mount Washington Observatory. METAR is a format for reporting weather information that gets