Another week unlike any other.
2013-12-02 16:46:35.000 – Brian Fitzgerald,  Weather Observer/Education Specialist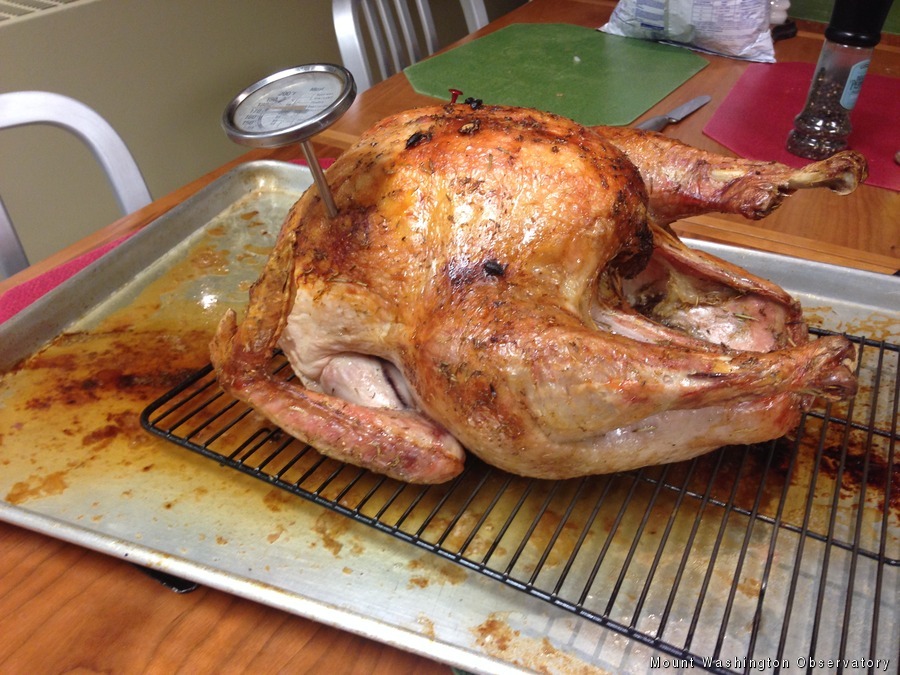 Our 16 pound bird!
Today, Monday, marks day number seven for our shift, after coming up a day early last week due to weather concerns. While no two shifts are typically alike, this week will certainly remain memorable.
For starters, our shift leader and staff Meteorologist Mike is on vacation for the week, reducing our staff number to just 2 observers and one intern for the week. Secondly, during November we typically do not have volunteers up with us being that November is usually pretty quiet to start with since the Auto Road and State Park are closed to visitors. With so little snow on the ground it is also our slightly awkward time of the year where trips up the road may take a few different types of transportation to get up and down, so trips to the summit are limited as well.
So combine all of these factors then add in a Thanksgiving holiday and you have one very quiet week on the summit. With just 3 of us here we've had fun being able to stretch out a little more than usual and get a chance to do some adventurous cooking (see our turkey above!).
Now with the shift week coming to an end we are looking forward to some down time, but also having Mike and volunteers back on the summit next week- not to mention getting some new and old members up to the summit to experience mountain life on upcoming trips to the summit!
For more information on our Winter DayTrips and EduTrips, follow the link!
Brian Fitzgerald,  Weather Observer/Education Specialist
Ellen Estabrook
Adjusting to Life on the Summit By Charlie Peachey Working on the summit of Mount Washington is not your average job. There aren't too many other places where the employees work and live together for
Ellen Estabrook
A Surprise Aurora By Francis Tarasiewicz After 17 months of working at New England's highest peak, it finally happened. On the night of November 12th, 2023, I was lucky enough to view the famous and
Ellen Estabrook
A Glimpse at METAR Reports By Alexis George, Weather Observer & Meteorologist METAR observations are submitted every hour of every day at Mount Washington Observatory. METAR is a format for reporting weather information that gets