Are we connected somehow?
2008-02-01 02:03:39.000 – Ryan Knapp,  Staff Meteorologist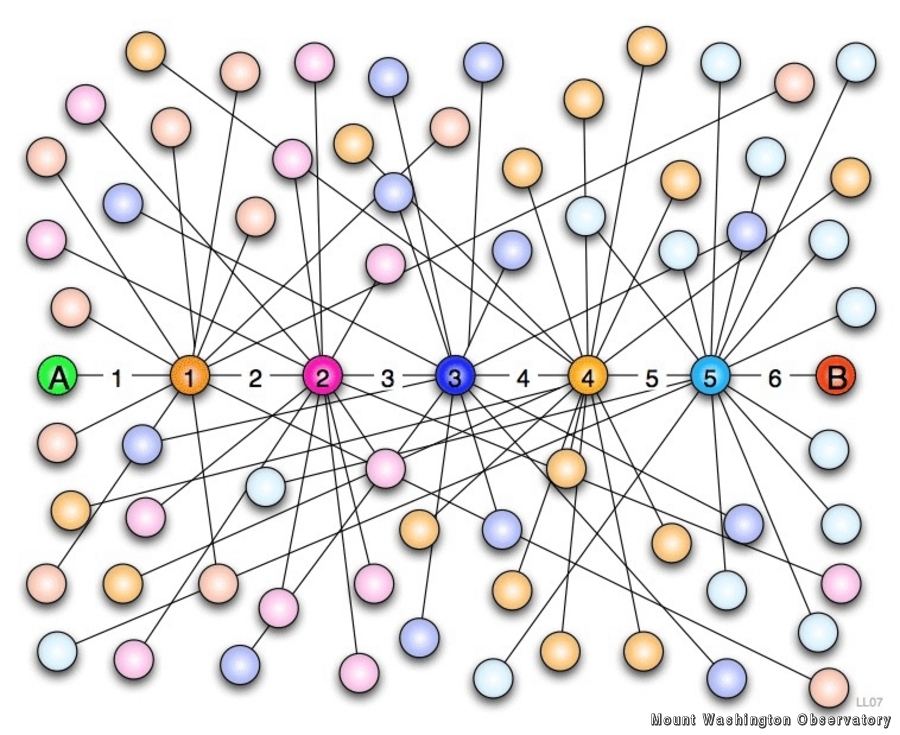 Six Degrees of Separation.
While at dinner tonight, we met an edutripper and through conversation found out that she knew the girlfriend of a former observer here. All of this brought back the theory of a shrinking world back to mind from college. It is the belief that as the world's population continues to grow; the more connected people become as the network of personal acquaintances becomes larger but at the same time more encompassing. It is partially what the six degrees of separation game is all about.
The six degrees of separation game is played like this. You think of two people, lets say John and Jane. Now you look at each of their social networks and by five people or less, you should be able to connect them. So in a made up scenario it would go like this: John in accounting knows Nancy the parking attendant who knows Todd the toll booth collector who is friends with Sharon down the street who plays bingo every Tuesday with Sarah who is married to Kevin who used to date Jane in high school. If you are still confused, the picture tied to this comment is a good artistic visualization entitled "Six Degrees of Separation (zes niveaus van scheiding)" by Laurens van Lieshout.
Now while it is difficult to prove how accurate the six degrees of separation is in the real world, it works really well in Hollywood where the game of Six Degrees of Kevin Bacon has been proven to work. What you do here is tie any person that has worked on an accredited film to the actor Kevin Bacon. So for example: Actress Jodie Foster was in "Silence of the Lambs" with Anthony Hopkins who was in "The Human Stain" with Ed Harris who was in "Apollo 13" with Kevin Bacon.
On the summit though, we get the best of both worlds in a game that I will call the "Six Degrees of Separation Ending With Kevin Bacon." So with this, anyone that has worked at the observatory, come up on an Edutrip/daytrip, taken a tour in the summer, volunteered for a week, or has spoken to an observer on/off the summit within the past few years is connected to Kevin Bacon by six degrees of separation. There may be more than one way to make the connection, but here is what I came up with: ____(insert your name here)___ knows observer Ryan Knapp (or any other observer that you might have met while up here) who works under the supervision of Ken Rancourt who was in a segment of "The Voyage of the Mimi" with (a then young) actor named Ben Affleck who was in the movie "Armageddon" with Bruce Willis who was in the movie "Sunset" with Kathleen Quinlan who was in "Apollo 13" with Kevin Bacon. So it is a small world after all, I guess.
Ryan Knapp,  Staff Meteorologist
Ellen Estabrook
Adjusting to Life on the Summit By Charlie Peachey Working on the summit of Mount Washington is not your average job. There aren't too many other places where the employees work and live together for
Ellen Estabrook
A Surprise Aurora By Francis Tarasiewicz After 17 months of working at New England's highest peak, it finally happened. On the night of November 12th, 2023, I was lucky enough to view the famous and
Ellen Estabrook
A Glimpse at METAR Reports By Alexis George, Weather Observer & Meteorologist METAR observations are submitted every hour of every day at Mount Washington Observatory. METAR is a format for reporting weather information that gets