Aurora Borealis – A site to see
2011-08-06 16:07:02.000 – Roger Pushor,  Observer / IT Specialist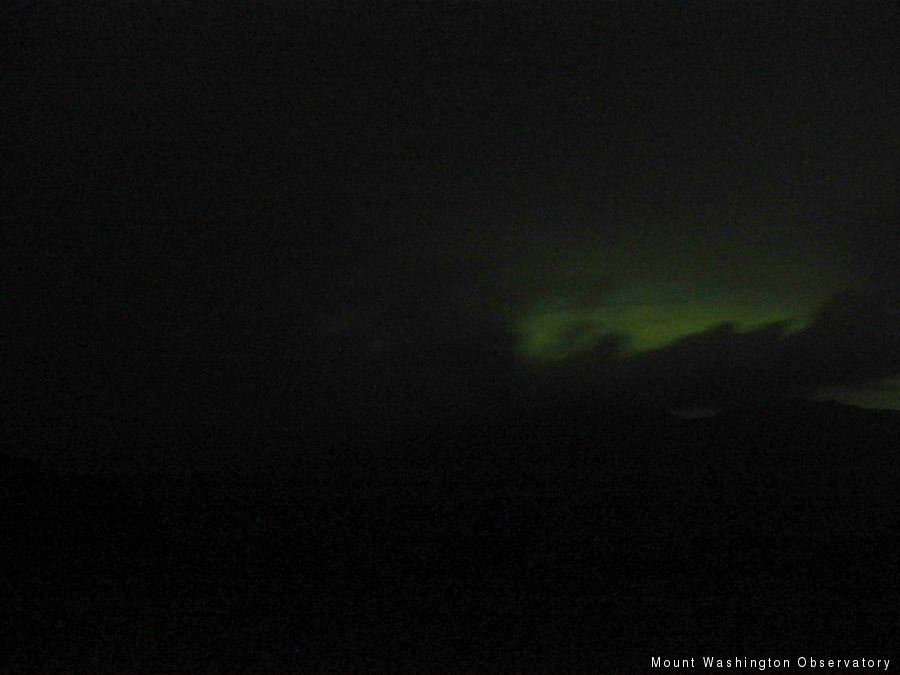 Aurora Borealis-Just below 6 mile on the Auto Road
Yesterday's highlight didn't come until late evening when six of us decided to hike down the Auto Road to find a point where we could get a glimpse of the Aurora Borealis. We ended up finding a clear spot in the Northern sky at around 5000 feet where we setup our tripod and camera to take a few pictures, one of which is attached to this Observer Comment. Unfortunately the camera just couldn't capture the spectacular show we saw in person. The Aurora Borealis peaked last night; however, there should still be an opportunity to view it tonight if the skies clear.
This shift continues to see mild temperatures with lows at night in the 40's and highs during the day in the mid to upper 50's. Winds have also been very light with most days barely reaching 20 mph. Early this morning, Steve and I went up on the tower to work on our microwave link to the Valley and the RM Young Anemometer was completely motionless – A rare sight at the summit of Mount Washington for sure. Steve and I would have greatly appreciated a 10 mph breeze just to keep the bugs away.
This morning was another mild day bringing a large number of visitors to the summit. As you walk around the deck this morning doing an observation you saw visitors from all over and as you listen you hear a number of languages being spoken and of course you see hundreds of pictures being taken. If Marty is out on the deck he always somehow steals the show.
Roger Pushor,  Observer / IT Specialist
Ellen Estabrook
Adjusting to Life on the Summit By Charlie Peachey Working on the summit of Mount Washington is not your average job. There aren't too many other places where the employees work and live together for
Ellen Estabrook
A Surprise Aurora By Francis Tarasiewicz After 17 months of working at New England's highest peak, it finally happened. On the night of November 12th, 2023, I was lucky enough to view the famous and
Ellen Estabrook
A Glimpse at METAR Reports By Alexis George, Weather Observer & Meteorologist METAR observations are submitted every hour of every day at Mount Washington Observatory. METAR is a format for reporting weather information that gets