Bad Weather Shift?
2010-04-20 05:19:21.000 – Mike Carmon,  Staff Meteorologist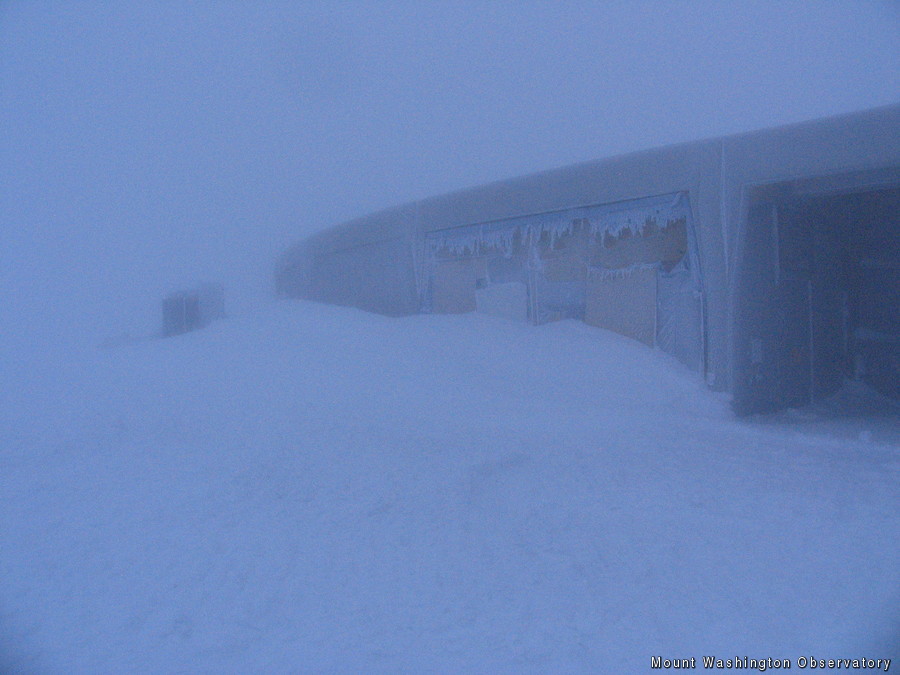 Not done yet…
It seems our fortunes as the good weather shift are taking a turn for the worse!
Here are some facts to support that claim:
Since this past Friday, April 16th, we have recorded only 10 sunshine minutes (out of a possible 3,307).
We picked up 15.2″ of new snow in three days (April 16 – 18).
Rime ice began to form just after midnight on April 16, and has not ceased yet!
We have reported freezing fog for 77 consecutive hours (as of 6 a.m. this morning)!
As a result of this persistent fog, we haven't reported a visibility beyond 1/4 mile since midnight on April 16.
The ground, which was clinging to its last couple inches of snow and rime when we arrived last Wednesday, has now been re-covered with considerable snow drifts all throughout the summit!
Winter has certainly staked its claim to the month of April this week, reminding us that we are still indeed working atop Mt. Washington. We have busted out the snow shovels and crow bars again, and the numerous trips to the precipitation can have involved quite a bit of trudging through snow.
Although May is only ten days away, we are by no means out of the woods yet!
Mike Carmon,  Staff Meteorologist
Ellen Estabrook
Adjusting to Life on the Summit By Charlie Peachey Working on the summit of Mount Washington is not your average job. There aren't too many other places where the employees work and live together for
Ellen Estabrook
A Surprise Aurora By Francis Tarasiewicz After 17 months of working at New England's highest peak, it finally happened. On the night of November 12th, 2023, I was lucky enough to view the famous and
Ellen Estabrook
A Glimpse at METAR Reports By Alexis George, Weather Observer & Meteorologist METAR observations are submitted every hour of every day at Mount Washington Observatory. METAR is a format for reporting weather information that gets