Become a Part of Our Story!
2017-12-27 07:25:40.000 – Eric P. Kelsey, Ph.D., Director of Research
Back in 1926, Dartmouth College sophomore (and future Observer) Bob Monahan convinced a French professor, a Geology assistant, and a classmate to spend several days at the summit of Mount Washington during Christmas break. They stopped at the AMC Pinkham Notch lodge and invited Joe Dodge to join them later at the top if he could. The group of three hoisted a heavy anemometer up the mountain and settled at Camden Cottage. Joe met them at the summit two days later and was greatly inspired by their work to measure wind speed at the summit. Clearly, a flame was lit, and in 1932 Joe Dodge proclaimed the upcoming 1932-33 International Polar Year as the ultimate motivation to reestablish an observatory atop Mount Washington. In an interview on March 3, 1968, Joe recalled:
"Well, because of this announcement Monahan and I decided, well jingles, this is the real reason to establish an observatory on Mount Washington."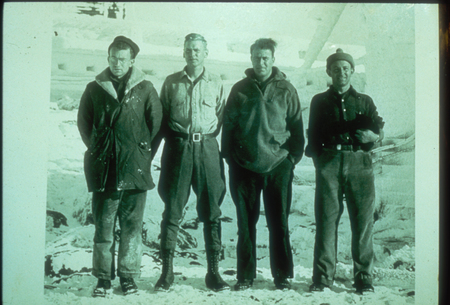 Original 1932 Observers (L-R) Alex McKenzie, Bob Monahan, Joe Dodge and Sal Pagliuca
With a $400 start-up donation by the Academy of Sciences, the Mount Washington Observatory was established in October 1932. Since 1935, hourly observations of various meteorological variables have been taken continuously by our rugged Observers of various ages, expertise, and cultural backgrounds. Only for a portion of two days in 2003 when the TV-8 building caught fire and the Observers evacuated the summit has there been a break in the hourly observations. What's more is that several variables, namely temperature and relative humidity, have been measured using the same type of instruments during this entire time. The trustworthy sling psychrometer, a dry and a wet bulb thermometer, is slung in the same manner every hour at the summit by an Observer. This consistency in measurement methods, which we say produces a "homogeneous" climate record, over such a long period of time makes the Mount Washington climate record one of the best in the world. Most other weather stations have many missing observations and/or have changed the type of instrumentation they use. In addition, the remote mountaintop location is distant from any significant land-use changes, industrial human activity, and vegetation changes that might impart a local change in temperature, humidity, wind and other variables. The elevated location, higher than any other point for over a thousand miles, provides a robust regional perspective on weather and climate of the lower troposphere.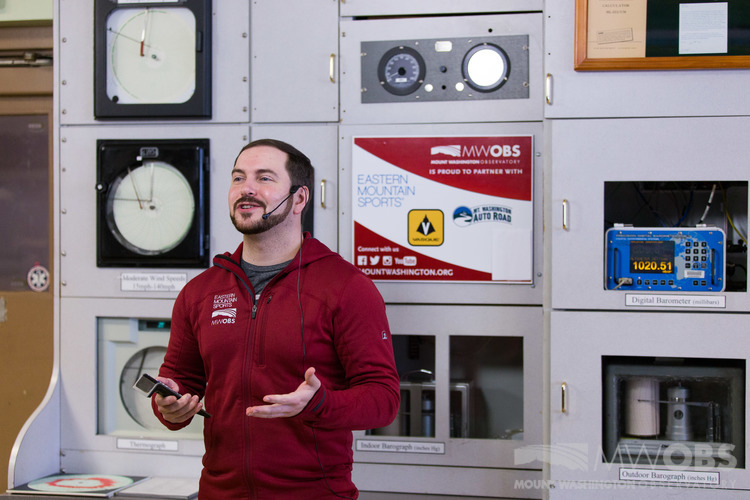 Weather Observer Tom Padham conducts a distance learning program in 2017
Being able to work with this amazing climate record makes sustaining our work of research and education easier. We have utmost confidence in the summit warming trend we have calculated, as well as the seasonal trends in fog and humidity performed by Seidel et al. (2009). Our education staff and Observers bring our data and research results into K-12 classrooms and allow students to use it to understand weather and climate concepts from a truly amazing place. When we analyze our data, we can make robust, confident conclusions that help advance our knowledge of the weather and climate of the White Mountain region and of mountain meteorology more generally. We collaborate with numerous organizations, ranging from the Appalachian Mountain Club, to learn how climate change is influencing the fragile alpine ecosystem, to the Massachusetts Institute of Technology, to understand the properties of droplets and ice crystals in clouds and how particles, on which cloud droplets form, grow in the atmosphere via chemical reactions.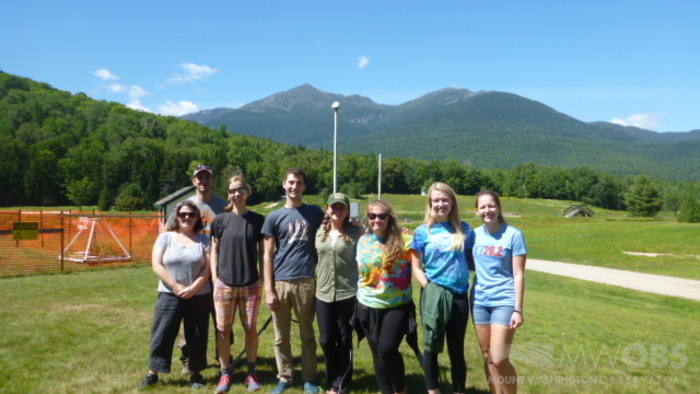 Plymouth State University meteorology students conducting research on the planetary boundary layer with Dr. Eric Kelsey
As a meteorologist and climatologist interested in mountain meteorology and climate – and those awesome meteorological extremes – there is no other place I would rather work. The passion and dedication of all MWO staff and volunteers make this iconic organization fun, exciting, and highly relevant to the advancement of weather and climate science. There is no better place that is easily accessible that has the unique combination of history, beauty and extremes to inspire visitors of all ages from around the world. It is only through the amazing support of our members and donors that we can continue the grand legacy of scientific research and education that Joe Dodge and others inspired over 85 years ago. Be a part of this amazing story; please give to our annual appeal today.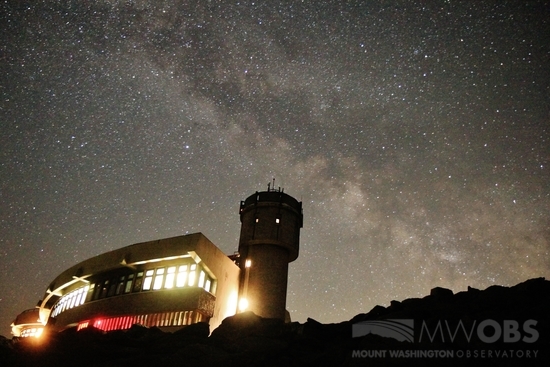 Eric P. Kelsey, Ph.D., Director of Research
Ellen Estabrook
Adjusting to Life on the Summit By Charlie Peachey Working on the summit of Mount Washington is not your average job. There aren't too many other places where the employees work and live together for
Ellen Estabrook
A Surprise Aurora By Francis Tarasiewicz After 17 months of working at New England's highest peak, it finally happened. On the night of November 12th, 2023, I was lucky enough to view the famous and
Ellen Estabrook
A Glimpse at METAR Reports By Alexis George, Weather Observer & Meteorologist METAR observations are submitted every hour of every day at Mount Washington Observatory. METAR is a format for reporting weather information that gets