Behind the Scenes: Intern Research
2019-07-21 07:39:41.000 – Austin Patrick, Summit Intern
Research is one of the many tasks that interns such as myself are given as part of our time up on the Summit. It tends to be one of the more time extensive tasks as forecasting may take hours and other tasks like writing this blog may take forty-five minutes or more if you count the writer's block. Research extends over the whole summer. Everyone will be able to see the research we produce on August 14th at the Weather Discovery Center, but no one really knows the process that leads up to the big presentation, so how about a look behind curtains? Let me give you guys a view into the weeks of research as the project begins to wind down.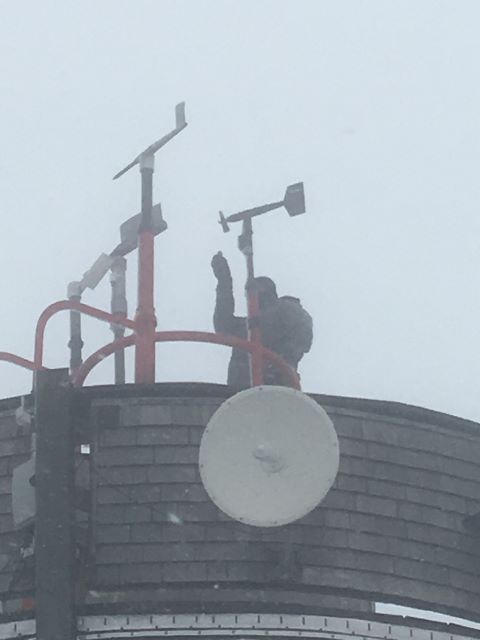 Me and Ben Charles have a unique project that has allowed us to obtain our data by going outside and withstanding the elements. For the last four weeks, we have gone out with our handheld instruments and went onto the observatory deck as well as the top of the tower in order to run tests. We have been through a multitude of weather scenarios. One of the first weeks of research we were confronted with winds nearing seventy-five miles per hour and blowing water. No number of layers of rain jackets and wind pants can keep you dry when you're out there for an extended amount of time. We also have experienced a microburst of around eighty miles per hour as well as a day clouded by haze through smoke from wildfires that smelled anything but pleasant. In some of those events, we are dreading the conditions, but it also allows us to get out of our office chairs to do work and add variety to our day.
After measurements are taken, the next step is calculations. Through the past couple of weeks, we have learned the ins and outs of Excel and Google Sheets. We are also glad that we paid attention to all the statistics classes we took in college as normal distribution and RMSE have become words in our regular day vocabulary. Every now and then we will experience the mathematical version of "writer's block" which is usually solved by an afternoon dose of caffeine.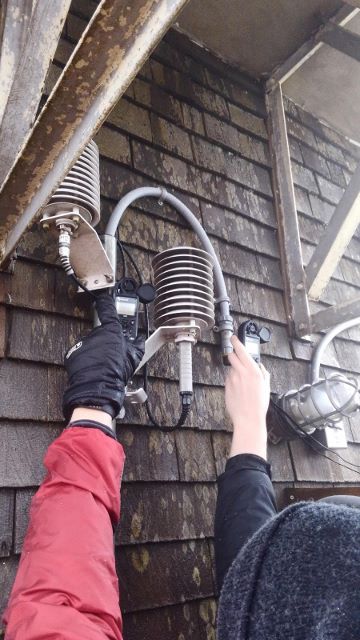 The final step in our week with research is the presentation right before we leave the mountain. At first, it was intimidating as we in the presence of people who are veteran scientists like the observers, Summit directors, and research mentors, but it was a temporary feeling as it is through these presentations we get offered advice and direction on what to do next week. With a final jotting of notes and comments from others, we end our week and prepare to pick back up the work the following Wednesday.
Austin Patrick, Summit Intern
Ellen Estabrook
Adjusting to Life on the Summit By Charlie Peachey Working on the summit of Mount Washington is not your average job. There aren't too many other places where the employees work and live together for
Ellen Estabrook
A Surprise Aurora By Francis Tarasiewicz After 17 months of working at New England's highest peak, it finally happened. On the night of November 12th, 2023, I was lucky enough to view the famous and
Ellen Estabrook
A Glimpse at METAR Reports By Alexis George, Weather Observer & Meteorologist METAR observations are submitted every hour of every day at Mount Washington Observatory. METAR is a format for reporting weather information that gets