Brocken Spectre: An Interesting Phenomenon
2016-01-25 12:47:55.000 – Andrew Henry, Summit Intern
A Brocken spectre, sometimes referred to as a Brocken bow or mountain spectre, formed a few shifts back. It was an interesting weather phenomenon I had never seen before. Since the occurrence of the Brocken spectre I have looked into what they are and what conditions cause them to form.
A Brocken spectre is the enormous magnified shadow of an observer cast onto the upper surfaces of clouds opposite the sun. The shadow often appears as a ghostly figure surrounded by halo-like rings of colored light when sunlight meets a cloud of uniformly sized water droplets. The name Brocken spectre originates from the Brocken, a peak in the Harz Mountains in Germany that is often just above cloud level. Although most common in the mountains of central Germany, this phenomena can appear on any misty mountainside or cloud bank just below the summit.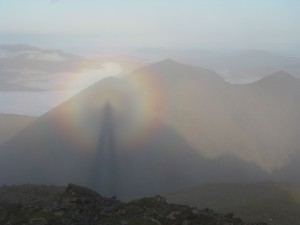 Photo courtesy of earthsky.org
Brocken spectres appear when sun shines from behind an observer on a ridge line or summit, projecting their shadow onto clouds, mist or fog below. The apparent magnification of the shadow is an optical illusion that occurs because the shadow is cast on water droplets of varying distances from the eye, causing poor depth perception.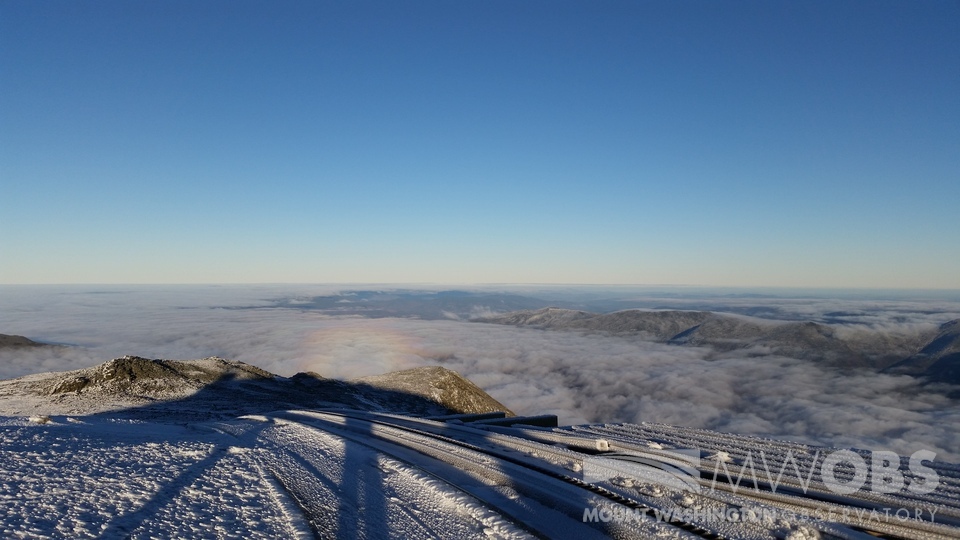 Brocken spectre looking northeast toward Ball Crag and Nelson Crag on 12/16/15
Update!
Speaking of Brocken spectres, we just witnessed one this afternoon! If you look closely, there's even a faint second brocken spectre around the first.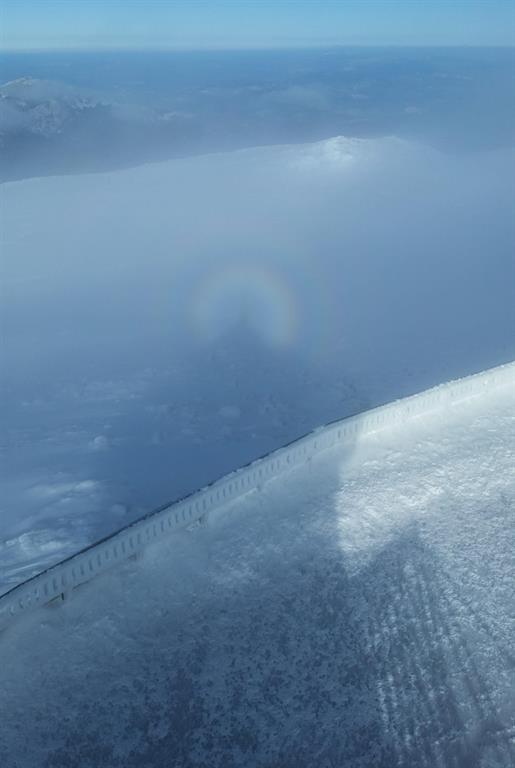 Faint double Brocken spectre as seen from the parapet this afternoon
Andrew Henry, Summit Intern
Ellen Estabrook
Adjusting to Life on the Summit By Charlie Peachey Working on the summit of Mount Washington is not your average job. There aren't too many other places where the employees work and live together for
Ellen Estabrook
A Surprise Aurora By Francis Tarasiewicz After 17 months of working at New England's highest peak, it finally happened. On the night of November 12th, 2023, I was lucky enough to view the famous and
Ellen Estabrook
A Glimpse at METAR Reports By Alexis George, Weather Observer & Meteorologist METAR observations are submitted every hour of every day at Mount Washington Observatory. METAR is a format for reporting weather information that gets