broken
2009-09-03 16:38:15.000 – Stacey Kawecki,  Observer and Meteorologist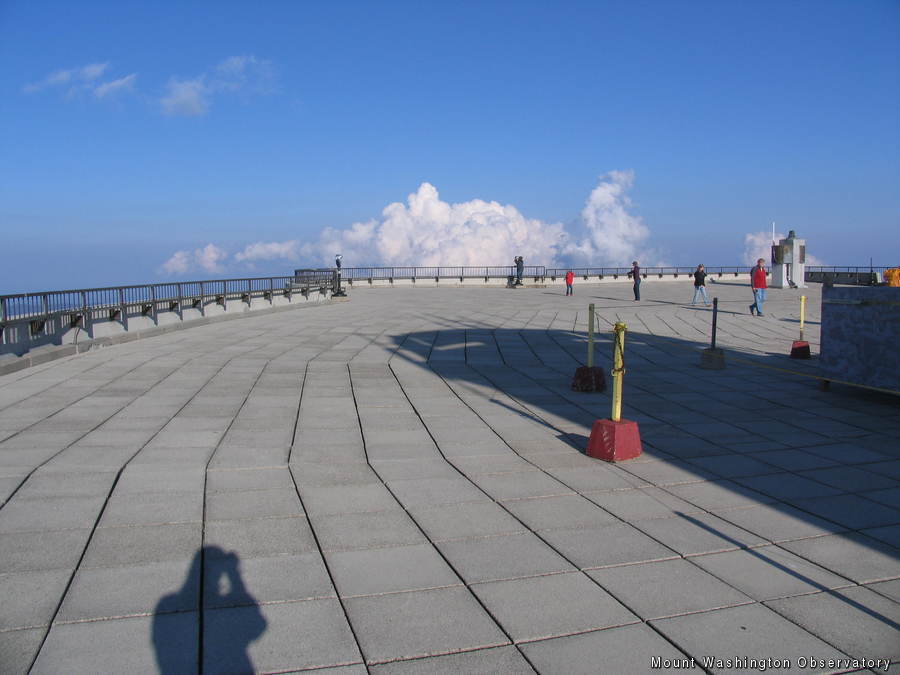 You'd never guess this was the culprit
In my first comment I ever wrote, introducing myself to Observatory members and website visitors, I mentioned that I am an incurable klutz. Well, after over two years at the Obs, all the other observers, interns, and valley folk can probably attest to that fact. I remember a few people who have fondly enjoyed watching me fall down. However, I have been extraordinarily lucky in my clumsiness. For one, I have never sustained a broken bone (knock on wood) and I'm actually pretty good at sports (which require a lot of hand-eye coordination).
I have hiked around this mountain many times, down four times, up once. I have hiked many other surrounding mountains. I have ridden my bike down treacherous hills on slippery terrain. I have circum-navigated the observation deck in over 100 mph winds. I have been on top of the tower for a gust over 125 mph. I have dealt with all kinds of icing in all kinds of conditions. I've successfully retrieved the precipitation can on glaze ice coated with water. All accomplished with no real injury, minus a few scrapes. This is a fairly amazing feat considering the unusual degree of my clumsiness.
After slinging upon the observation deck, I began my normal stroll around, to evaluate visibility and sky condition. After a mere few steps, I buckled over in pain, tears sprang to my eyes, and a few choice words nearly escaped my lips. My foot inadvertently landed in a small crevice between two tiles, and my ankle did a fun little roll. My ankle has seen some pretty wicked twists in the past few weeks, but those were at least legitimate and, so I thought, quickly healed. Coming down from Camel's Hump and North Moat Mountain are at least somewhat cool injuries, seeing how they were attained by doing something exciting. Well, walking definitely seems to be my downfall (literally).
And now I sit with ice upon my ankle, jealous and angry because I want to be out hiking or running or at least be able to walk, not hobble, around the deck. It's nothing too serious, so don't worry. I just thought it might be appropriate to let everyone know the inherent dangers of working at the home of the world's worst weather are not always blatantly obvious. Beware the Observation Deck on a clear, calm, sunny, beautiful day. It may seem inconspicuous and harmless, but one trip might make you see it in a whole different light.
Stacey Kawecki,  Observer and Meteorologist
Ellen Estabrook
Adjusting to Life on the Summit By Charlie Peachey Working on the summit of Mount Washington is not your average job. There aren't too many other places where the employees work and live together for
Ellen Estabrook
A Surprise Aurora By Francis Tarasiewicz After 17 months of working at New England's highest peak, it finally happened. On the night of November 12th, 2023, I was lucky enough to view the famous and
Ellen Estabrook
A Glimpse at METAR Reports By Alexis George, Weather Observer & Meteorologist METAR observations are submitted every hour of every day at Mount Washington Observatory. METAR is a format for reporting weather information that gets