Brother and Sister Seek the Peak!
2019-07-30 10:27:22.000 – John King, Summit Intern
Brief background, I am currently a Senior at West Virginia University (WVU) and my sister Katie graduated from there in 2016. Following a previous history of the King family going to WVU, you could say being a mountaineer is in our blood. When walking around campus and outside in the network, one of the most common phrases you'll hear is "Mountaineers climb higher." The weekend of Seek the Peak we did just that.
Leading up to Seek the Peak there were emotions of anxiousness, excitement and nervousness. As there was heat wave in the area we knew that the hike was going to be more battling the heat than battling the trail. Having previously hiked Washington and have had my fair share of time in the Whites, I knew what the trail had in store for me but Katie was nervous but confident.
The eve of Seek the Peak we went through our gear together, said what we needed and didn't need. Extra water and electrolyte were key in addition to our trail food. For me chocolate and peanut butter and granola for her. Clothing was laid out shoes were ready and our packs were packed. "I'm nervous"-Katie
The day has come! My countless amount of trips up and down the auto road stairs while on shift were ready to be tested. Katie's countless trips up and down the Harvard coliseum stairs were ready to be tested. We were ready. We had a 4:30am alarm. Woke up, fueled up and were ready to get on trail. 6:00am arrival at Pinkham notch and we were anxious to start.
After stopping at the MWOBS tent and chatting for a bit we were on the trail at 6:15am. The plan was Tuckermans to Lions Head. The pace was quick as I took the lead. We passed everyone in front and were off to a blistering start. We got an hour in before we took a quick snack break. "How much further do we have to go?" Katie said. I responded with a point directly up to the summit followed by saying "we have nothing to lose and everything to gain!" We pressed on at a great pace.
Two and a half hours in total, we were standing there West Virginia flag in hands at the summit sign. She was so excited screaming how awesome it was. We took our pictures, and then the summit cleared. There was nothing like it. After spending many shifts up here knowing what the views look like. This was my favorite one as I was able to see the excitement in my sister face after what we had just accomplished. We Seeked the Peak!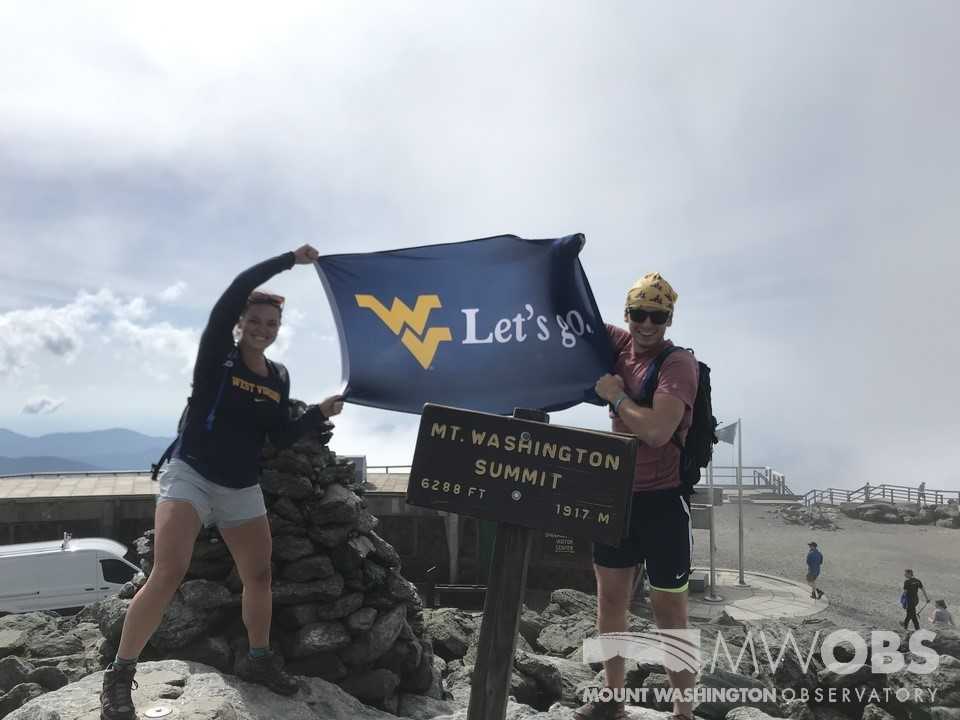 John King, Summit Intern
Ellen Estabrook
Adjusting to Life on the Summit By Charlie Peachey Working on the summit of Mount Washington is not your average job. There aren't too many other places where the employees work and live together for
Ellen Estabrook
A Surprise Aurora By Francis Tarasiewicz After 17 months of working at New England's highest peak, it finally happened. On the night of November 12th, 2023, I was lucky enough to view the famous and
Ellen Estabrook
A Glimpse at METAR Reports By Alexis George, Weather Observer & Meteorologist METAR observations are submitted every hour of every day at Mount Washington Observatory. METAR is a format for reporting weather information that gets