Bucket List Item Checked Off!!
2021-10-26 04:46:45.000 – Matthew Addison, Weather Observer
Greetings friends, my name is Matthew Addison, the newest Night Observer/Meteorologist here at the Mount Washington Observatory. When I began my meteorology career 26 years ago while serving in the United States Air Force, I heard about Mount Washington and how it was the "Home of the Worst Weather." Through the years, me and my colleagues would always talk about one day working for the Observatory; however, I had to put it on my "bucket list" as I decided to make the Air Force my career. Now, I am blessed to have this opportunity and check off this bucket list item.
I started my meteorology career after enlisting in the United States Air Force in 1995. In the early years of my Air Force career, I trained to become a weather observer and forecaster. Midway through my career, I earned my associates degree in Weather Technology and bachelor's degree in Meteorology. At the same time, I received my Air Force Commission and became a weather officer.
Throughout my Air Force career, I had the opportunity to observe and forecast the weather across the world in such places as Africa, Norway, England, Croatia, Germany, Southwest Asia, and all over the United States. Additionally, I deployed to and led weather teams who provided specialized aviation weather support during combat operations in Iraq, Kuwait, Afghanistan, Uzbekistan, Qatar, Libya, and Kyrgyzstan.
After serving for 22 years, I retired from the Air Force in 2017 and began training Army Intelligence Soldiers how to use a battle planning software to identify weather impacts to military combat operations.
I'm not new to "extreme weather"; however, the weather that Mount Washington offers is very different from than the extreme weather I've experienced. Over the years I've experienced "Haboobs" (intense dust storms) in the Middle East, Hurricanes across the U.S. Gulf Coast, massive ice storms in the Midwest and severe thunderstorms and tornadoes in the south-central portions of the U.S. and in Africa. In my spare time, I enjoy chasing tornadoes and severe storms, as I enjoy taking weather photography (specifically of lightning).
I've only been on the summit for 5 days now and have already experienced the thickest fog I've ever seen with sustained winds above hurricane force. Taking an observation with winds gusting to 81 mph is something I'll never forget (and is pretty awesome to experience). Additionally, I've had my first taste of winter as we received 3" of snow and even have quite a bit of glaze ice due to freezing rain. I know Mount Washington's "Worst Weather" has more to offer and I can't wait to see what else is in store for me during my time here. While I'm very happy to mark this off my "bucket list", I'm honored to have this opportunity to help facilitate Mount Washington's ability to continue its mission of "advancing the understanding of the natural systems that create Earth's weather and climate" and ensure the continuity of the longest continuous climate records here in North America. I'm very excited to join this team of weather professionals and begin this new chapter of my career.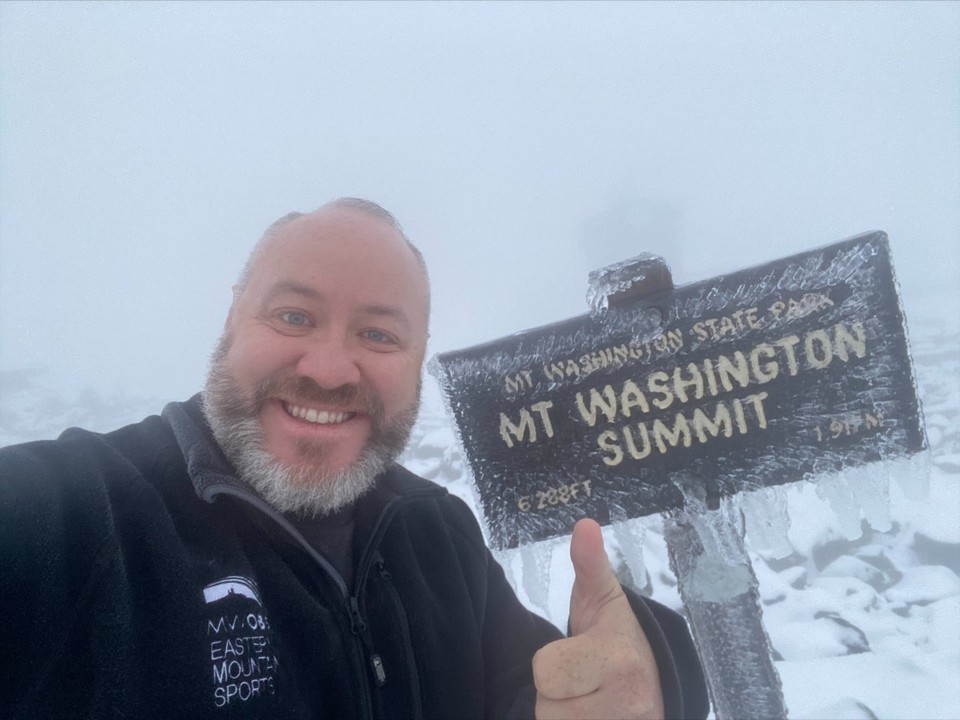 Matthew Addison, Weather Observer
Ellen Estabrook
Adjusting to Life on the Summit By Charlie Peachey Working on the summit of Mount Washington is not your average job. There aren't too many other places where the employees work and live together for
Ellen Estabrook
A Surprise Aurora By Francis Tarasiewicz After 17 months of working at New England's highest peak, it finally happened. On the night of November 12th, 2023, I was lucky enough to view the famous and
Ellen Estabrook
A Glimpse at METAR Reports By Alexis George, Weather Observer & Meteorologist METAR observations are submitted every hour of every day at Mount Washington Observatory. METAR is a format for reporting weather information that gets