Bust!
2010-07-20 23:45:00.000 – Mike Carmon,  Staff Meteorologist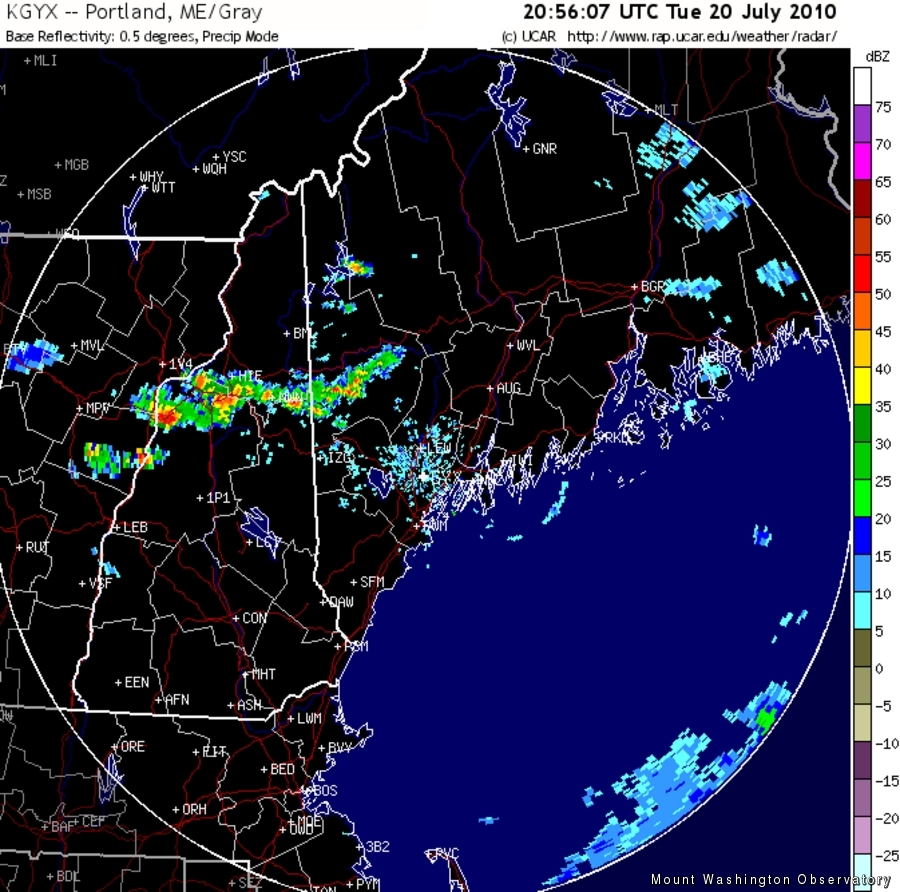 Oops! Bust!
Another shift is winding to a close, and I've become a bit jaded with this temperamental rock pile this Observatory sits atop. This, by far, has been the most challenging week of forecasting since I began working here nearly two years ago.
It was bad enough to forecast clearing that never happened, or thick fog that suddenly lifted. I've become accustomed to unpredictable and inexplicable fog in my tenure here. However, Tuesday brought a failure that I personally consider to be one of the worst in the world of meteorology. I made no mention of any kind of precipitation in the forecast for Tuesday. Imagine my dismay and utter astonishment when I awoke to discover a radar picture littered with thunderstorms.
After a bit of venting and grumbling, I pondered the reason for this unfortunate turn of weather events.
'The models!' I exclaimed.
Computer models are a lifeline to any forecaster, but should always be supplemented with a forecaster's experience with local climatic tendencies and big picture (or 'synoptic') situations in general. In other words, they should always be taken with a bit of a grain of salt. I've been guilty in the past of relying too heavily on what the computer models have to say, and this time, it proved to be a costly error. However, when no model hints at even the slightest chance of thunderstorms, and the maps show high pressure building in, I would have never thought to mention the risk in the forecast.
So…what happened? Well, the high pressure center predicted to build in, which was expected to be weak to begin with, was even less impressive than the models foretold. In the meantime, a disturbance at the mid-levels of the atmosphere charged southward, and took advantage of the extra instability that was present because of the feeble high pressure system. Under a different air mass regime, drier conditions, or the lack of a ripple in the mid-level flow, the overestimation of the high by the models would not have yielded such a busted forecast. However, the combination of these scenarios led to the generation of thunderstorms charging southward through northern New Hampshire.
Of course, I find all of this complaining bittersweet, because as a self-proclaimed weather nerd, I thoroughly enjoy thunderstorms. Also, this does make four consecutive days of thunder gracing the summit. And in the end, this failure and evaluation of my busted forecast can only help to make me a better forecaster in the future. Heck, I feel like I'm in college again, writing essays well into the night explaining why a forecast I made went so wrong.
Education never ceases!
Mike Carmon,  Staff Meteorologist
Ellen Estabrook
Adjusting to Life on the Summit By Charlie Peachey Working on the summit of Mount Washington is not your average job. There aren't too many other places where the employees work and live together for
Ellen Estabrook
A Surprise Aurora By Francis Tarasiewicz After 17 months of working at New England's highest peak, it finally happened. On the night of November 12th, 2023, I was lucky enough to view the famous and
Ellen Estabrook
A Glimpse at METAR Reports By Alexis George, Weather Observer & Meteorologist METAR observations are submitted every hour of every day at Mount Washington Observatory. METAR is a format for reporting weather information that gets