Carpe Diem
2013-08-25 18:28:57.000 – Matthew Cann,  Summit Intern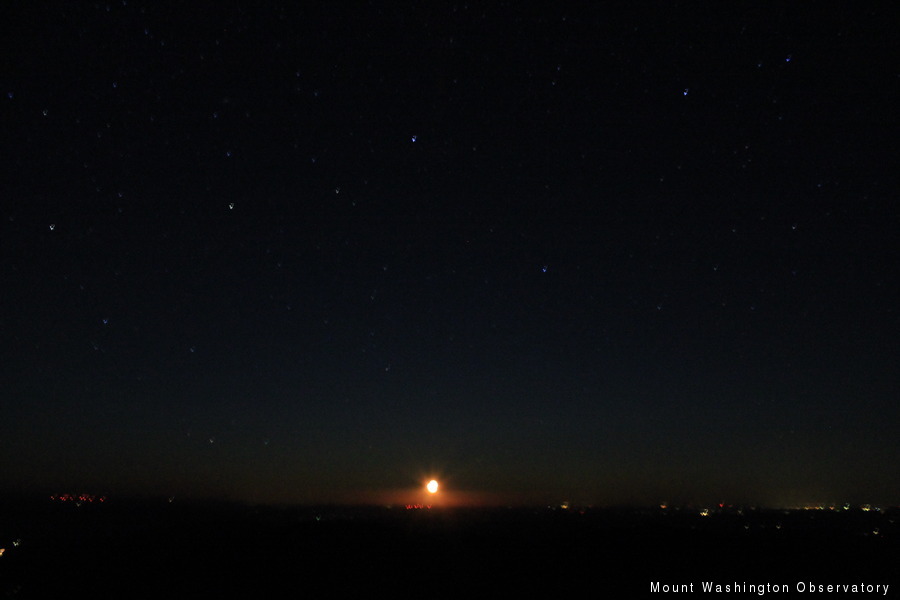 Moon Rising From Summit
As my journey of an internship quickly draws to a close, I cannot help but reflect upon my five weeks on the summit. My first day happened to be the day of the All-Staff Summit Retreat, where I learned an incredible amount about the organization and it's mission. Just to be a part of this wonderful group of people felt like an honor. I was bombarded with many new names and faces along with stories and legends of the mountain. As a self-proclaimed weather nerd eager to immerse myself in all aspects of this once in a lifetime opportunity, it's safe to say that I was in heaven. I was physically and figuratively on top of the world. I felt like nothing could stop me.
That night a huge tragedy struck my family, when my brother unexpectedly passed away. The summit, a place that moments prior held so much positivity and excitement for me, suddenly turned into a dark, unfamiliar place sequestering me from my family. The next morning, as 80 mph winds howled across the windswept summit, I made my departure. A short 24 hours after my arrival I was physically and figuratively down in the valley, shocked by the difference one day can make.
For a long time I contemplated not returning to the mountain, but soon realized that was the last thing I should do. So I packed my bags once again and two shifts later I made my return to the summit. As hard as it was, it was one of the best decisions I have ever made. The summit staff is full of warm and welcoming people. Mount Washington and the presidential range is such a beautiful and awe-inspiring place. As hard as it was coming back, it will be even harder to leave in a few days.
If you have been planning to hike Mount Washington all summer, but have repeatedly fallen victim to excuses: hike. If you have been wanting to drive up the Auto-Road, but have been a little scared: find the courage. If you have always wanted to take the Cog, but never had the time: find the time. If you have been thinking about applying for an internship on the summit: apply. I promise you will not regret it. If you've always wanted to do something in particular in your life, but keep putting it off, you must do it, you must seize the day. Because the sad truth is that we never know how many days we have left.
I would like to thank my friends, family and everyone at the observatory for their support this summer. This was one of the greatest experiences of my life and now I am off to the next great thing.
Matthew Cann,  Summit Intern
Ellen Estabrook
Adjusting to Life on the Summit By Charlie Peachey Working on the summit of Mount Washington is not your average job. There aren't too many other places where the employees work and live together for
Ellen Estabrook
A Surprise Aurora By Francis Tarasiewicz After 17 months of working at New England's highest peak, it finally happened. On the night of November 12th, 2023, I was lucky enough to view the famous and
Ellen Estabrook
A Glimpse at METAR Reports By Alexis George, Weather Observer & Meteorologist METAR observations are submitted every hour of every day at Mount Washington Observatory. METAR is a format for reporting weather information that gets