Changes at MWO
2012-08-08 23:57:13.000 – Mike Carmon,  Weather Observer/Meteorologist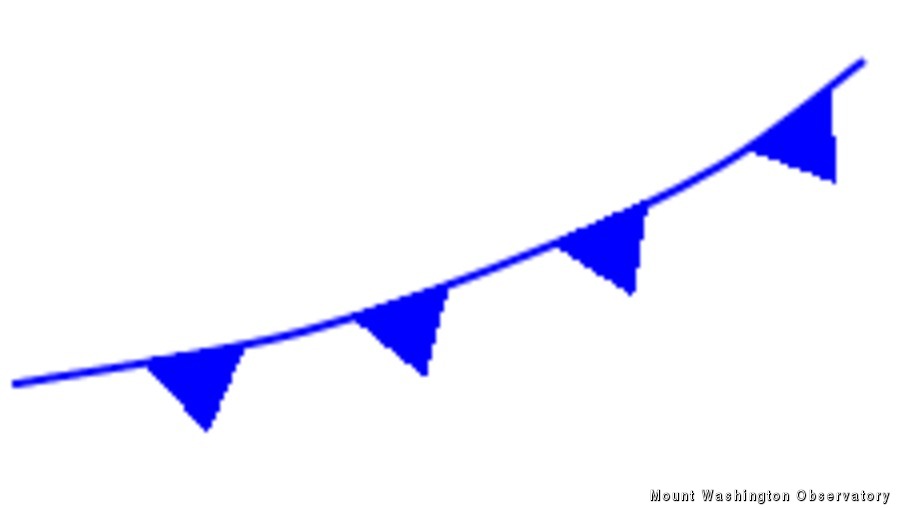 Cold Front: A harbinger of change
Change is the only constant.
This statement has never rung more true during my nearly four years at the Mt. Washington Observatory than the present hour. Today's shift change day was quite a hectic one, and that was due to one of the biggest changes this organization has seen in some time-the introduction of our new Director of Summit Operations, Cyrena-Marie Briede, to the entire summit crew. We spent the day detailing each of our job descriptions, in addition to the nitty-gritty ins-and-outs of summit operations.
Ken Rancourt (my buddy, and yours) will in fact be transitioning into a part-time consulting position after 30+ years of faithful service to MWO. It's a big change, but one that all of the summit crew is embracing with a healthy and hearty attitude–after all, what's life without challenges?!
That's not the only change in the works, however. We also took the day today to welcome our new Director of Research, Eric Kelsey, to the organization. Eric is also spending a few days on the summit with us to learn about the inner-workings of the Observatory and where potential research opportunities may coincide with our operations. After all, we do hold the proverbial keys to one of the most dynamic research labs around!
So as I remain hard at work and compose this comment in our weather room, all of the 'big-wigs' of MWO currently slumber below in our living quarters, which even comprises executive director Scot Henley! The education of our new co-workers will re-commence tomorrow.
And finally, with MWO summer quickly surpassing its hiatus, it is once again time to bid farewell to another group of interns. Since this will most likely be my last comment before their departure, I'd like to personally thank our shift's interns, Emanuel and Steve, for their daily hard work and dedication to our mountaintop station this summer. The diligence and enthusiasm of 'E-man' and Steve was a pleasure to work alongside, as well as an asset to our shift, and I wish them (as I'm sure the rest of my shift does) the best of luck in their careers. They will both, without a doubt, have bright futures in the field of meteorology!
Mike Carmon,  Weather Observer/Meteorologist
Ellen Estabrook
Adjusting to Life on the Summit By Charlie Peachey Working on the summit of Mount Washington is not your average job. There aren't too many other places where the employees work and live together for
Ellen Estabrook
A Surprise Aurora By Francis Tarasiewicz After 17 months of working at New England's highest peak, it finally happened. On the night of November 12th, 2023, I was lucky enough to view the famous and
Ellen Estabrook
A Glimpse at METAR Reports By Alexis George, Weather Observer & Meteorologist METAR observations are submitted every hour of every day at Mount Washington Observatory. METAR is a format for reporting weather information that gets