Choose Your Adventure for Seek the Peak
2021-06-03 12:16:23.000 – Marty Basch, Windswept Editor
The venerable Seek the Peak is now a multi-sport expo complete with activities like hiking, rock climbing, mountain biking, paddling and more. The beloved event to benefit the science and research work of the Mount Washington Observatory on July 16-17 is now a chance to explore familiar or new pastimes within sight of Mount Washington.
Along with its generous partners and sponsors, Seek the Peak is a valuable opportunity to connect with trusted weather reports, trail information, and local tour operators loaded with knowledge. You can plan your own outing, take a guided option with an Observatory partner based on your STP fundraising level, or use a service of your own finding. The Observatory is even putting together a guidebook for participants.
Join presenting sponsors Great Glen Trails, Eastern Mountain Sports and Oboz on July 17 from noon to 7 p.m. at the foot of Mount Washington as Great Glen Trails Outdoor Center is transformed into a base camp that includes the Mount Washington Adventure Expo with a vendor village, live music and food trucks. Hear from experts from brands like Oboz and Petzl alongside nonprofits like the Access Fund and AbilityPlus.
Scratch hiking Mount Washington or another glorious peak from that bucket list. Or, go climbing or mountain biking. See landscapes from another perspective while paddling. DIY or hire a guide. Attend a clinic.
No matter what you choose, a safe experience starts with Observatory weather forecasts or a resource like North Conway radio station WMWV (93.5 FM).
Eastern Mountain Sports climbing school manager Keith Moon says the Observatory forecasts are an incredibly valuable resource for anyone recreating in the White Mountains.
"There is no better and more accurate product for 24 to 48 hour forecasts for Mount Washington and the surrounding valleys," he said. "I personally check their forecast before every one of my personal and guided trips. We should count ourselves lucky to have the Observatory at the top of the highest mountain in our region."
The valley is also lucky to have knowledgeable guides.
Great Glen Trails Outdoor Center events and marketing director Lisa McCoy says insight that a guide brings to outdoor adventure, from rock climbing to kayaking to biking, and even yoga, is invaluable.
"With their fingers on the pulse of activity, guides know the best places to go for specific conditions, and are trained to bring guests the best experience possible," she said. "This summer, in partnership with the Observatory, we are offering our guided flat-water and whitewater kayak trips as a benefit to those who have raised money for Seek the Peak. It's a win-win-win!"
Hiking is the backbone of STP. Planning is key. New Hampshire Fish and Game and the White Mountain National Forest have promoted the "hikeSafe Code" to encourage hikers and other backcountry travelers to enjoy their adventures smartly and responsibly.
Even by carrying hiking essentials and being smart by turning back in foul weather and the like, trouble happens. That's where Fish and Game's hikeSafe card comes in. Think of it as backcountry insurance with proceeds benefitting the department's search and rescue fund.
Gladys Brooks Memorial Library Curator Peter Crane, an avid hiker and president of the New Hampshire Outdoor Council, says responsibility for wilderness search and rescue (SAR) in the Granite State belongs to the New Hampshire Fish and Game Department, with some involvement also by other state or federal agencies, such as New Hampshire State Parks and the U.S. Forest Service or the New Hampshire Army National Guard.
"These paid professionals are assisted by many unpaid professionals, volunteer members of the several search and rescue teams that serve hikers, climbers, and others in need of emergency help in the state's mountains and forests," he said.
Sometimes Observatory staff serve as SAR members. Though no such service is part of the Observatory's standard mission of weather observation, research, and education, Crane says it is part of being a good neighbor on Mount Washington. When accidents occur near the summit, it's not unusual for Observatory staff and interns to work with State Park personnel and others in providing a timely response. The snowcat may be used to help in winter too.
"Over the years, several Observatory staff have also joined local SAR teams, so that on their 'off time' they are on call to assist in SAR activities, extending the value of lessons they have learned while working at the summit," he said.
So, what will you do?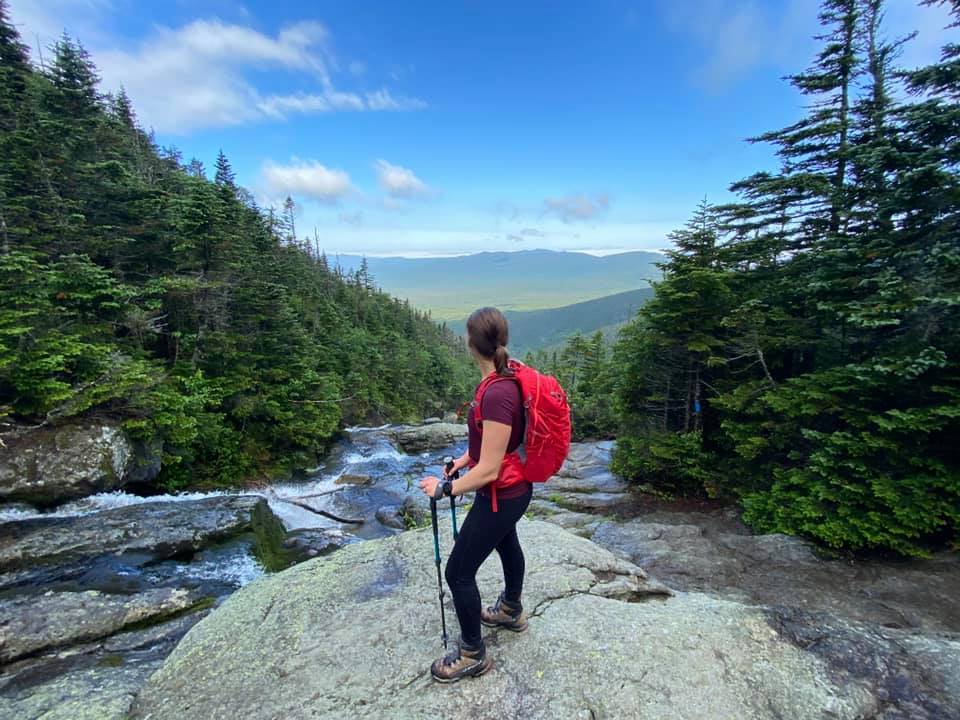 Seek your own peak during Seek the Peak like participant Ashley Witham.
Hiking
Crane has a few suggestions for hikes other than Mount Washington like a short trip on the Lost Pond Trail and Square Ledge Trail up Square Notch in Pinkham Notch across from the Appalachian Mountain Club Visitor Center on Route 16. Though there's a quick scramble, the view of the eastern face of Mount Washington is awesome.
A 6.2-mile Raymond Path loop through the mountain's forested lower slopes also from the visitor center serves up more of a challenge. Use the wide and rocky Tuckerman Trail before taking a right on the Raymond Path, one of the oldest trails on the mountain that was once a bridle path. Then take Old Jackson Road back.
For a challenge, consider the 10.2-mile lollipop loop to Carter Dome, one of the top ten highest in the state. Start with the 19 Mile Brook Trail, about a mile north of the Glen House on Route 16 and then use Carter Moriah Trail, Carter Dome Trail with its switchbacks and 19-Mile Brook again.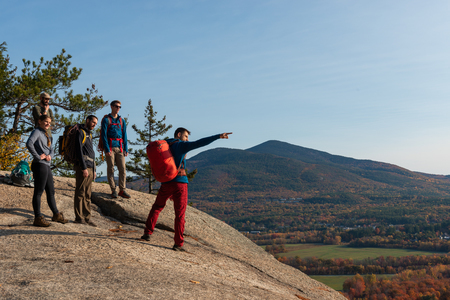 North Conway's climbing ledges are ideal locations to go rock climbing (EMS Photo).
Rock Climbing
They don't call New Hampshire the Granite State for nothing and North Conway's highly visible and massive White Horse and Cathedral Ledges just outside the village have attracted rock climbers for almost 100 years scaling the cliffs more than 500 feet tall. Between the two cliffs there are more than 300 established routes from easy to expert. North Conway has a number of climbing schools.
"The high quality of rock, large variety of route levels and incredibly easy access make these two cliffs classic destinations," said Moon.
Routes like Standard and Inferno on White Horse and Thin Air and Recompense on Cathedral are well known.
Moon says climbing is a sport where you can start at any age and it's not uncommon to see climbers well into their 70s.
"We will be offering programming for folks who have been interested in climbing and just want to check it out, to private trips for climbers looking to get on a dream route, polish their skills or become better prepared for self-rescue scenarios," he said.
EMS, along with other schools, will host a climb and rappel station at Square Ledge in Pinkham Notch.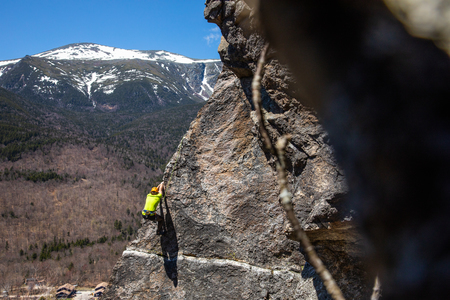 Mount Washington makes for a dramatic backdrop during a rock climbing adventure (EMS Photo).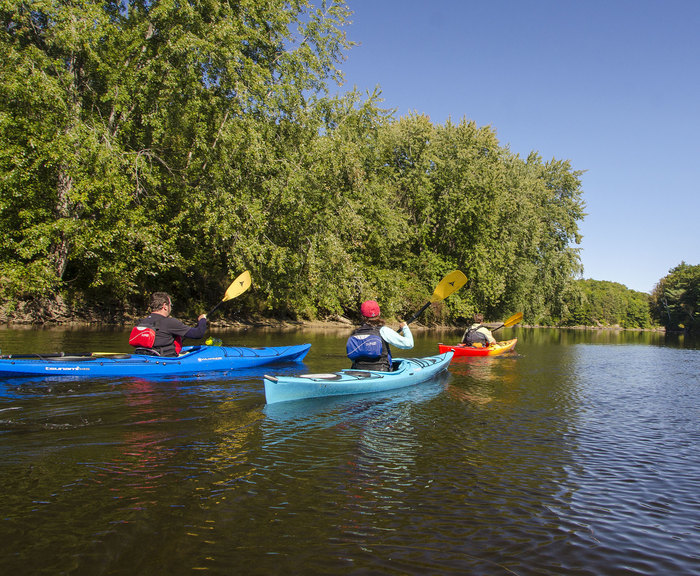 With Great Glen Trails Outdoor Center as your guide, paddle along the Ammonoosuc River (Great Glen Trails Outdoor Center Photo).
Paddling
The plentiful rivers and lakes of the Mount Washington Valley and its surroundings are prime places to paddle surrounded by nature's bounty.
The Saco River is popular, perhaps overly so, with an easy stretch a short drive from the Observatory's Administration Offices. Paddle eight miles from First Bridge on River Road in North Conway to Davis Park with its covered bridges.
The experience is heavily dependent on water levels. Local shuttle services and kayak and canoe rentals are available; two vehicles are helpful.
Conway Lake with its Mill Street access is a fine alternative, about eight miles from North Conway.
"Conway Lake is always good for a four-hour paddle," says Great Glen Trails Outdoor Center program director Nate Harvey. "It's easy, unless there are huge winds, and pays out big time with swimming and loon sightings."
For a more secluded paddle travel north from the Great Glen Trails Outdoor Center to the Androscoggin River where osprey and eagle spotting could prove positive. It's about a 3 or 4-hour float just over the Maine border from Gilead to Bethel. Two cars or shuttle are necessary. Great Glen offers both half-day and full-day guided wildlife kayak tours of that stretch, as well as whitewater kayak clinics on its summer recreational menu.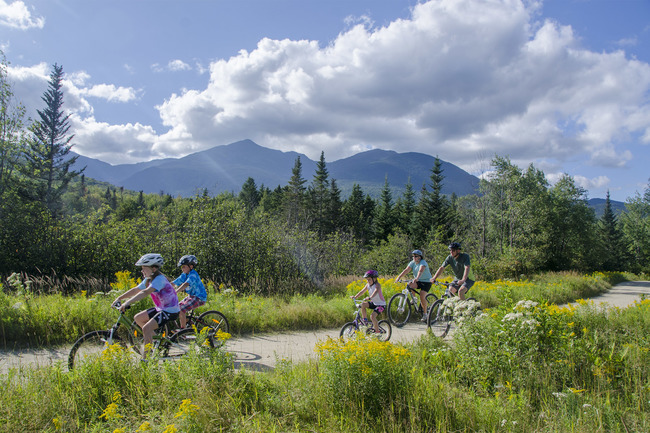 Ride along with the family at Great Glen Trails Outdoor Center (Great Glen Trails Outdoor Center Photo).
Biking
Mountain biking is enjoying a knobby-tired renaissance with North Conway seeing a multitude of new trails and local spirit. Both the long-standing White Mountains Chapter of the New England Mountain Bike Association and new White Mountain Bike Coalition are instrumental in trail development and maintenance. Download the Trailforks app and choose your ride. One pod loaded with sinuous singletrack for all abilities is the Marshall Conservation Area on West Side Road, a short drive from North Conway. Downhillers like the growing trail grid off Hurricane Mountain Road.
Looking to try lift-served mountain biking? The Cranmore Bike Park opened last summer and offers rentals and lessons.
Another mountain bike club spreading the gospel of dirt is the Gorham-based Coos Cycling Club which oversees a growing network including those found in Moose Brook State Park. Last year the club surprised former Observatory trustee Howie Wemyss after he retired from his role at the Mt. Washington Auto Road and Great Glen Trails by naming an intermediate/advanced trail after him with a play on his name—Howie Roll.
Great Glen Trails is also a mountain biking hub, offering miles of wide carriage roads and narrow singletrack for all skill levels. With a base lodge and rental shop, grab a map before heading out on the well-signed network.
"The cool thing we have at Great Glen is vistas, streams to put your feet in, wildflowers everywhere and pedal-assist e-bikes," said Harvey. "Biking at Great Glen is also cool for the family."
Bicycle travelers can ride the Cross New Hampshire Adventure Trail, a 83-mile long collection of northern New Hampshire paved and dirt back roads and rail trails between Woodsville, N.H. and Bethel, Maine. In the shadows of Mount Washington, the xNHAT is used by a variety of outdoor lovers including bicyclists, hikers and runners. The trail passes through small towns and has an ample supply of lodging opportunities from camping to inns, restaurants and grocery stores.
Hardcore cyclists can do it in a day, but more leisurely bicyclists carrying their own gear tend to do it in three days and two nights, and can even get a patch upon completing the whole trail.
Trail founder Marianne Borowski and volunteers will lead guided rides along pieces of the route during STP. One easy and scenic out-and-back 8-mile ride is to the Pondicherry Wildlife Refuge along the Presidential Rail Trail. Another is a moderate 21-mile out-and-back ride on rolling back roads and the PRT.
No matter your choice for STP, you've made the right one.
This article also appears in the Summer 2021 edition of Windswept: The Bulletin of the Non-Profit Mount Washington Observatory. For more information, visit our Premium Content page. Windswept Editor Marty Basch and his wife Jan have twice bicycled the entire Cross New Hampshire Adventure Trail and plan to do it again for Seek the Peak. Marty is also leading a leisurely hour-long spin at Great Glen Trails during STP on July 17. To register, start raising funds, or support a participant, visit seekthepeak.org.
Marty Basch, Windswept Editor
Ellen Estabrook
Adjusting to Life on the Summit By Charlie Peachey Working on the summit of Mount Washington is not your average job. There aren't too many other places where the employees work and live together for
Ellen Estabrook
A Surprise Aurora By Francis Tarasiewicz After 17 months of working at New England's highest peak, it finally happened. On the night of November 12th, 2023, I was lucky enough to view the famous and
Ellen Estabrook
A Glimpse at METAR Reports By Alexis George, Weather Observer & Meteorologist METAR observations are submitted every hour of every day at Mount Washington Observatory. METAR is a format for reporting weather information that gets