Cold and Snowy at the Mount Washington Observatory!
2014-11-07 18:13:16.000 – Michael Dorfman, Weather Observer/IT Specialist
Winter is definitely here on the summit. During my last few observations yesterday, I was amazed at how peacefully the snow was falling on the observation deck. With increasing winds today, the fallen snow has begun to whip into the air, making travel above treeline difficult, and impossible without goggles.
Between consistent snowfall and no above-freezing temperatures on the summit for the near future, it looks like a winter wonderland up here! There's a room halfway up our tower, aptly named the "cold room", which is left unheated for the winter. The moisture from our living quarters travels up and condenses onto the walls in this room. By the end of the wintertime, several inches of hoar frost form on the walls and ceiling of this room. You can see the start of the cold room's frost coat in the picture below!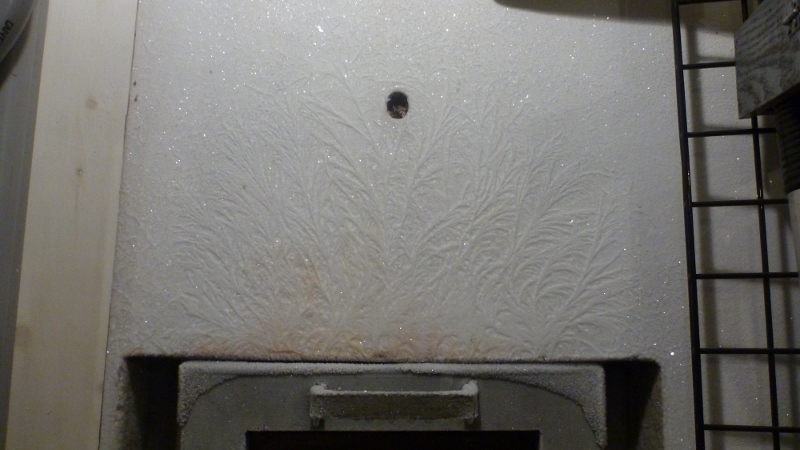 If you're interested in coming to the summit to see the crazy weather first-hand, the Mount Washington Observatory hosts winter trips to the summit! Whether you want to spend the day or stay overnight, you have the opportunity to take a snowcat here to the summit! If you're a bit more adventurous, you can even join one of the climbing trips that spend the night in the Observatory's quarters! Come join us!
Michael Dorfman, Weather Observer/IT Specialist
Ellen Estabrook
Adjusting to Life on the Summit By Charlie Peachey Working on the summit of Mount Washington is not your average job. There aren't too many other places where the employees work and live together for
Ellen Estabrook
A Surprise Aurora By Francis Tarasiewicz After 17 months of working at New England's highest peak, it finally happened. On the night of November 12th, 2023, I was lucky enough to view the famous and
Ellen Estabrook
A Glimpse at METAR Reports By Alexis George, Weather Observer & Meteorologist METAR observations are submitted every hour of every day at Mount Washington Observatory. METAR is a format for reporting weather information that gets