Cold Temperatures, but Deep Snow
2015-02-16 17:43:43.000 – Mike Dorfman, Weather Observer/IT Specialist
The summit dipped down to 35 degrees below zero last night, tying my personal record for cold temperatures in my time here. As far as I can tell, we were recording the second coldest temperature on Earth for several times last night, second only to the South Pole station in Antarctica. Our wind chill, which approached 90 below at its coldest, was the lowest recorded on Earth last night. So, why are we getting such cold temperatures? The answer is related to the reason we're getting so many storms.
We've been seeing a cycle of alternating low pressures and weak high pressures in the last month in the Northeast. Typical low pressure systems generally have a cold front associated with them on their backside. This allows wind to shift to the north, and with this Canadian air, temperatures plummet. To get an idea of how consistently low the temperatures have been in New Hampshire, I can take a look at some of the
ASOS and COOP stations
in the region. The last above-freezing temperatures recorded at a co-op station in North Conway occurred on January 20th.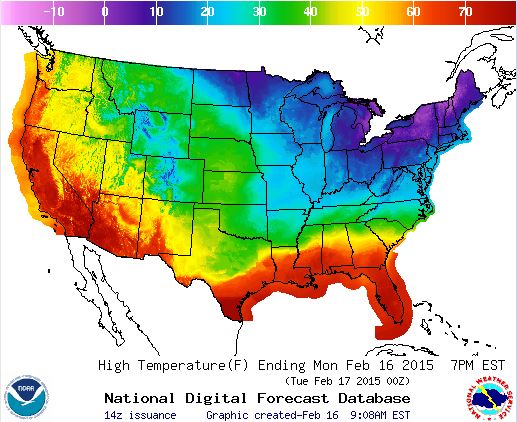 Map of the temperature across the US. Courtesy of NOAA
Large facets, otherwise known as hoar frost, form in the tower due to temperature and moisture conditions.
So, what do these temperature swings do to our snow pack? If you enjoy backcountry skiing, strong
temperature gradients
in the snow pack can morph the rounded crystals that fell into what are called
facets
. These angular ice crystals don't adhere to each other too well and can often be a sign of an unstable snow pack. Typically the ground is a constant 32 degrees, so the colder the air temperature, the sharper the temperature gradient in the snow pack. This is allowing the possibility of large facets in New England snow pack, possibly increasing avalanche danger. Whether you're getting out into avalanche terrain, or are an armchair enthusiast of avalanches, the
Mount Washington Avalanche Center
has some very interesting and helpful information.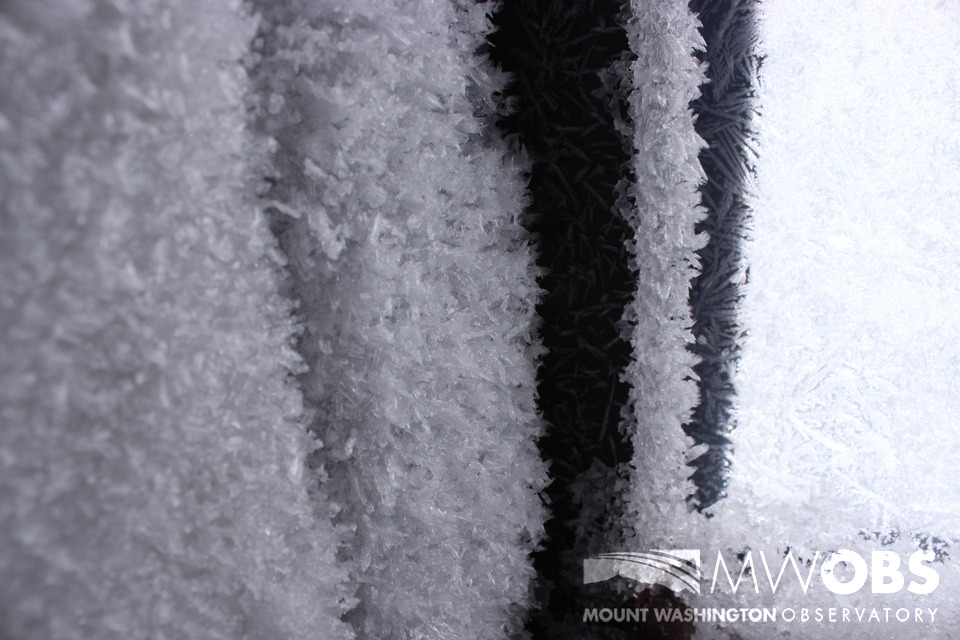 Large facets, otherwise known as hoar frost, form in the tower due to temperature and moisture conditions.
The biggest and most notable thing cold weather does is minimize melting and help keep a solid base of snow on the slopes! Canon has reported 135 inches so far this season, with a base depth between 24 and 48 inches! Most resorts in New Hampshire are reporting 3-5 FEET snow for their base. If there was ever a time to get out there and ski, now is the time!
Mike Dorfman, Weather Observer/IT Specialist
Ellen Estabrook
Adjusting to Life on the Summit By Charlie Peachey Working on the summit of Mount Washington is not your average job. There aren't too many other places where the employees work and live together for
Ellen Estabrook
A Surprise Aurora By Francis Tarasiewicz After 17 months of working at New England's highest peak, it finally happened. On the night of November 12th, 2023, I was lucky enough to view the famous and
Ellen Estabrook
A Glimpse at METAR Reports By Alexis George, Weather Observer & Meteorologist METAR observations are submitted every hour of every day at Mount Washington Observatory. METAR is a format for reporting weather information that gets