Columbus Day
2008-10-13 16:49:57.000 – Mike Carmon,  Summit Intern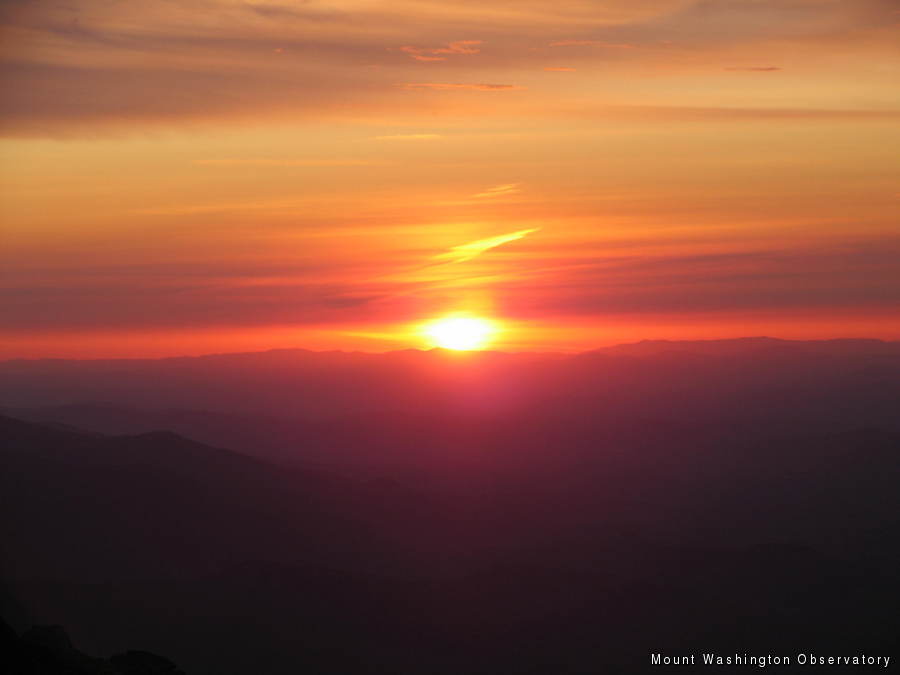 Sunday Night Sunset
It feels like Labor Day Weekend was not too long ago, when the summit was packed with visitors and the museum shop made record sales. It's hard to believe that was back in early September on my first shift. Fast forward about six weeks. Déjà vu! It's been another crazy weekend up here on the summit, and it had nothing to do with the weather. As expected, the last of the major crowds rolled through due to Columbus Day weekend.
Saturday was the busiest day of the weekend, with the Sherman Adams Building packed to the brim from dawn until dusk it seemed. Making the trip from the Observatory down to the museum was a struggle every time—pushing my way through hikers, 'auto-roaders' and 'coggers.' The museum was a bustling spot too, with the merchandise flying off the shelves. Then the calls started to come in to the weather room—tours, tours and more tours! In total, I gave four full tours and a few partial tours. And that wasn't even the end of them! Steve did a couple as well. At the end of the day, State Park had to literally shove people out the door. The summit of Mt. Washington seemed like the place to be on Saturday.
An interesting side note about this shift: Brian left on Saturday, and Steve came up to take his place for the balance of the week. Our two volunteers on this shift are both Steve as well. That's confusion just waiting to happen.
Sunday was busy too, but not to the extent that Saturday was. There were a few less tours, but it was still a struggle to weave your way through the mass of visitors. The weekend was definitely a "last hurrah" for Mt. Washington, as from now on, the number of visitors we see will drop off tremendously until the closing of the Auto Road, State Park, and finally the Cog. It's hard to believe that October is almost half over. Soon we'll be heading into November and talking snow, snow, snow. I've been here for a month and a half now, and have yet to see any flakes fly! But the sunsets (when visible) remain spectacular.
Mike Carmon,  Summit Intern
Ellen Estabrook
Adjusting to Life on the Summit By Charlie Peachey Working on the summit of Mount Washington is not your average job. There aren't too many other places where the employees work and live together for
Ellen Estabrook
A Surprise Aurora By Francis Tarasiewicz After 17 months of working at New England's highest peak, it finally happened. On the night of November 12th, 2023, I was lucky enough to view the famous and
Ellen Estabrook
A Glimpse at METAR Reports By Alexis George, Weather Observer & Meteorologist METAR observations are submitted every hour of every day at Mount Washington Observatory. METAR is a format for reporting weather information that gets