Comparing October 2018 and 2019
2019-10-21 13:37:27.000 – Thomas Padham, Weather Observer/Education Specialist
With the month of October already nearing a close I thought I'd take a look back at how this relatively mild start to our fall season compares to right around this time last year. Although we've finally recorded our first significant snowfall of the month this past week, we're still only at a measly 6.6" of snowfall for the month. In reality, the month of October averages 18" of snow and we could end up right around average with another 10 days to go. Still, this feels like it's way behind compared to last year, and it is, but last year really was exceptional and started an impressively snowy and windy winter season. October often sees dramatic change from the beginning of the month to the end, and there's still time for this month to end out on a snowy end (more on this later).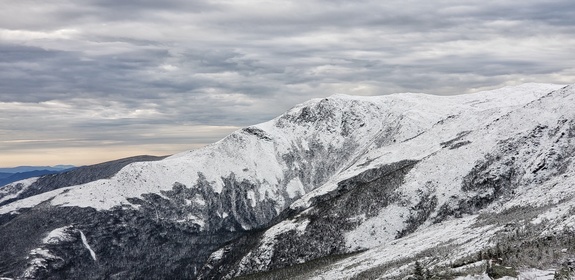 The view from Cragway Turn (4,800 ft) showing widespread snow cover across Boot Spur and the surrounding terrain on 10-31-2018. This was the first Snowcat trip of the season for our crew, this year we have not even required chains for a shift change yet!
Last year actually started out even more mild than this year, with an impressive 9-day stretch of well above average temperatures with daytime highs in the 50s from the 3rd through 11th. This was due to a large upper-level ridge of high pressure. By the middle of the month, it was almost as if we hit a switch and turned on winter. A series of cold fronts carved out a large-scale trough across the Northeast, resulting in much colder temperatures bottoming out in the single digits above, with 10" of snow falling in just a week's time by the 20th. Comparing that to this year we're actually about even, but instead of seeing a thaw out or return to near average conditions a massive snowstorm plunged the summit into winter for good, with 3 feet of snow falling over a four day period from Oct 23rd to 27th 2018. October 2018 ended with 52" of snow for the month, a surplus of nearly 3 feet!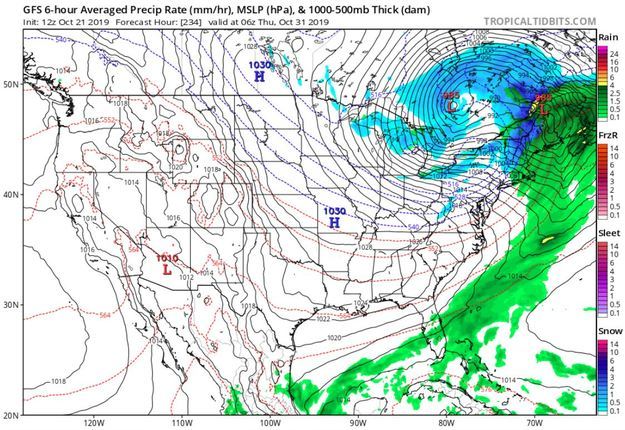 GFS Model showing a potentially powerful storm across affecting our part of the country on Halloween Day, 10-31
Unfortunately for snow lovers there isn't anything nearly of that magnitude on the immediate horizon, although there's at least a small chance 10 days out. Our next chance for snowfall of at least an inch will occur this weekend, when the models have routinely had a weak wave of low pressure crossing New England with just enough cold air in place for snow across the higher elevations. Right around Halloween a much more robust storm system has been in the models for several runs now. Unfortunately, the storm intensifies well to our west across the Great Lakes, resulting in heavy rainfall at the onset of the storm. On the backside of the storm, there may be a period of heavy snow if things line up properly with the track, and precipitation doesn't end too early. But again, this is 10 days out so we'll have to wait several days before taking this too seriously. Check back in around this time next week, perhaps we'll be gearing up for another round of 100 mph winds, heavy snow, and the all-around weather Mount Washington is famous for!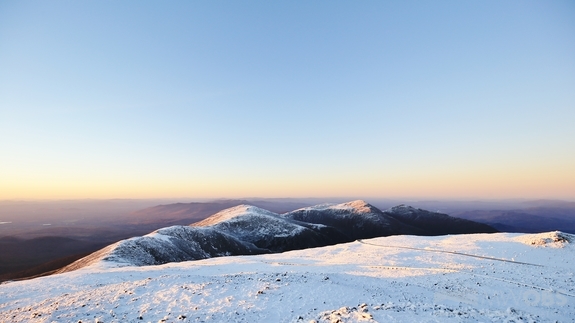 Fresh snowfall across the northern Presidentials 10-19-2019
Thomas Padham, Weather Observer/Education Specialist
Ellen Estabrook
Adjusting to Life on the Summit By Charlie Peachey Working on the summit of Mount Washington is not your average job. There aren't too many other places where the employees work and live together for
Ellen Estabrook
A Surprise Aurora By Francis Tarasiewicz After 17 months of working at New England's highest peak, it finally happened. On the night of November 12th, 2023, I was lucky enough to view the famous and
Ellen Estabrook
A Glimpse at METAR Reports By Alexis George, Weather Observer & Meteorologist METAR observations are submitted every hour of every day at Mount Washington Observatory. METAR is a format for reporting weather information that gets