Cooking Up A Storm on the Rockpile
2019-11-16 08:30:48.000 – Tom Padham, Weather Observer/Education Specialist
Adding to Adam's post from this past week, I thought I'd write about some of our favorite meals here on the summit and our cooking set up. I personally enjoy cooking very much, and this time of year it's nice to make use of what we have in our pantry and attempt to make some great meals for the crew. This time of year especially we do tend to favor more hearty, warming meals, although salads and fresh veggies do accompany most dinners.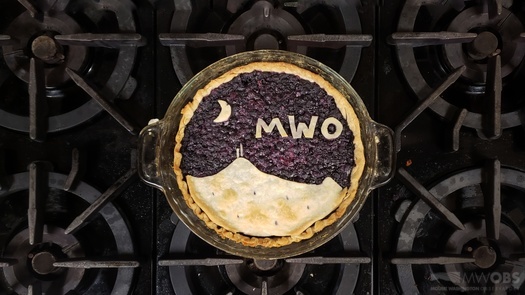 Blueberry pie baked by former Weather Observer Taylor Regan for National Pie Day 3-14-2018.
Some of my go-to favorites to cook up here are pizza and a whole roast chicken. It's fun being able to make pizza dough from scratch in the Observatory's stand mixer (I don't have one at home), and there's so many different possibilities of toppings. Buffalo chicken is my personal favorite, and it's a little different than the traditional pizza. The secret is the sauce, *cue Julia Child voice* which is all thanks to butter! The sauce is a blend of melted butter and normal cayenne hot sauce, which then cooks into the dough and helps make it crispy and delicious.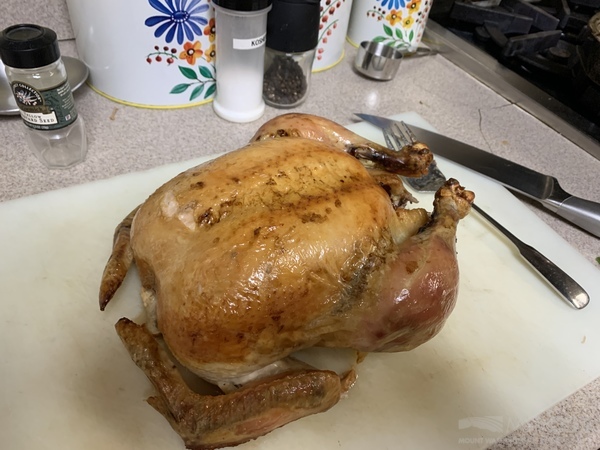 Whole roast chicken from our last shift just prior to carving 11-3-2019
Sunday on weeks that we don't have volunteers I often cook a whole roast chicken, which is really a pretty simple, but comforting meal. A 3 or 4 pound chicken is pretty perfect for the 4 of us up here on these weeks, and it normally only takes about 90 minutes in an oven at 425°F. I've tried doing more fancy or extravagant dressings for the chicken but plain with just some kosher salt and pepper turns out really good and is usually the one we do most often. Sides with this are often mashed potatoes and stuffing, so it's almost like a mini Thanksgiving! Definitely a great meal to unwind with after a long day, and Sundays tend to be a bit more of a relaxed day up here in terms of work load which lends to having a bit more time in the kitchen to prepare for the feast!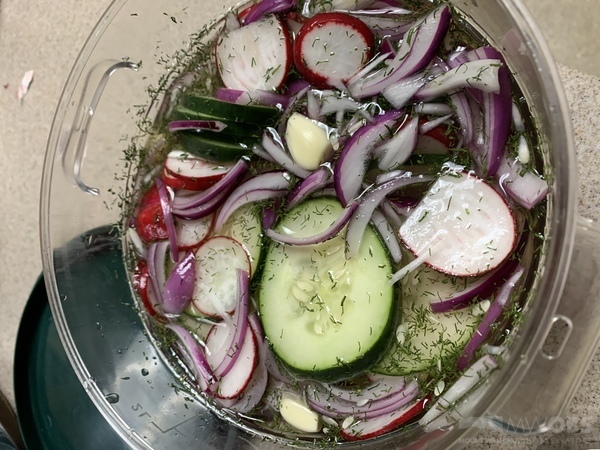 Quick-pickled veggies which served as a side with pulled pork 11-15-19
Although there's often the staples I'll cook up here that doesn't mean we don't often try some new things. This past few shifts I've attempted using the slow cooker a bit more, and found a great recipe for sesame orange chicken that turned out really great! Corn starch in the sauce aided in almost candy-coating the chicken with an orange marmalade, and it really turned out pretty similar to what you'd get a good Chinese restaurant. Another new avenue I've been exploring is pickling vegetables. We sometimes have a surplus of extra veggies on hand towards the end of the week, and instead of letting them go to waste I figured pickling would be a great option. I've tried the classic dill pickles so far, but also done some mustardy-pickled carrots that turned out good and a garlic-dill batch of radishes, red onion, and cucumber that turned out surprisingly well! We have a great variety of appliances and ingredients here in our kitchen especially if one thinks a bit outside of the box, it's really fun trying experimenting with some new recipes or techniques.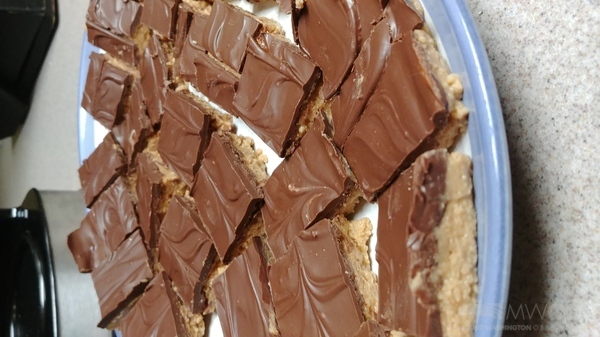 Chocolate peanut butter bars baked by Weather Observer AJ Grimes last shift. They were delicious!
I am admittedly a pretty novice baker, but luckily I'm not the only one doing all the cooking and baking up here. AJ is a great baker, and we all take turns with meals or pitch in for a different dish. Even if cooking isn't your strength or even an interest there's still always setting the table or dishes to be done from the cooking frenzy. Science may be our career and our passion here at the Observatory, but so many of us here have many other talents. Every once and awhile these talents shine through a bit more. Bon appetit!
Tom Padham, Weather Observer/Education Specialist
Ellen Estabrook
Adjusting to Life on the Summit By Charlie Peachey Working on the summit of Mount Washington is not your average job. There aren't too many other places where the employees work and live together for
Ellen Estabrook
A Surprise Aurora By Francis Tarasiewicz After 17 months of working at New England's highest peak, it finally happened. On the night of November 12th, 2023, I was lucky enough to view the famous and
Ellen Estabrook
A Glimpse at METAR Reports By Alexis George, Weather Observer & Meteorologist METAR observations are submitted every hour of every day at Mount Washington Observatory. METAR is a format for reporting weather information that gets