Dawn, clear and FRIGID!!!
2007-03-07 06:38:06.000 – Jim Salge,  Observer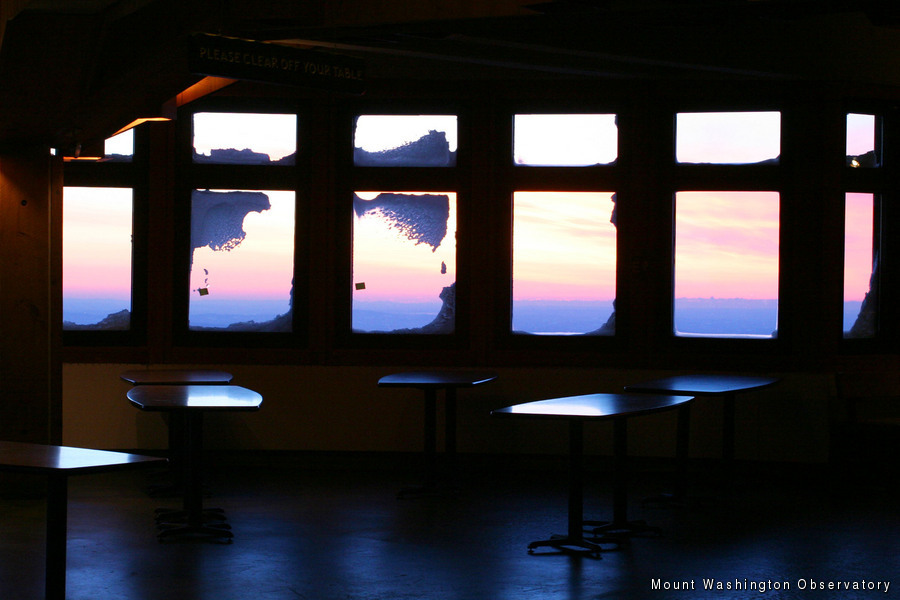 Dawn through the window…
Quick Video Link
More info below…
For the second day in a row, the summit of Mount Washington has set a new daily record low temperature, as -30F replaces -21 (1937) in the record books. But this morning, as we look around New England, we are not alone. Our temperatures at the Observatory have been warming steadily (and slowly) since they bottomed out at -37F yesterday morning, while valley locations are having their coolest temperatures as we speak. In fact, the summit is just a bit warmer than Berlin, NH to our north this morning, who are currently recording -26F.
Besides the obvious cold temperatures and biting winds, the day has dawned rather pleasant on the peak this morning. Under the cold high pressure, skies have cleared, and views now extend over 120 miles to New York State. Sunrise was quite remarkable, with a shield of clouds from the storm to our south lighting up a fiery red, and alpenglow warmed the peak, at least warmed their appearance. We'll need some real warming though to be able to carry out shift change this morning…still a bit too cold to run the snow cat up to get our crew!
Lastly, our video from yesterday has created quite a stir around the weather world, and it's catching on in the blog-o-sphere. We're featured this morning on the Weather Channel's homepage, as well as getting linked in through a number of local and regional media outlets. For information on the video and the infrared footage, please click on yesterday's comment.
Jim Salge,  Observer
Ellen Estabrook
Adjusting to Life on the Summit By Charlie Peachey Working on the summit of Mount Washington is not your average job. There aren't too many other places where the employees work and live together for
Ellen Estabrook
A Surprise Aurora By Francis Tarasiewicz After 17 months of working at New England's highest peak, it finally happened. On the night of November 12th, 2023, I was lucky enough to view the famous and
Ellen Estabrook
A Glimpse at METAR Reports By Alexis George, Weather Observer & Meteorologist METAR observations are submitted every hour of every day at Mount Washington Observatory. METAR is a format for reporting weather information that gets