Dear Santa…
2009-11-22 18:32:22.000 – Ryan Knapp,  Staff Meteorologist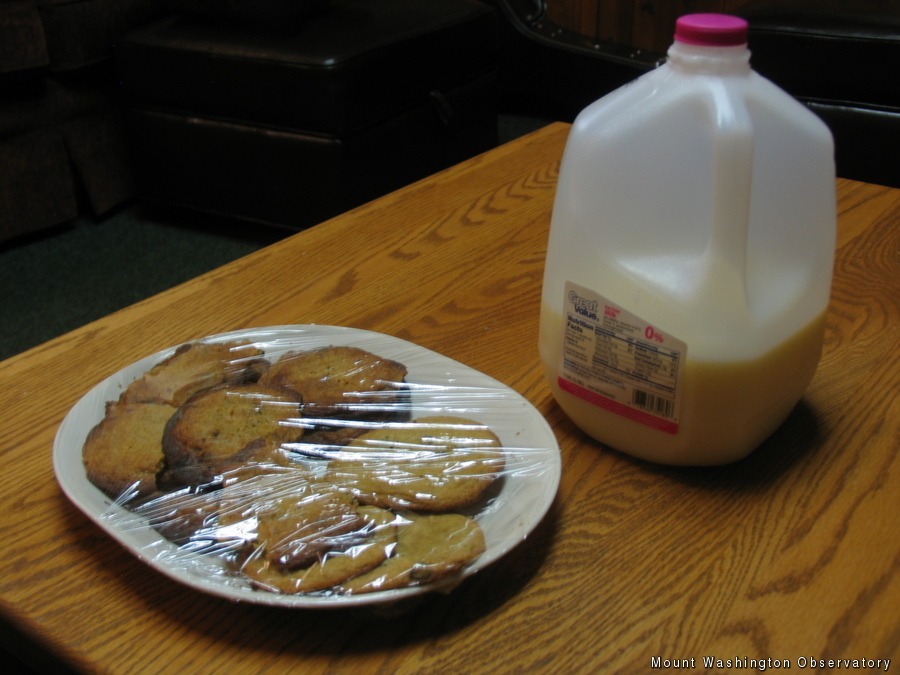 A Christmas Sampler.
Dear Santa-
This year, I am starting a month earlier than usual since I am going on vacation but it also gives you some more time since I know you make most of your gifts, but some things just cannot be manufactured by your elves and I want to ensure you have time to surf the web. Plus, it will allow us to mail our letter to you the old fashion way instead of relying on email. As per your request last year when we provided you with NH's Christmas night forecast, I will keep your email you provided us private. And just in case the USPS continues their ban on mailing letters to the North Pole, I will post a comment and a forum post with the list especially since I know you check our comments year round to ensure if we have been naughty or nice.
We have, in my opinion, all been good boys and girls once again this year including Marty, the summit cat you met last year. In case you don't remember what he looks like, he is an all black Maine Coon, so you might want to bring a glow stick so you don't step on him or have him crawl into your bag by accident. We have also acted kindly to all our guests, friends and families. And we have been working hard and diligently just as last year, 24-7-365.
So, if it is not too much trouble, could you please bring the following items this Christmas:
1. Observatory Memberships – Not for the observers but for other boys and girls on your list around the world. Since we are membership supported, these gifts would be the gifts that keep giving over the year.
2. Gift Donations – This will help lighten your bag of toys. Plus, if you do it before December 31st, you will have a chance at winning Mino HD Flip Camcorder courtesy of our sponsor Subaru of America. Just think of what you and the elves could do with this!
3. LL Bean clothing – To keep us warm and toasty. Just remember to keep it synthetic or wool as cotton kills, but I am sure you know what we need living so far north. Also, if you plan on using LL Bean for gifts for others on your list, if you use the link I provided, a percentage of your purchase will go towards helping us out as well.
4. Office Supplies – We work like an office, so anything you can send that will cut costs for us is great: 0.7mm mechanical pencils, refill lead, post-its, printer paper, etc.
5. Batteries – Preferably AAA, AA or D's as our headlamps, flashlights and rescue/research equipment use these.
6. Gift cards – We go shopping for food weekly at Hannaford, Shaw's or Walmart but Lowes, Home Depot, or anywhere else in North Conway is fine. You know what's here.
7. A KitchenAid stand mixer – Ours recently stopped working forcing our volunteers to use a hand mixer. Their treats still come out great but having acted as a volunteer a few times, I know a stand alone is much better. A KitchenAid type is preferred since all our current mixer accessories are compatible with this type.
8. An atomic clock – So we can keep even more accurate time on when to do observations up here. Plus, if you buy it from our online gift shop, you'll be giving us two gifts (a clock and financial support).
9. Sporting Equipment – Can you ever have enough sporting equipment? I know the majority of our shift wants some sort of cardio equipment (treadmill, bike, rower, etc.) but footballs, baseballs, hockey sticks/balls/nets, soccer balls are all welcome. But make sure you have one of your elves call us first if you're considering a big piece of fitness equipment;we don't have a lot of space, so we need to make sure it will fit!
10. Nerf sporting equipment – This will allow us to take our sports indoors with a lower fear of breaking something important. A Nerf soccer ball would be at the top of this list.
11. Board Games – To keep us entertained as a group from time to time.
12. Books – Preferably popular ones and not romance novels.
13. Sleds – preferably the long toboggan type that run for about $10-20 bucks since it doesn't take much for a rock to tear these apart.
14. Candles – Preferably the large jar type like the ones from Soyfire or Yankee Candle Company. They liven up our living quarters and make it feel more like home.
15. Candy and gum – Since I know you eat a lot of cookies and sweets, I know you can relate. Can you ever really have enough?
16. Snow – the more the better! Especially since November has been so dry.
17. Surprise us again! – Sometimes the coolest gifts are the ones you didn't think you needed.
Some notes Santa: Second hand items are fine so long as they are in good, clean, and usable condition; plus it will help the environment. We are not picky. Also, if you prefer a type of cookie, post something in our forums and we will let that weeks volunteer know ahead of time. Just don't be surprised if some are missing from your plate as it's hard to pass up fresh cookies up here. We can also provide egg nog, soy milk or Lactaid if needed.
We are preparing the Observatory for your visit on December 25th. We are clearing paths and digging out our decorations. We are WD-40ing our doors and stairs so you can sneak down them without making a noise.
Well, we look forward to seeing what you bring on Christmas morning. Hopefully we get some snow between now and then but since we only forecast out 36 hours at a time, it is hard to tell. But no matter the weather, your sled can handle anything so no worries. I will let the night observer that week, Mike C., know you are coming since this will be his first Christmas working up here and I don't want him to be spooked when he sees a jolly, red suited person downstairs that night. Have safe travel and Happy Holidays.
Thanks-
Ryan Knapp,  Staff Meteorologist
Ellen Estabrook
Adjusting to Life on the Summit By Charlie Peachey Working on the summit of Mount Washington is not your average job. There aren't too many other places where the employees work and live together for
Ellen Estabrook
A Surprise Aurora By Francis Tarasiewicz After 17 months of working at New England's highest peak, it finally happened. On the night of November 12th, 2023, I was lucky enough to view the famous and
Ellen Estabrook
A Glimpse at METAR Reports By Alexis George, Weather Observer & Meteorologist METAR observations are submitted every hour of every day at Mount Washington Observatory. METAR is a format for reporting weather information that gets