Don't Sweat It
2013-01-12 17:47:31.000 – Mike Carmon,  Weather Observer/Meteorologist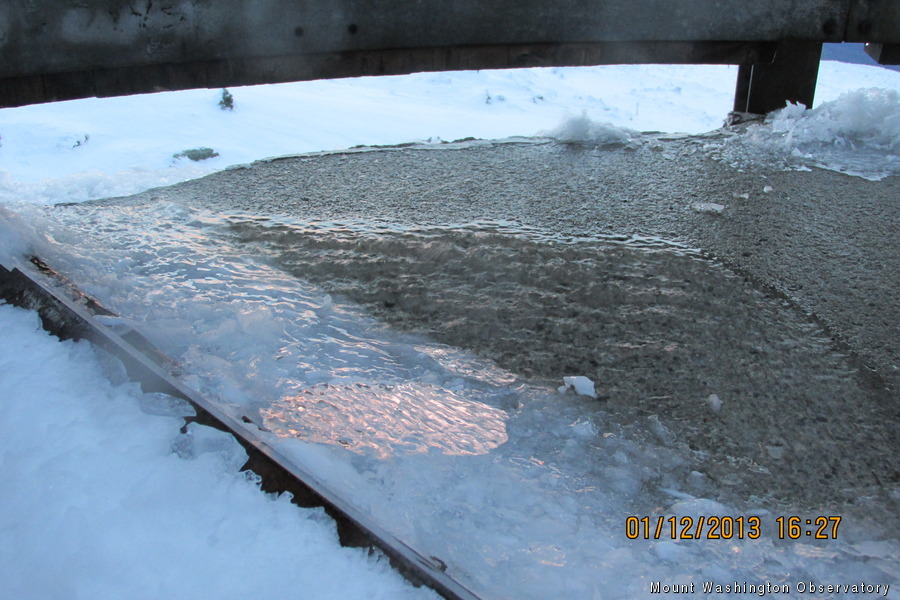 One of many puddles of water
Weather is extremely variable by nature. Despite the calendar saying January, and our climate data telling us that our high temperature today and tomorrow should be somewhere in the vicinity of 5F, nature has a different plan.
Today's daily record high is 40F, and we've managed to hit 38F so far today, with more moderation expected through the evening and early tonight. This record may very well bite the dust at any time.
The unseasonable warmth has turned our snowy summit into a mish-mosh of water and slush.
Tomorrow's daily record high is 41F, which will almost certainly be broken. In fact, with temperatures expected to continue warming tonight, our low temperature tomorrow may not even drop below the record high. Now that's some serious warmth!
The more interesting record, though, lies on a larger scale: 47F, which is the all-time record high for the month of January. Considering one computer model predicts a high of 46F, and another predicts a high of 51F, this record could be in jeopardy tomorrow. A lot of little factors, such as amount of sunshine vs. cloud cover, amount of snowpack, wind direction, etc. go into forecasting the exact high temperature. An unexpected few minutes of sunshine could be enough to drive the mercury over the 47F mark, while slightly higher winds could be enough to keep the air sufficiently mixed to prevent an anomalous 2-3 degree temperature spike.
So, for now, we watch and wait to see if the monthly record falls by the wayside!
Mike Carmon,  Weather Observer/Meteorologist
Ellen Estabrook
Adjusting to Life on the Summit By Charlie Peachey Working on the summit of Mount Washington is not your average job. There aren't too many other places where the employees work and live together for
Ellen Estabrook
A Surprise Aurora By Francis Tarasiewicz After 17 months of working at New England's highest peak, it finally happened. On the night of November 12th, 2023, I was lucky enough to view the famous and
Ellen Estabrook
A Glimpse at METAR Reports By Alexis George, Weather Observer & Meteorologist METAR observations are submitted every hour of every day at Mount Washington Observatory. METAR is a format for reporting weather information that gets