Downbursts on the Summit
2013-10-22 18:33:15.000 – Mike Dorfman,  Weather Observer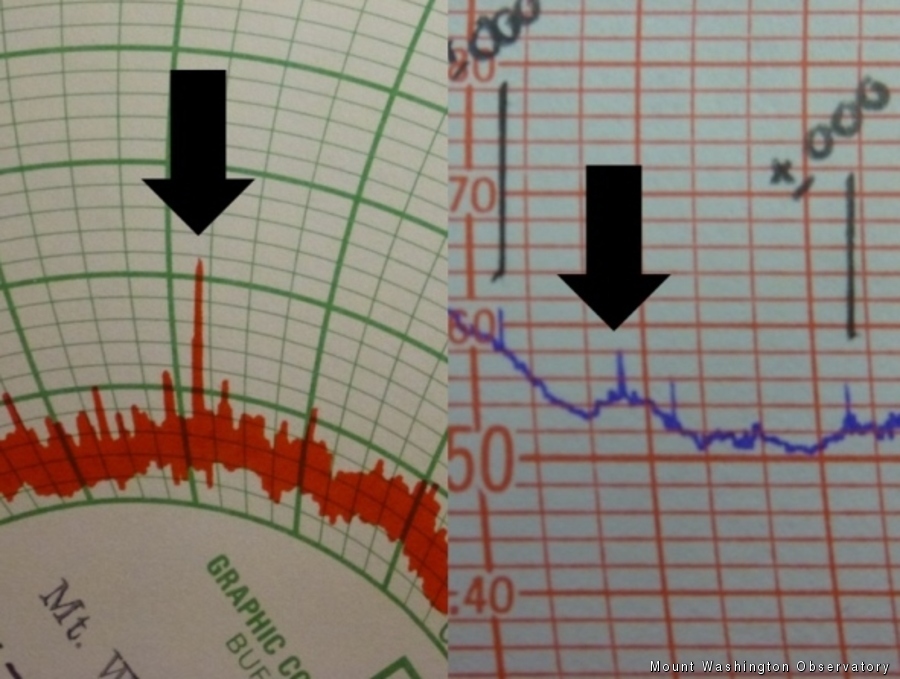 (Left) Wind Speed Spike (Right) Pressure Spike
Have you ever been in a thunderstorm and, right before it starts raining, a very strong gust of wind blows through, thrashing trees and quite possibly breaking branches? These events, called downbursts, are often the most damaging part of a thunderstorm, forming in front of a thunderstorm by a column of rapidly descending air. These can also occur on the summit however they, along with the rest of the weather above tree line, are much more extreme compared to their counterparts at sea level. Lightning isn't the only thing you have to worry about in summer storms! Over the summer, we had several severe downbursts which allowed wind speeds to spike from a breezy 30 miles per hour to an unbearable 100 miles per hour or more. If caught unprepared, these winds can literally blow you off your feet, in addition to pelting you with hail strong enough to break the skin.
These events don't have to take place in a summer thunderstorm. Downbursts can occur with any highly convective system. Earlier this week, we had a line of heavy showers move through with a cold front, pushing wind from 30 miles per hour to over 70 miles per hour in a matter of seconds. The picture above shows what our charts look like after one of these downbursts-a spike in wind speed and sharp rise, or fall, in pressure.
No matter what season you're hiking in, always be prepared and check the weather before you venture outdoors!
Mike Dorfman,  Weather Observer
Ellen Estabrook
Adjusting to Life on the Summit By Charlie Peachey Working on the summit of Mount Washington is not your average job. There aren't too many other places where the employees work and live together for
Ellen Estabrook
A Surprise Aurora By Francis Tarasiewicz After 17 months of working at New England's highest peak, it finally happened. On the night of November 12th, 2023, I was lucky enough to view the famous and
Ellen Estabrook
A Glimpse at METAR Reports By Alexis George, Weather Observer & Meteorologist METAR observations are submitted every hour of every day at Mount Washington Observatory. METAR is a format for reporting weather information that gets