early morning blaze
2006-08-01 17:19:37.000 – Kristin Odell,  Summit Intern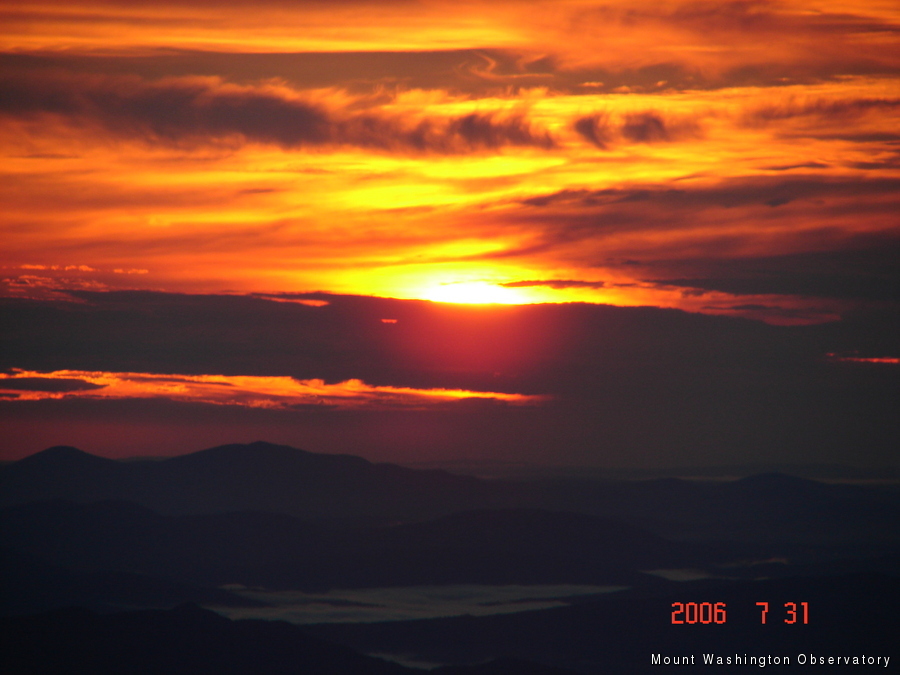 early morning blaze
As my bunk mate climbed back into his rack, the 3-tiered bunk we were sleeping in began to shake. I groggily turned over to read the time on my cell phone; 4:45 a.m. came into focus. In my sleepy state, I remembered a few weeks back a similar situation. I had woken around 5 a.m. and had briefly thought to myself, "Should I really get up and see if I can catch a nice sunrise?" The thought was brief; within five seconds the Sandman had victory and peacefully lulled me back into a slumber.
Turns out, it was a pretty amazing sunrise! Hearing the news I declared, "If I ever wake up again around sunrise, I will get up!" So, when my bed began to shake the other morning, I remembered my promise, and yes, am pleased to announce I had the willpower to follow through!
I peeled out of bed and felt around for my coat and some other warm layers. I headed upstairs and made sure to grab a camera in case a photo opportunity presented itself. Not only did I grab one, but two, you know, just incase. I was surprised to see that Nin, our kitty, likes to wander around at night. I found him sleeping comfortably on a heater near the State Park entrance. I gave him a pat and wandered to an easterly positioned picnic table. Every direction was in the clear from the preceding day's weather. Berlin was lit in the north and toward the east, Lewiston and Portland, Maine. As a magenta band across the horizon began to spread and the intensity of hue became electric, I reached for my cameras.
Thinking this would be my best opportunity to get some great shots, I frantically began to shoot away. Within a few moments, however, the colors began to fade. The sun had crested just over the most easterly mountains drowning out the colors with an intense beam of light. Disappointed, I began to walk away. One last look back though, I noticed the sun was suddenly shrouded in clouds and radiating the most beautiful shades of pinks, oranges and yellows! To my dismay however, the nicer of the two cameras had lost its charge. Taking a chance, I grabbed the finer brand, turned it on, quickly focused and took my shot. The camera turned off. I repeated the process resulting in several photos; one of which is posted on our website.
You know, I've seen many many sunsets, but only on rare occasions, a sunrise. To me, there is a unique beauty that resounds when you catch a sight so beautiful. You're one of the lucky ones, first class seats. Now, you have to fight that sandman sometimes to get the prize, but if you're one of the lucky ones…the fight is worth it!
Kristin Odell,  Summit Intern
Ellen Estabrook
Adjusting to Life on the Summit By Charlie Peachey Working on the summit of Mount Washington is not your average job. There aren't too many other places where the employees work and live together for
Ellen Estabrook
A Surprise Aurora By Francis Tarasiewicz After 17 months of working at New England's highest peak, it finally happened. On the night of November 12th, 2023, I was lucky enough to view the famous and
Ellen Estabrook
A Glimpse at METAR Reports By Alexis George, Weather Observer & Meteorologist METAR observations are submitted every hour of every day at Mount Washington Observatory. METAR is a format for reporting weather information that gets