Ending My Internship With Some Extreme Weather!
2019-12-17 10:20:03.000 – Laura Kee, Summit Intern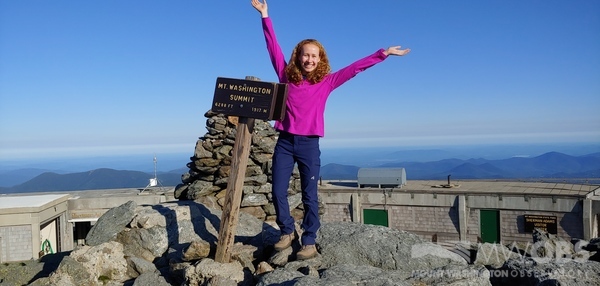 My time as an intern on the summit has flown by and I couldn't be more grateful to have had such an incredible opportunity to fulfill this dream of mine. In addition to the wild weather, beautiful views, and wonderful people I got to work with, I was lucky to learn so much about forecasting and how the Observatory operates. It was exhilarating to be up on the summit to witness triple digit wind speeds, record breaking temperatures, shooting stars, and beautiful sunrises and sunsets that painted the sky a gorgeous array of colors.
Living and working up here with such extreme weather conditions brought new adventures every day. Whenever I got off the mountain at the end of my shift up here, I was always eagerly anticipating our next trip up, wondering what type of exciting weather I might get to experience next. Being in an environment with such dramatically changing weather patterns allowed me to witness some pretty remarkable events that this mountain is famous for.
I am fortunate to have gotten some exciting weather for my last few days of my internship. This week coincided nicely with some strong storms that moved through the region, which brought sustained winds that gusted over 125 mph – a perfect sendoff!
When I wasn't outside soaking up the wonderfully crazy weather, I learned a lot from all that I go to do inside. Working on research allowed me to delve into analyzing how wintertime melting events are changing over time on the mountain, which gave me the chance to work with weather data from the summit. I also enjoyed starting my days by reading forecasts for the AMC Hut Call each morning. Creating and recording the Higher Summits forecast each day gave me experience learning about the nuances of mountain meteorology, especially with the frequent storms we receive up here!
As summer transitioned to winter, I became fully aware of just how truly powerful water and wind can be in an environment as extreme as Mount Washington. It was quite the thrill to be outside on the tower in winds that were gusting to 130 mph, causing my ski goggles to vibrate from the sheer force as I stood into the wind. I enjoyed all the chances I got to head outside in hurricane force winds while attempting to stay upright enough to walk across the observation deck. From thunderstorms one night and seeing a fogbow another morning during my first week up here, to experiencing nor'easters that brought snow, rime ice and wind chills down to -50°F, I am lucky I got to be on the mountain during the fall to experience this incredible range of conditions. Watching the Observatory go from buzzing with activity from visitors during foliage season to witnessing the summit become encased in snow and rime ice after the building closed down to the public, I feel lucky that I got to be up here on the summit of Mount Washington during such a perfect time of year for an experience beyond what I could have ever imagined!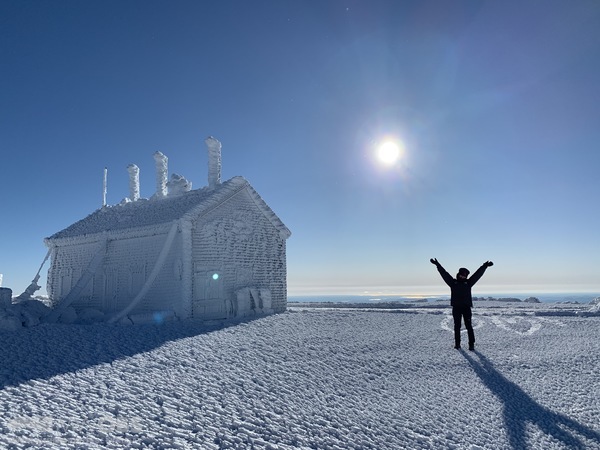 Laura Kee, Summit Intern
Ellen Estabrook
Adjusting to Life on the Summit By Charlie Peachey Working on the summit of Mount Washington is not your average job. There aren't too many other places where the employees work and live together for
Ellen Estabrook
A Surprise Aurora By Francis Tarasiewicz After 17 months of working at New England's highest peak, it finally happened. On the night of November 12th, 2023, I was lucky enough to view the famous and
Ellen Estabrook
A Glimpse at METAR Reports By Alexis George, Weather Observer & Meteorologist METAR observations are submitted every hour of every day at Mount Washington Observatory. METAR is a format for reporting weather information that gets