Enjoying the Weather Worry Free
2017-08-13 18:04:37.000 – Caleb Meute, Weather Observer / Meteorologist
People commonly ask if I feel safe up here in the winter, and just in general when the summit is being bombarded by the intense weather it is notorious for. While I like to think I have a thick skin for crazy weather, if this building was not as sturdy and secure as it is now… Well I would probably still work here. But, it would definitely be an entirely different experience and substantially more nerve wracking than it is today. The Observatory is located in the Sherman Adams building, which was completed in 1980 and constructed to withstand winds up to 300 mph! The walls are two feet thick steel reinforced concrete and the building itself is constructed similarly to houses that are built in hurricane prone areas. This past March, a Nor'easter moved into New England and sustained winds ramped up beyond the century mark with the peak wind gust soaring to 138 mph. As winds accelerated to these speeds, the sound inside was hard to describe! From inside the weather room, my fellow weather observers and I were able to watch this incredible weather event unfold while feeling perfectly safe at the same time. Having this sturdy building also allows us to go outside and experience Mother Nature unleashing her fury without having to worry about getting back down the mountain, or being outside for too long. This type of weather is impossible for others to really experience in a (nearly) worry free environment, and we are truly blessed to be up here observing the weather year round.
The building has not always been this sturdy! Back in January I wrote a blog discussing a storm that passed over the summit bringing two peak wind gusts of 127 mph, separated by a 24-hour period. Dave Glidden was working on a UMASS climatological project in the early 70s and staying with Lee Vincent at the WMTW TV station atop the Rockpile. Dave read my blog post and sent me a log that he kept during a massive storm that barreled through the White Mountains in 1972. The following notes are taken directly from his account of that storm on February 3rd, 1972.
Thursday, 3 February 1972
2210 – Raging blizzard. Winds over 120 mph now. Doors shaking in the TRANS room – Barographs pumping sharply with pressure falling straight down. Pressure oscillations can be felt on our eardrums. Engine room filling rapidly with drifting snow, despite closed vents. Winds tremendous. Made a difficult trip over to see Al at the OBS. He was having trouble keeping snow out and heat in the COSMO room – along with rapidly icing pitot.
Friday, 4 February 1972
0530 – Up at 0530, after a totally sleepless night due to extreme winds and shaking building. Fantastic conditions outside – winds are exceeding 130 mph, with a near-opaque whiteout, blowing chunks of ice hitting the building, and shaking doors, floors and tables inside. The storm shifted a bit to the west of its expected track.
0645 – Just talked with Guy. He wanted to know if everything was okay over here. He reports average speeds down to 112 mph, with peak gusts earlier to 166 mph from the east. The front steps of the OBS were blown away, and Guy said he's not going to try to get out again. Winds are now WNW.
1400 – … Guy said that he and Al were up most of the night boarding up exposed east windows. He mentioned that, at times, the OBS was shaking so badly that one's head literally rolled, with the walls and seams moving so much he thought something might buckle. "The world's strongest building has proven not to be so strong after all" were Guy's comments. He thought its limitations were fairly well compromised last night.
As I read Dave's account from that blizzard I was overcome by excitement for a storm of that magnitude here on the summit. I was also overcome by anxiety when thinking about how frightening that would be to go through, while questioning the integrity of your shelter. I cannot imagine what that would be like living up here during a storm where snow was literally drifting through vents and filling up rooms. We have snow frequently blow through cracks in the tower, but never into the rooms where we are living and working. I have the utmost respect for everyone who observed the weather in this extreme climate prior to 1980. I also respect all other weather observers in the past who have put themselves in harm's way to record meteorological data when accommodations were not quite as secure as they are now.
I am currently reading a book by Christopher Burt, Extreme Weather – A Guide and Record Book. This book contains countless anecdotes from people who have experienced a variety of different weather conditions and extremes. As I was going through a section that was discussing all of the major hurricanes that have occurred throughout the world, I came across a story of a weather observer who found himself in the midst of the most intense hurricane to make landfall in the United States since the beginning of records that date back to 1851. The man was J. E. Duane, and he was the official weather observer for the U.S. Weather Bureau at Long Key, Florida on September 2, 1935. On this date, a category 5 hurricane (157 mph winds or greater) lashed out unimaginable fury to the tiny islet and he was miraculously able to survive while continuing to monitor the weather instrumentation. Unfortunately, more than 400 people died in the Keys from this hurricane, which brought winds over 157 mph and a 20-30 storm surge. Duane's account of this hurricane is incredible and I cannot even remotely fathom how terrifying this would have been. Here are a few snippets from his account from that day September 2nd into September 3rd:
During this lull, in the eye of the hurricane, the sky is clear to northward, stars shining brightly and a very light breeze continue; no flat calm. About the middle of the lull, which lasted a timed 55 minutes, the sea began to lift up, it seemed, and rise very fast; this from the ocean side of the camp. I put my flashlight out to sea and could see walls of water which seemed many feet high. I had to race fast to regain the entrance of the cottage, but water caught me waist deep, although I was only about 60 feet from the doorway of cottage. Water lifted cottage from foundations and it floated.
10:10 p.m. – Barometer now 27.02 inches; wind beginning to blow from SSW.
10:15 p.m. – The first blast from SSW, full force. House breaking up – Wind seemed stronger than any time during storm. I glanced at Barometer which read 26.98 inches, dropped it in the water and was blown outside into sea; got hung up in broken fronds of coconut tree and hung on for dear life. I was struck by some object and knocked unconscious.
2:25 a.m. (September 3) – I became conscious in tree and found I was lodged about 20 feet above ground.
-J. E. Duane, 1935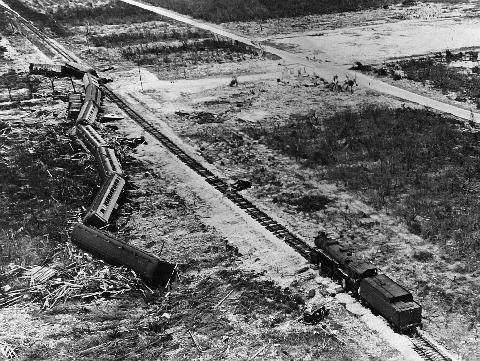 This train was sent to evacuate everyone from the Florida Keys prior to the landfalling hurricane. At the time, around 700 veterans were working on the Florida Keys Causeway. Unfortunately, the train was delayed and by the time it arrived in the Keys it was caught in the middle of the storm. The train derailed, and around 400 veterans and civilians died in the hurricane.
These two accounts sure make me appreciate what people have gone through to record meteorological data and keep equipment running properly while being in the midst of dangerous and deadly storms. It is an honor to continue taking weather observations and contribute to the extensive climate record here on the summit of Mount Washington, but I sure am glad the building was upgraded! Bring it, Big Bad Wolf…
Caleb Meute, Weather Observer / Meteorologist
Ellen Estabrook
Adjusting to Life on the Summit By Charlie Peachey Working on the summit of Mount Washington is not your average job. There aren't too many other places where the employees work and live together for
Ellen Estabrook
A Surprise Aurora By Francis Tarasiewicz After 17 months of working at New England's highest peak, it finally happened. On the night of November 12th, 2023, I was lucky enough to view the famous and
Ellen Estabrook
A Glimpse at METAR Reports By Alexis George, Weather Observer & Meteorologist METAR observations are submitted every hour of every day at Mount Washington Observatory. METAR is a format for reporting weather information that gets