Fall is Just Around the Corner
2019-08-30 11:02:38.000 – Benjamin Charles, Summit Intern
August will shortly come to an end, wrapping up what was a great summer here at the summit of Mount Washington. So as the end of the 2019 summer grows closer we will begin to see a considerable shift in our weather this next month of September. Typically during the summer is when the Summit of Mount Washington experiences its calmer conditions, warmer temperatures, and foggiest months.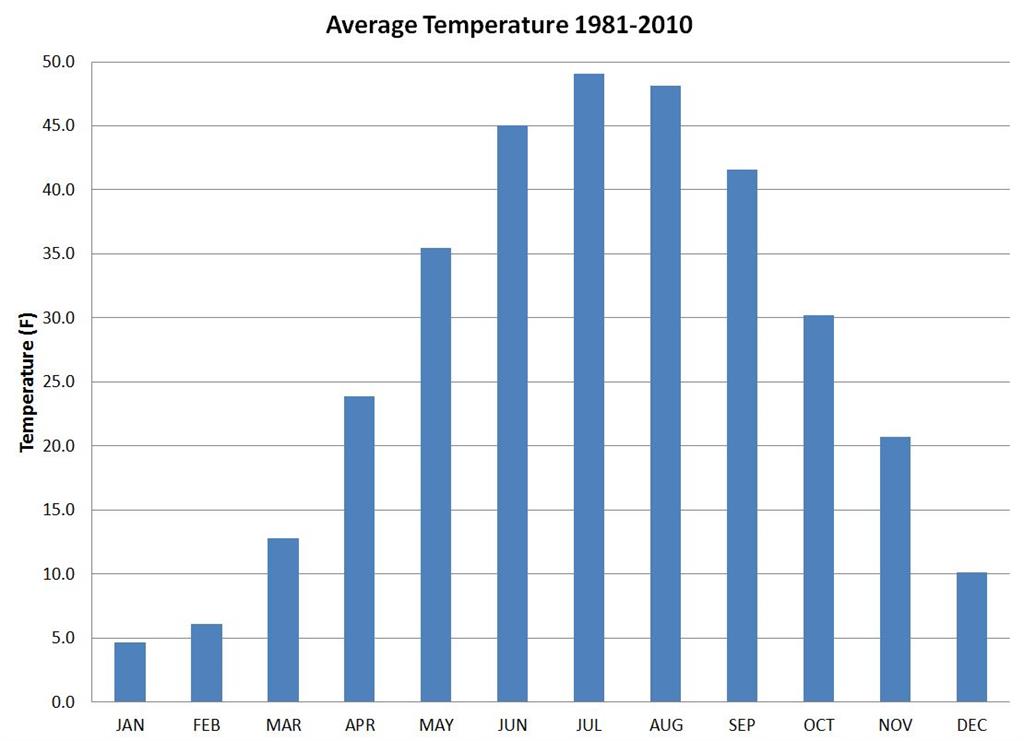 August is actually the first month that the average temperature begins to decrease by 1.0°F to 48.1°F. However the largest drop off in temperatures comes in September, temperatures will decrease bringing the monthly average temperature 6.5°F down to 41.6°F. Moving on from September average temperatures will continue to drop bottoming out in January at an average temperature of 4.7°F. As temperatures get colder and colder heading into fall, there will also be less moisture in the air as cold air is much denser than hot air and holds less moisture. This results in less foggy days on average

on the summit than we see during the summer. Not only will drier air be around more often but as will stronger winds, as in September the average wind speed for the month increases

to 28.6 mph. This is 4.6 mph more than the month of August at 24 mph, which is the calmest month of the year. We then have an average increase in wind speed through the rest of the year peaking with our highest winds in January at 46 mph.
This is a result of a few things, primarily related to the tropopause. The tropopause is a stable layer of air in the atmosphere just above the troposphere, which is the layer in which all of the weather occurs. So when the air gets colder and is denser as mentioned before, the tropopause begins to lower. When winds go over the mountain, they hit this stable layer of air and are forced back down. This causes an acceleration effect resulting from the squeezing of the winds over Mount Washington, resulting in stronger wind speeds. However the tropopause isn't the only factor at play, as when temperatures begin to get colder there is an increased temperature gradient between the poles and the equator. This will result in a stronger and more organized jet stream, with strong winds aloft often translating down to relatively stronger winds at the surface.
Along with colder temperatures comes snow, and personally I can't wait for winter to come. I will be staying for the fall internship here at the Mount Washington Observatory in hopes of getting a taste of mother nature's worst. Luckily for me here at the summit of Mount Washington we have an average first snowfall of the year on September 14, with a record earliest snowfall being August 1!
The average snowfall per month also makes a considerable jump up to 2.2 inches in September from the 0.1 inches in August. After September winter really start to come in full swing as we have nearly a 15 inch snowfall increase every month peaking in December at 45.5 inches. As we transition into fall and winter Observers and Interns like myself all have our fingers crossed for an early winter bringing rime ice, hurricane force winds, and of course snow!
Benjamin Charles, Summit Intern
Ellen Estabrook
Adjusting to Life on the Summit By Charlie Peachey Working on the summit of Mount Washington is not your average job. There aren't too many other places where the employees work and live together for
Ellen Estabrook
A Surprise Aurora By Francis Tarasiewicz After 17 months of working at New England's highest peak, it finally happened. On the night of November 12th, 2023, I was lucky enough to view the famous and
Ellen Estabrook
A Glimpse at METAR Reports By Alexis George, Weather Observer & Meteorologist METAR observations are submitted every hour of every day at Mount Washington Observatory. METAR is a format for reporting weather information that gets