Farewell Mount Washington!
2018-08-28 09:51:05.000 – Griffin Mooers, Summit Intern
As my summer internship comes to a close I want to take the opportunity to thank the Mount Washington Observatory a great last few months. Growing up in New Hampshire and obsessed with weather since childhood, it's long been an aspiration of mine to spend time at the summit with at the observatory. So I was beyond thrilled when I was told this past spring I would get to be a summit intern this summer. The experience has not disappointed. I expected the weather to be interesting, but I was blown away (pun intended) by the most exciting conditions I've ever seen in my life. I was fortunate enough to be outside in a 91 mph wind gust. The double rainbow our shift came across on the Auto Road was by far the nicest I've ever seen. I experienced my first June snow. In a glaze event, I watched as the summit got coated with almost an inch of ice earlier this summer.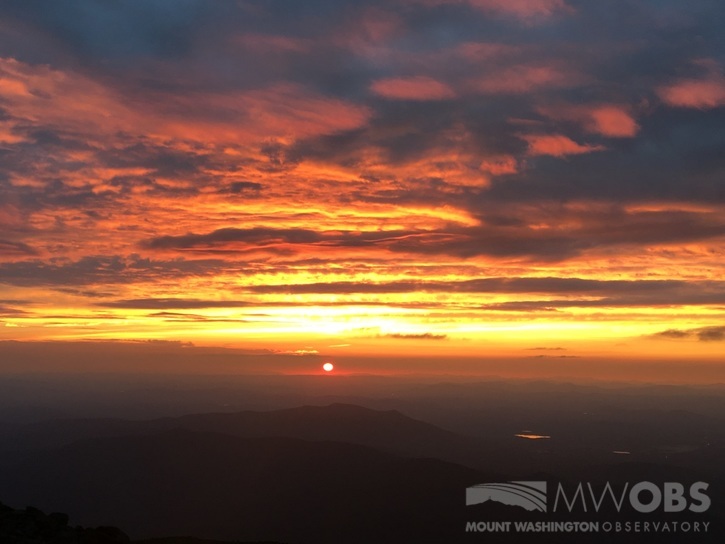 There were also things about the summit I didn't expect to experience, but quickly became some of my favorite parts of the summer. It's simply amazing to be able to just look out a window in New Hampshire on a clear day and see the Adirondacks in New York. The sunsets on the summit are truly the most amazing I've ever seen and always a shift highlight. I was even fortunate enough to see the Auroras this week. I also really enjoyed the chance to get to meet two new volunteers each shift. It was great to get to know so many interesting people and the wonderful meals they provided were always the perfect way to end the day. Marty, who was initially very shy around me, has become something of a lap cat towards the end of my internship. I'm going to sad to leave him.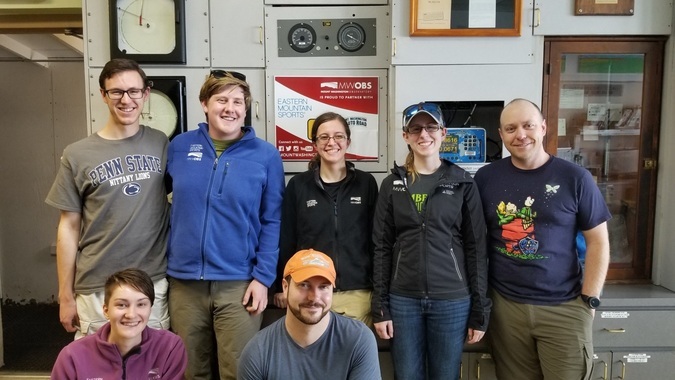 But as fascinating as the weather is, and as special as the summit has been for me, it's always the people behind it that define a place. I couldn't have asked for better fellow interns than Sarah and Simon to work with over the summer. It's always fun to be surrounded by other people who are just as passionate about weather as I am. I'll miss hearing Simon excited about the chance of snow or Sarah point out lenticular clouds in the sky. And I'm particularly grateful to the observatory staff for welcoming me to the shift this summer and for teaching me so much about the work of the Mount Washington Observatory as well as higher summits forecasting and research. I want to wish Tom, Taylor, Ryan, and the new intern Chloe all the best for the shifts ahead. I'll miss spending time on the summit of Mount Washington and I hope to be back to visit soon.
Griffin Mooers, Summit Intern
Ellen Estabrook
Adjusting to Life on the Summit By Charlie Peachey Working on the summit of Mount Washington is not your average job. There aren't too many other places where the employees work and live together for
Ellen Estabrook
A Surprise Aurora By Francis Tarasiewicz After 17 months of working at New England's highest peak, it finally happened. On the night of November 12th, 2023, I was lucky enough to view the famous and
Ellen Estabrook
A Glimpse at METAR Reports By Alexis George, Weather Observer & Meteorologist METAR observations are submitted every hour of every day at Mount Washington Observatory. METAR is a format for reporting weather information that gets