Fires, Flares, Hurricanes and Earthquakes… Oh My!
2017-09-09 06:01:24.000 – Caleb Meute, Weather Observer / Meteorologist
Natural disasters have been in the news much too frequently these past few weeks, and Hurricane Irma looks to continue the dreadful trend as it aims to make landfall in southern Florida sometime Saturday night. It was just last shift that we sat up here in the weather room watching satellite imagery as Hurricane Harvey grew more and more intense as it neared the Texas Coastline. While Harvey was strengthening, we continuously watched the forecast models, which were showing the catastrophic outcome of it stalling out in southern Texas for up to a week. That was unfathomable… We sat here in disbelief thinking about what exactly that would mean for everyone in southern Texas, including the countries fourth largest city, Houston. Now it is two weeks later and my shift has found ourselves once again watching a historical storm that is looking to unleash unimaginable fury across Florida. By the way, there are also two more hurricanes in the Atlantic right now, Katia and Jose. Hurricane Jose has rapidly strengthened today and (as of this writing) is just shy of category 5 strength… Two category 5 hurricanes in the Atlantic would be unprecedented.
Hurricanes have been dominating news stories over the past couple of weeks, but other significant natural disasters are occurring simultaneously. Wildfires have been raging over the Pacific Northwest for over a month! This image (below) taken by the NOAA-NASA's Suomi NPP satellite on September 4, 2017 shows several of the wildfires and their associated smoke plumes spread all the way across the country by means of the jet stream.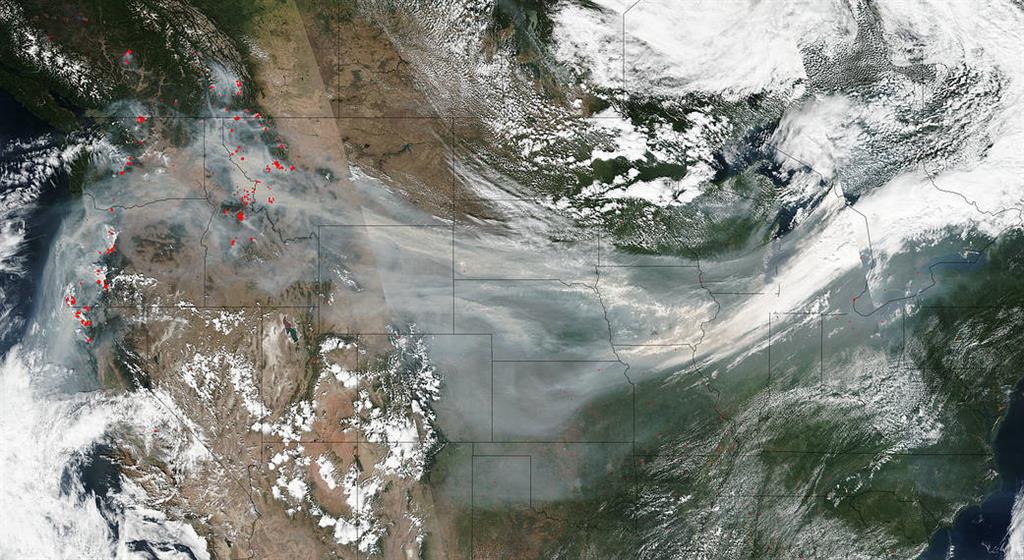 Wednesday morning of this past week, the sun released a strong X2 solar flare that was quickly followed by an X9.3 flare, which was the strongest since an X17 flare occurred in 2005. X-class flares are the biggest type of flares emitted by the sun. The smallest ones are A-class, followed by B, C, M and X. Much like the Richter scale of earthquakes, each letter represents a 10-fold increase in energy output. Within each class of flares, there is a finer scale from one to nine. Within the X-class, there are flares that are ten times stronger than an X1, so X-class flares can go higher than nine. The strongest flare recorded was in 2003, which measured as an X28 before the sensors were overloaded. This particular flare on Wednesday caused high frequency radios to stop working on the side of Earth facing the sun and GPS communications were degraded for close to an hour. It also led to spectacular displays of the northern lights across the country as charged particles released from the flare collided with the gaseous particles in the Earth's atmosphere.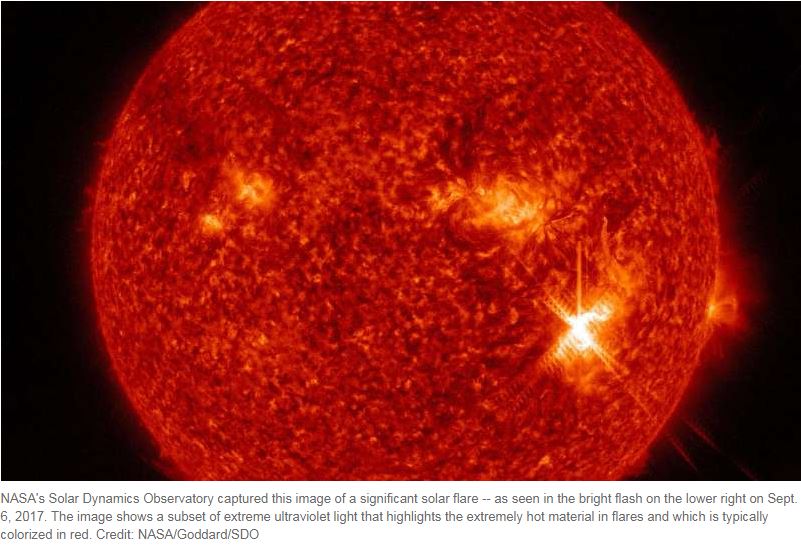 Late last night, a powerful magnitude 8.1 earthquake struck Mexico just off its southern coast killing at least 58 people. The quake was felt by nearly 50 million people across the country and it was the strongest experienced in Mexico over the past 100 years.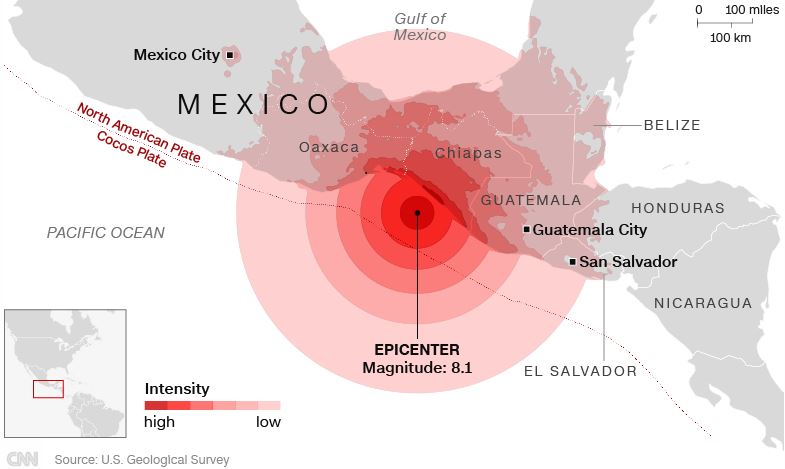 Irma is stealing the show, but reasonably so. Many records have been set since its formation and unfortunately, it will continue to keep this record setting pace. Colorado State University meteorologist, Phil Klotzbach has been tracking all of the records and I will highlight some of them below. For the full list, follow this link: https://webcms.colostate.edu/tropical/media/sites/111/2017/09/Hurricane-Irma-Records.pdf
185 mph lifetime max winds – Tied with Florida Keys hurricane (1935), Gilbert (1988) and Wilma (2005) for the second strongest max winds of all time in an Atlantic hurricane. The only strongest was Hurricane Allen in 1980 which had max winds of 190 mph.

185 mph lifetime max winds – The strongest storm to exist in the Atlantic Ocean outside of the Caribbean and Gulf of Mexico on record.

185 mph max winds for 37 hours – This represented the longest that any cyclone around the globe has maintained that intensity on record. The previous record was Haiyan in the NW Pacific which maintained those max winds for 24 hours.

914 millibar lifetime minimum central pressure – Lowest since Dean (2007) and 10th lowest in satellite era (since 1966)

914 millibar lifetime minimum central pressure – Lowest pressure by an Atlantic hurricane outside of the western Caribbean and Gulf of Mexico on record.

3 consecutive days as a Category 5 hurricane – The longest in the satellite era
Hurricane Irma is showing no signs of weakening prior to making landfall in southern Florida. This storm is massive and will undoubtedly bring devastation to Florida, especially along the coastline where it makes landfall.
It has been an active month for natural disasters with an enormous amount of people already affected. In addition to those already affected, there is now a huge population bracing themselves for a historic impact from Hurricane Irma. My thoughts and prayers are with everyone affected by Hurricane Harvey, the wildfires in the Pacific Northwest, the earthquake in Mexico and now Hurricane Irma.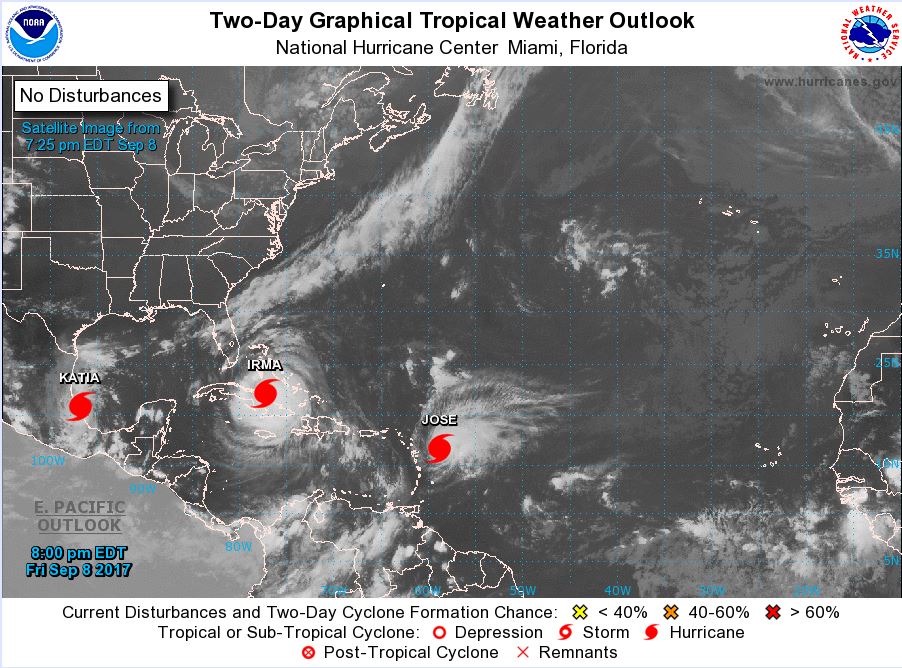 Caleb Meute, Weather Observer / Meteorologist
Ellen Estabrook
Adjusting to Life on the Summit By Charlie Peachey Working on the summit of Mount Washington is not your average job. There aren't too many other places where the employees work and live together for
Ellen Estabrook
A Surprise Aurora By Francis Tarasiewicz After 17 months of working at New England's highest peak, it finally happened. On the night of November 12th, 2023, I was lucky enough to view the famous and
Ellen Estabrook
A Glimpse at METAR Reports By Alexis George, Weather Observer & Meteorologist METAR observations are submitted every hour of every day at Mount Washington Observatory. METAR is a format for reporting weather information that gets