First Days at the Castle in the Clouds
2015-05-29 17:05:38.000 – Thailynn Munroe, Summit Intern
So far, my time in New Hampshire has been nothing short of incredible and full of surprises. Most people never see moose while they're visiting, and I've spoken to a few locals who've said they haven't seen one in years. Against all odds, I saw two in one day! My luck only increased as I made my way up the mountain, to what I've nicknamed the Castle in the Clouds.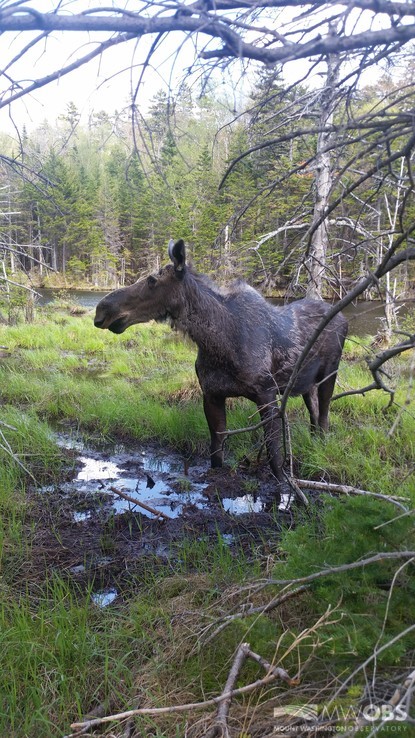 Yesterday was my very first day as an intern here at the Observatory, and I was blessed to experience a thunderstorm from inside the clouds! It was a suspenseful afternoon watching the storms grow on the radar and slowly crawl toward the White Mountains. All the staff members at the Observatory were crowded into the weather room, facing the windows as if we were at the movies. We looked on as the fog eerily obscured everything from view, and howling winds brought rain slamming against the windows. We saw many cloud-to-cloud as well as a few cloud-to-ground lightning strikes; some of them were so loud we knew they were hitting the summit. I will never forget staring out into the storm and all of a sudden the entire room lit up a blinding purplish-white, with a clap so loud it left my ears ringing. It was such an exciting experience that we held off on dinner until the lightning subsided.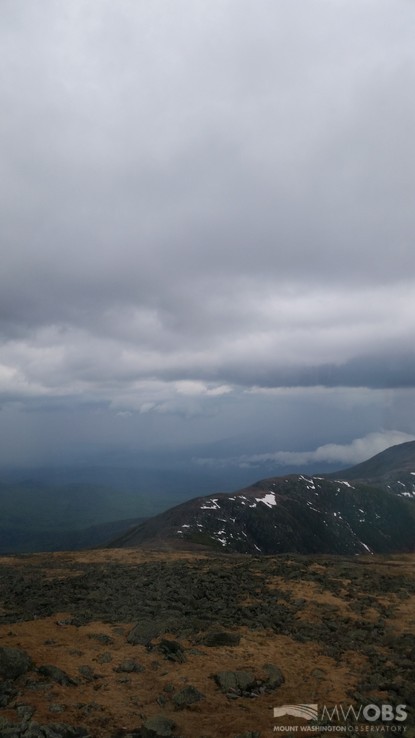 In addition to these landmark events, it has already been one of the most learned experiences I've had, and it's only my second day. Everything here is so hands-on; while forecasting and shadowing the observers I've been recalling and applying things that I learned years ago. I'm so thankful that everyone on my shift is so experienced and patient with me, including my fellow intern, Nate. Also, Marty the Cat has been a kindred spirit, putting up with my overwhelming amounts of enthusiasm for cats.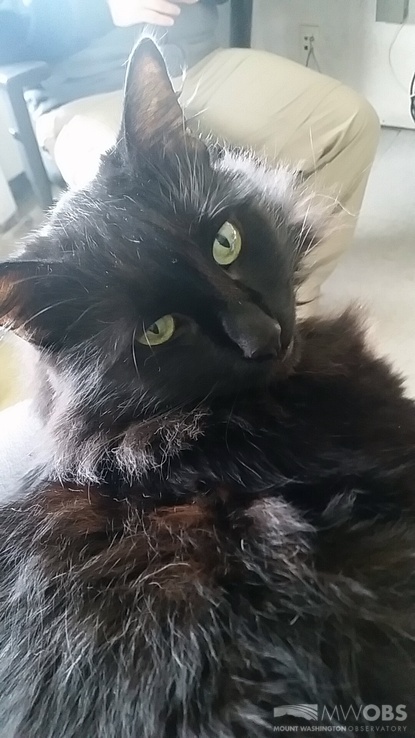 As much as I've enjoyed the weather here so far, I'm hoping that with tomorrow's increase in pressure the clouds will clear out so I can finally see the night sky I keep hearing everyone rave about. I won't complain if I have to wait though, I love it here at the Castle in the Clouds, and I wouldn't trade it for anything.
Thailynn Munroe, Summit Intern
Ellen Estabrook
Adjusting to Life on the Summit By Charlie Peachey Working on the summit of Mount Washington is not your average job. There aren't too many other places where the employees work and live together for
Ellen Estabrook
A Surprise Aurora By Francis Tarasiewicz After 17 months of working at New England's highest peak, it finally happened. On the night of November 12th, 2023, I was lucky enough to view the famous and
Ellen Estabrook
A Glimpse at METAR Reports By Alexis George, Weather Observer & Meteorologist METAR observations are submitted every hour of every day at Mount Washington Observatory. METAR is a format for reporting weather information that gets