First Week on The Summit
2012-05-18 16:45:12.000 – Will Broussard,  Outreach Educator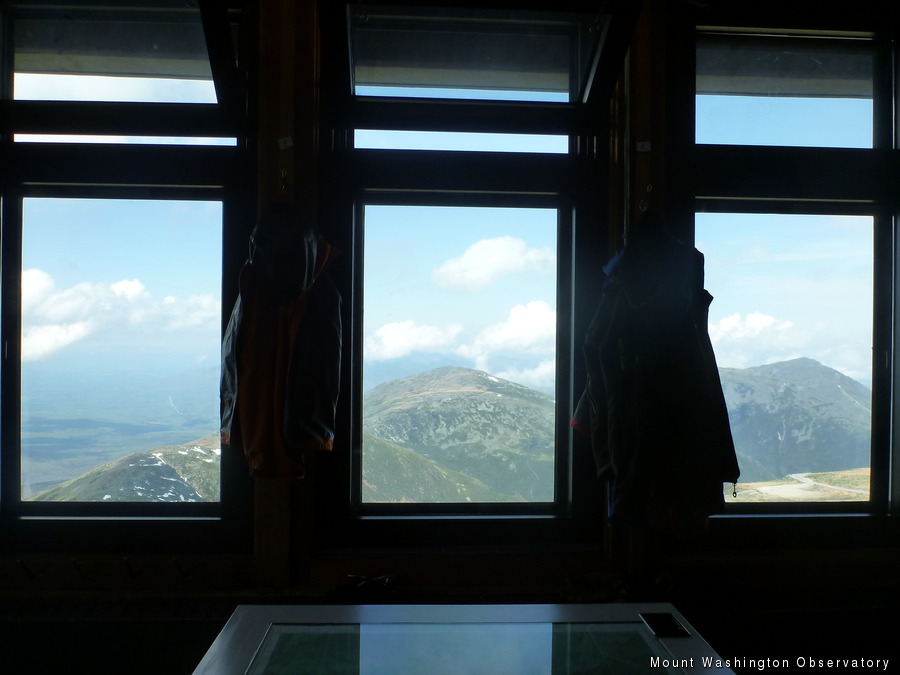 View out the Office Windows
This was my first visit to New England's highest peak, and to the observatory hunkering bravely 6,288 feet above sea level. We arrived on Monday to a windy and fogged-in summit, which I was told was normal for this time of the year. For two whole days, I remained mostly inside, with the observation deck my only 'outside' place to venture. Limited in movement and visibility resulted in entertaining thoughts of being on a spaceship or in the hull of some ship far offshore. Needless to say, I was happy when the sky finallycleared.
On Wednesday I gained an appreciation for the beauty and elevation that is the Presidential Range of the White Mountains. Vibrant green lichens covered the rocky rubble, and small alpine plant communities of deep reds and browns peeked up between boulders. In their shadows, the winter's snow pack could still be seen. Winds were calm, temperatures were in the low 50s, and the sun was bright. Only an occasional cumulus cloud restricted our otherwise uninhibited views for a hundred miles or more. It was an otherworldly paradise, and a perfect prelude to the thunderstorms that rolled in later that evening.
My lasting impressions of the weather on the summit are of rapid change. The front that produced the glorious weather and violent thunderstorms Wednesday evening moved through and was replaced by winds gusting into the high 60 mph range, temperatures in the low 20s, and rime ice everywhere upon daybreak. Not the best day to explore the landscape beyond the Mount Washington Observatory, but a perfect one in which to reflect on my time spent here.
Will Broussard,  Outreach Educator
Ellen Estabrook
Adjusting to Life on the Summit By Charlie Peachey Working on the summit of Mount Washington is not your average job. There aren't too many other places where the employees work and live together for
Ellen Estabrook
A Surprise Aurora By Francis Tarasiewicz After 17 months of working at New England's highest peak, it finally happened. On the night of November 12th, 2023, I was lucky enough to view the famous and
Ellen Estabrook
A Glimpse at METAR Reports By Alexis George, Weather Observer & Meteorologist METAR observations are submitted every hour of every day at Mount Washington Observatory. METAR is a format for reporting weather information that gets