First Week on the Summit!
2021-09-21 12:25:41.000 – Abigail Fitzgibbon, Summit Intern
My name is Abigail Fitzgibbon and I'm absolutely thrilled to be interning for Mount Washington Observatory on the summit this fall. Having grown up on the North Shore of Massachusetts, I'm no stranger to extreme weather. As a kid, I loved watching storms roll in, often flooding my coastal town. I just graduated from UCLA where I studied geography & environmental studies with a focus on GIS and remote sensing. While in Southern California, I got to experience some amazing hiking, backpacking, and all around good times in the outdoors, but I missed the four seasons and extreme weather of New England. For that reason and so much more, I'm so excited to be spending this fall on Mount Washington!
I've only been here a week, but the internship is already such an incredible experience. I've learned a ton about climatology: Building off of my classroom (mostly Zoom) education and getting to experience the use of instruments, models, and the weather itself first hand has been amazing. I got to take a shot at forecasting earlier this week, and it was super neat to see and interpret models similar to those used in my undergrad, but to apply them to a new, real world context
My second night up, the observers and I hiked over to Lakes of the Clouds for dinner. While the summit had been mostly in the clouds the whole day, it was breathtaking to see the sun emerge as we descended and the clouds lifted. On the hike back in the dark, the Milky Way and view all the way to Montreal in the distance were even more impressive. I'm really looking forward to more hikes and spectacular views, especially as the temperatures drop.
All in all, it's been a great first week, and I can't wait to see what the rest of the season holds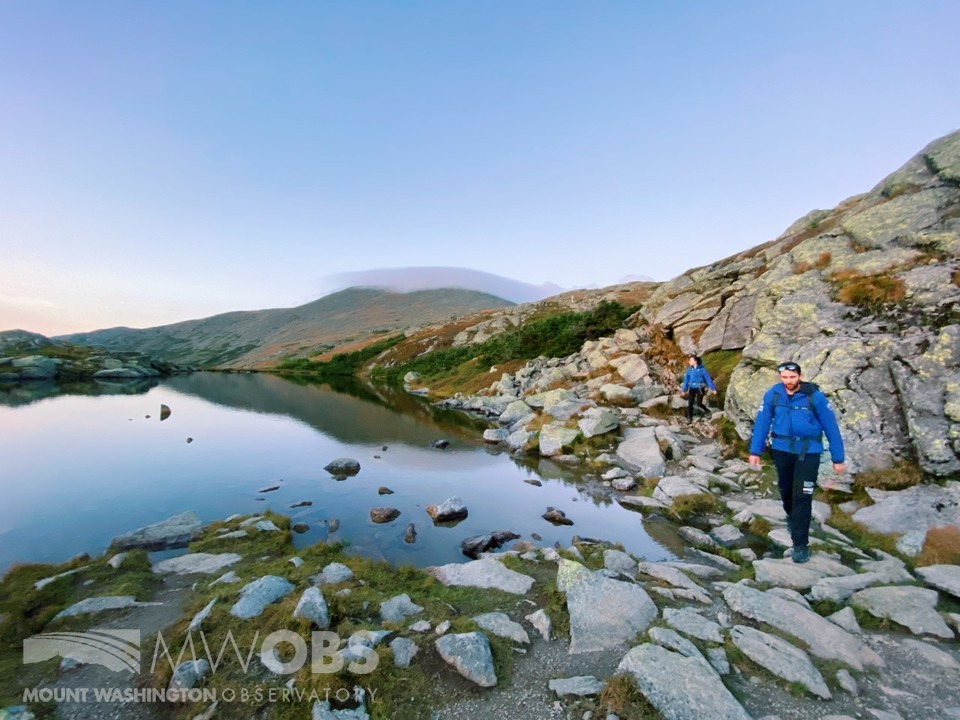 Hike down to Lakes of the Clouds with a view of the cap cloud over the summit
Abigail Fitzgibbon, Summit Intern
Ellen Estabrook
Adjusting to Life on the Summit By Charlie Peachey Working on the summit of Mount Washington is not your average job. There aren't too many other places where the employees work and live together for
Ellen Estabrook
A Surprise Aurora By Francis Tarasiewicz After 17 months of working at New England's highest peak, it finally happened. On the night of November 12th, 2023, I was lucky enough to view the famous and
Ellen Estabrook
A Glimpse at METAR Reports By Alexis George, Weather Observer & Meteorologist METAR observations are submitted every hour of every day at Mount Washington Observatory. METAR is a format for reporting weather information that gets